My poultry is ready but who do I sell to?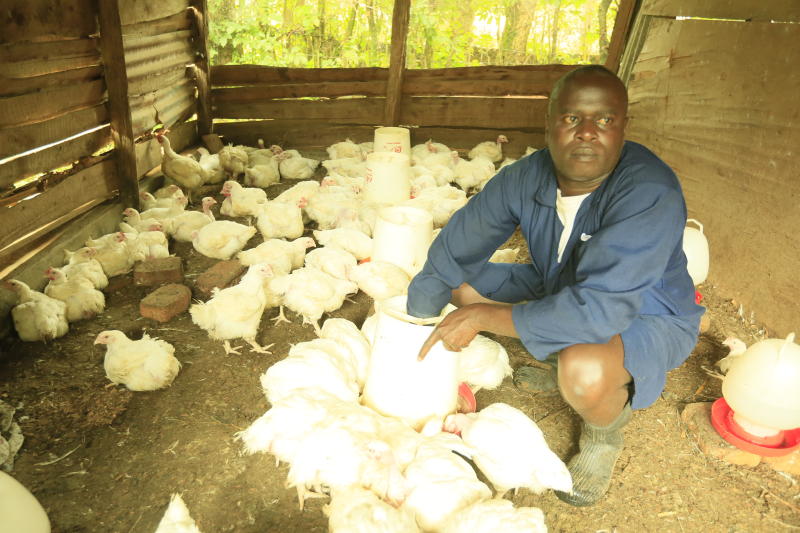 Jachin Inzofu (pictured) admires his flock of white broiler chicken in his farm in Eshikoni village, Lurambi Sub-county.
Some are ready for sale but he has no one to sell to as most of his clients have been forced to close down businesses due to the Covid-19 pandemic.
"I usually sell off the chicken at the age of five to six weeks. Now hotels in Kakamega, Kisumu and Bungoma towns where I sell the birds have closed shop, leaving me in such an difficult position," says Mr Inzofu.
More than 200 chicken are over five weeks old while the rest are one to three weeks old.
"The major challenge is managing the birds until the situation normalises, we even don't know how long it will take," he says.
A 50kg bag of crumbs for poultry below the age of three weeks costs Sh3,400. Inzofu says the birds consume 10kg of crumbs, minerals and pellets daily.
"Feeding is very costly, given that experts discourage farmers from formulating feeds for broilers due to lurking risks," he says.
In the past, there were no such disappointments. In fact, Inzofu would dispose of the chicken at five weeks of age and order for more chicks from Kenchic.
"Usually, I would restock one-day-old chicks after every 10 days. Broilers are fast maturing and relatively resistant to common poultry diseases, hence easy to manage," says Inzofu.
Take a quick survey and help us improve our website
Take a survey
He says broilers guarantee a farmer more profits than do layers.
He sells five-week-old birds at Sh500 each. The current situation has now forced him to slaughter some of the birds and store the meat in fridges, hoping normalcy returns soon.
Apart from poultry, Inzofu also grows bananas, traditional vegetables and fruits such as pawpaw, arrow roots, potatoes. He keeps dairy cows too.
"I grow many crops and sell them fresh in Kakamega town. People always call to place orders for milk, poultry, vegetables and fruits," he says.
He discovered his passion for agriculture at a young age, learning a lot from his late father, Arthur Inzofu, who was a renowned farmer in Western region.
He would help his father milk the cows and tend crops in the farm.
The career accountant could not think of anything better to do in life than farming when he graduated from Rift Valley College in 1996.
When his father died in June 2018, Inzofu took over management of the entire farm, which he says posed a major challenge at first.
He had always dreamed of being self-employed, despite his college education that had nothing to do with farming. "I was compelled to recruit two farm hands to help me in the daily management of the dairy, birds and crops," he says.
With the help of veterinary experts introduced to him by his father, Inzofu started turning the farm into a large, profitable enterprise.
Currently, Inzofu has about 700 chicken, including improved kienyeji ones.
He says it is not possible for broilers to die due to fattening as has been claimed by some farmers.
Poultry scientist Simon Wesechere agrees, saying there is no correlation between fattening of poultry and their death. "A farmer only needs to observe strict vaccination schedule to help prevent, control and manage diseases. He or she must also observe high standards of hygiene on the farm to protect the birds from opportunistic infections," advises Dr Wesechere.