There is no such thing as short cuts in rearing birds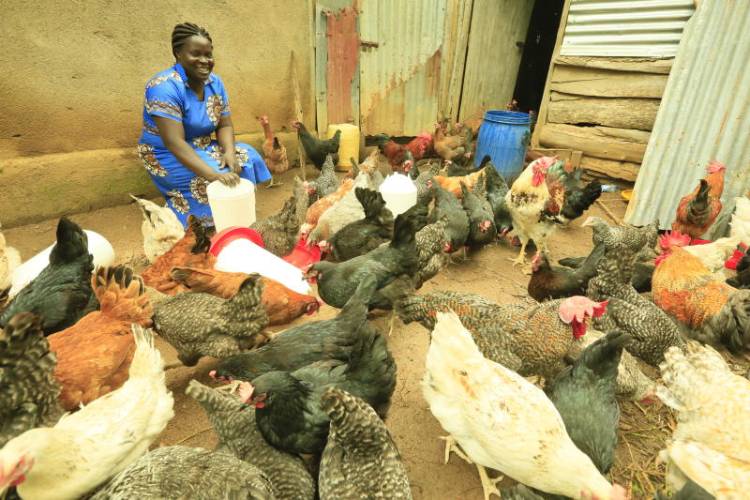 Anne Namutala was busy vaccinating her flock against cocociodis with the help of her husband David Okwaro and two farmhands.
Like many other poultry farmers, Namutala is keen to protect her flock against the parasitic disease common during rainy and cold seasons.
Usually, her vet trusts her with the process unless it involves complex procedures.
"My chickens drink at least 120 litres of water every day meaning I would need to mix the vaccine with an equal amount of water and give it to the birds," she says.
The over 250 birds drink greedily from the drinking troughs scattered all over.
Namutala says the birds are barely 27-weeks-old despite their big sizes. Her only worry is the disease.
Cocociodis, according to experts occurs when a microscopic parasitic organism called protozoa attaches itself to the intestinal lining of chicken.
Dr Luvodicus Okitoi, in charge of Kenya Agricultural & Livestock Research Organisation (KALRO) Kakamega branch says outward signs including; droopiness and slowness, lack of appetite, pale combs and wattles and ruffled feathers could be a clear pointer.
Other signs are huddling, mucus or blood in the droppings, diarrhea, dehydration and even death.
According to Dr Okitoi, the disease is among those easiest to control by strictly adhering to recommended management routines.
Take a quick survey and help us improve our website
Take a survey
Namutala is a beneficiary of the county government's rigorous training tailored for poultry farmers with a focus on disease prevention, control, and management.
"The knowledge, skills, and experience I have helps me to manage my chickens in a professional way," says the farmer.
Besides timely vaccination, she de-worms the birds as recommended and adheres to high standards of hygiene on the farm.
Her bustling farm at Eshirembe village in Lurambi sub-county is evidence she has been putting all the lessons she picked from the training into good use.
Chickens are housed in a structure measuring about 14 X 10 metres made of wood and iron sheets.
The floor is covered with sawdust which is changed regularly to avert infectious diseases. Feeding troughs litre the place.
A chain link wire stretching about 16 metres from the structure forms a fence creating enough space for the birds.
The structure, she says, cost her Sh30, 000 to erect. She rears improved kienyeji birds and Kenbro cocks because they both grow faster and could be ready for market just after three months.
"We house the cocks and hens separately to ensure effective mating when they eventually meet out here. We were trained to keep them separately and dictate when mating takes place," adds Namutala.
She started off with broilers in 2008 but they were too expensive to rear.
"I faced a lot of challenges ranging from diseases, expensive feeds among others and decided to go for improved kienyeji which we sourced from Kalro, Naivasha centre," she noted.
Perennial power outages foiled her plans to hatch eggs using an incubator she had earlier acquired.
"We suffered huge losses after experiencing frequent blackouts which called for a fresh strategy and that is how I learnt about kenbro," says Namutala.
Sometimes, she formulates her own food rations at home because commercial feeds can be very costly.
"I use maize flour, soybean, dry cowpeas and omena which guarantee her birds protein, vitamin C and carbohydrates," says the farmer.
On average, Namutala would require 50 kgs of commercial feeds costing Sh2, 500 for his flock every day, however, formulating her own rations reduces the quantity to manageable levels.
Every day, she collects at least 150 eggs on her farm and sells each at Sh20 translating to Sh90,000 in a good month.
She rarely sells cocks because they are rare to come by as no farmer in the county specialised in breeding cocks.
"You can hardly find the quality of cocks you see on this farm elsewhere, we are exploring possibilities of breeding the best cocks to make it easy for other farmers," she adds.
To start this venture, Namutala used Sh250 a friend lend her to buy seven chicks which she later sold at Sh500 each.
"I took good care of them and when they matured I sold them and made Sh3,000," she adds. Later, she used her savings to buy 100 improved kienyeji chicks and this was the beginning of her journey to building the poultry venture.
"I successfully raised 50 of the chicks but the rest died. At about four months, I sold 48 at Sh500 each and got Sh24,000 which became my capital when I relocated to the village from Nairobi to venture fully into poultry," she adds.
Namutala has plans to expand her farm going forward. "I would like to increase the layers to a level where I will be able to collect at least 800 eggs every day and use biogas as a source of power to run my incubator that can carry up to 420 eggs at once," she notes.