How I rear chicken, turkey in one space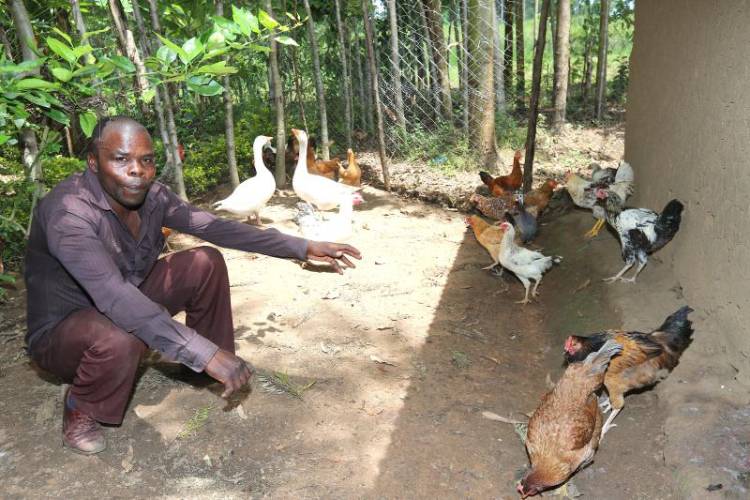 Keeping birds of mixed species is not a walk in the park because of the competition it presents. But one farmer has managed to maintain peace and harmony on his farm despite keeping chicken, turkey and geese in one space.
Oliver Wakhu (pictured) keeps hundreds of chicken, guinea fowl, ducks, turkeys and geese on his half an acre farm at Eshirulo village in Mumias East, Kakamega County.
"To ensure that they do not fight, I have partitioned the farm to create a wing for chicken and one for geese and turkey. I rarely mix them because of the challenge it poses," Wakhu says.
To further enhance harmony, he has factored in gender balance in the flock. He points out that trouble in a mixed poultry farm happens when cockerels outnumber hens.
For that reason he is keen on the male to female ratio to ensure the birds get along well.
According to https://www.hobbyfarms.com/keeping-the-peace-in-a-mixed-species, chickens need at least eight hens to a rooster, while ducks prefer two ducks to a drake. Geese and many other poultry varieties need three or more females to a male, while turkeys prefer ten hens to a tom.
"Keeping these numbers in mind will help keep your flock happy and prevent fighting between the males and over-mating of the females," says the site.
He has ensured that all the birds have enough room to forage and rest without feeling cramped for space.
He has also constructed a simple poultry house for the birds.
Take a quick survey and help us improve our website
Take a survey
"When I started three years ago, all I used was a chicken wire, chain link, 14 iron sheets and several poles to put up the structures," Wakhu says.
Wakhu has erected a chain link fence where the turkey are allowed to scavenge during the day before they are brought back to the iron roofed structure in the evening.
They sit on each other's eggs
"I let the turkey roam freely because they love adventure but the rest of the birds are confined."
For the sake of peace and harmony, the feeding and water troughs have been placed in strategic points within the chain link fence for the different species.
Inside the structure, there are separate laying boxes for chicken and the rest of the birds.
He regularly checks to ensure the birds do not eat the eggs.
Interestingly, he allows the birds to sit on each others eggs.
"I give some of the chicken the eggs belonging to the other birds to hatch, thereafter, I take good care of the chicks. By so doing, the geese, ducks and guinea fowl will continue laying more eggs because they never get an opportunity to lay on their own eggs," says the farmer.
For the eggs of the geese, because of their big size, he puts two hens to lay on them and hatch.
Since he started three years ago, market has never been an issue.
Wakhu sells cockerels at between Sh850 and Sh1,000 depending in age and weight.
Other than the birds, Wakhu also sells the eggs, especially when they are too many to hatch.
Eggs from geese, turkeys and guinea fowl are sold at a higher price than the chickens'.
"The geese eggs are sold at between Sh250 and Sh500 each because they are rare to find and are on high demand," he says.
Wakhu prefers to hatch the eggs and sell the chicks because they bring him more money.
Challenges
Though he has broken even, Wakhu says he has faced numerous challenges in the past.
On few occasions, thieves raided his farm and made away with some birds.
Being one of the farmers who benefited from poultry training courtesy of government funded Kenya Agricultural Productivity and Agribusiness Project, Wakhu has minimised vet visits by observing hygiene and proper feeding regime.
"I can't remember the last time a vet visited my firm, maybe during the training because we had to learn the basics."
Lucky for him, the birds eat almost similar meals.
"I feed my birds on special formulation that compliments the commercial feeds. I also give them maggots which are highly nutritious. I also give them omena-based meals and calcium supplements."