Stray hen inspired me to venture into poultry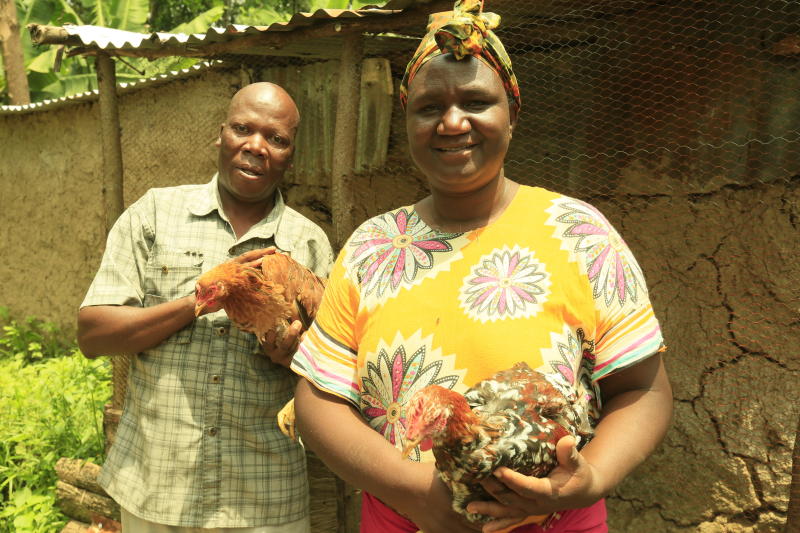 Clucking sounds welcome Smart Harvest crew into Martin Aswani's poultry farm at Mwinaya village in Butere. For Aswani, the noise signals entry of visitors or at times intruders, depending on the intensity.
"If I hear the chicken making noises like they are angry, I know there is an unwelcome guest. But if the noise is moderate, I know it is good people like you. I have been in this business long enough, to tell the difference," Aswani who has been at it since 1998, says.
Aswani practises semi-free range system where the chicken are allowed to roam for some hours scavenging for insects and greens, while the rest of the time they are confined at the chicken house.
"I have fenced my compound using barbed and chain link wires to stop the birds from moving outside," says the seasoned poultry farmer.
The fence also keeps at bay marauding dogs and other predators that could attack the birds.
At least 50 birds lay on their eggs in one of the special coops with several cocks locked up in an adjacent structure.
"Some hens prefer a nest box while others are comfortable laying in a litter tray. It is important to learn their behaviours to provide them maximum comfort," explains Aswani.
But Aswani makes sure the birds are well fed in the morning, afternoon and evening.
Parent stock
Though he has been at it for eons, it is interesting how he started poultry keeping.
Take a quick survey and help us improve our website
Take a survey
"Back then in 1998, I found a stray hen by the river side on a chilly evening and decided to rear it, I had just finished high school," recalls Aswani.
The hen went ahead and laid 30 eggs within a couple of weeks but Aswani decided to allow it hatch 18 eggs.
"After 21 days, the 18 eggs hatched into healthy female chicks that would grow to become my parent flock."
To grow the business to profitability, all he needed was a healthy cockerel and a proper structure to house the birds.
"Because back then I had no money to buy commercial feeds, I relied heavily on locally available feeds like Sukuma wiki and other kitchen wastes to feed the animals."
Through ups and downs, he increased his numbers to the level of attracting richer markets and bigger orders.. "My first clients were my neighbours and extended family, but with time word went round and the market widened to the point that I started getting orders from NGOs based in the village."
With time, he gained the trust of locals and many would troop to his farm to learn best practice which he offered for free. But with that fame, also came the 'curse'.
"I discovered some villagers were stealing my chicken and chicken theft was becoming rampant."
To address the problem, he came up with a counter strategy. He mobilised the villagers, formed a group and donated at least two birds to each group and also impacted on their chicken rearing basics.
That dealt with, Aswani embarked on rigorous marketing of his chicken.
He sells his chickens at the age of between 5 and 7 months-old at Sh400 and Sh750 respectively.
"My prices are competitive because I don't incur a lot of expenses on feeds and treating diseases as is the case with most poultry farmers who keep exotic and improved kienyeji birds."
Homemade remedies
To manage diseases, he dries and crushes a concoction of Black jack and cheek weed which is mixed with Omena and other feeds given to the chickens.
"The concoction assists in digestion and formation of strong bones. It also boosts the birds immunity."
Aswani learnt the hard way on importance of calling in an expert when you spot warning signs.
"I recall the day a disease killed 100 birds on my farm within a short period. The chickens droppings turned watery and the next thing they were dropping dead one by one," says Aswani.
Since the birds were not responding to recommended medicines bought from agro vets, Aswani made some concoction and gave it to the birds.
"It never worked and by the time I call in a vet it was too late."
While away, Aswani's wife Asha takes charge of the poultry farm.
"Chickens requires close management so she has to be around to ensure they have clean water and enough food," says the farmer.