Key lessons from China on modern fish farming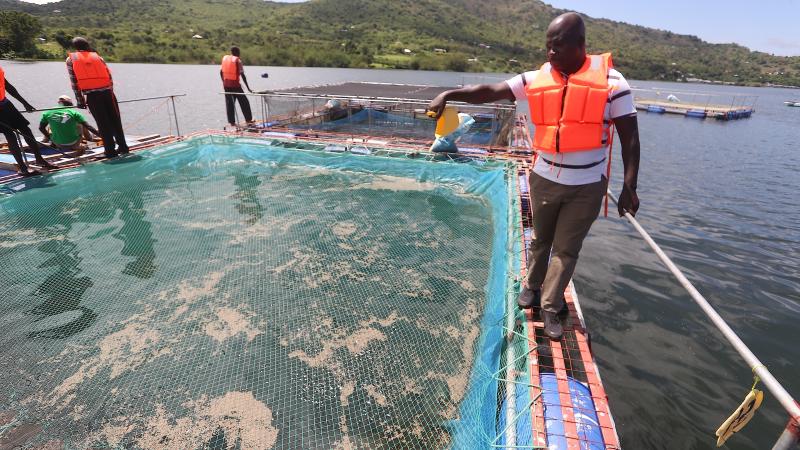 For nine years, Daniel Ogutu lived in China, and fish was his favourite dish. With fish farming developed in the Asian economic giant, Ogutu sampled how they used modern techniques in fishing.
"In China, they have fish cages in high current waters and to thrive, they use technology to break the current and other harsh conditions to enable the waters support fish," he says.
The 48-year-old resigned from his teaching job and landed an opportunity in China between 2010 and 2019 where he learnt modern aquaculture.
In May last year, he travelled back home, and decided to venture into cage fish farming at Ragwe Beach in Homa Bay County. Having been in China he has borrowed a couple of lessons which he has adopted on his farm.
"China reaps big from fish because they produce fish in large scale. This motivated me to move into large scale production." He has 11 cages carrying over 100,000 fish in different stages. He plans to launch 20 more cages.
"You can only make good money in fish farming when you do it massively. I learnt from China that large scale production spreads the risk," offers Ogutu.
He also learnt that in China, traditional fishing is a thing of the past, and cage fish farming is the order of the day.
"Having been a fisherman here during my youthful years and having seen the way it is done in China, I took the initiative to come and try to influence our people to avoid trial and error fishing where you can get into the lake and come back empty-handed," he says.
Ogutu points out that though China faces pollution of its water bodies, they still use it for fish production. "I learnt that with our fresh water lake resource, we have no reason to talk about shortage. We can produce for local consumption and export," he says.
According to Ogutu, many people engaging in fish farming in China are empowered with knowledge and skills. This gives them an edge over other fish farmers in Kenya who gamble with the trade.
Demand for fish
"Most of our fish farmers are not trained. Many just watch what other people do and then gamble," he notes.
Ogutu makes the cages measuring six metres by six metres, some of the largest cages in the lake compared to others that measure two metres squared.
He uses galvanised iron tubes which are lighter and resistant to rust. Each of the squared frame is then fitted with empty but tightly closed drums to act as floaters.
Nets are then fixed to cover a depth of six metres, and anchors made from concrete are fitted to prevent the cage from moving with the water current.
Each cage costs between Sh300,000 to Sh400,000 to make. In each cage, he puts between 12,000 to 15,000 tilapia fingerlings. "This is much better than the ponds which cannot carry above 2,000 fingerlings within the same area."
Ogutu spends at least Sh110 in producing a kilo of fish, and sells a piece at between Sh300 and Sh400.
Due to the demand for fish, Ogutu gets fingerlings from the local producers at Sh5 for a 0.5 grams piece.
"The smaller ones have high survival rates as they easily adapt to new environment," he points out. Once released into the cages, proper feeding and monitoring to keep off predators is key focus.
With the help of canoes, together with his three workers, they access the cages which are anchored about 200 metres into the lake.
The fish are fed in the morning and evening, with an inspection of the nets every morning to identify the dead or leaks.
"We always have survival rate of at least 80 per cent," he says adding that this can be improved with proper knowledge and skills.
Though business is good, the fisherman is concerned that with fish farmers thronging the lake, the fish numbers may drop further.
Want to get latest farming tips and videos?
Join Us