My winning strategy in the hatching business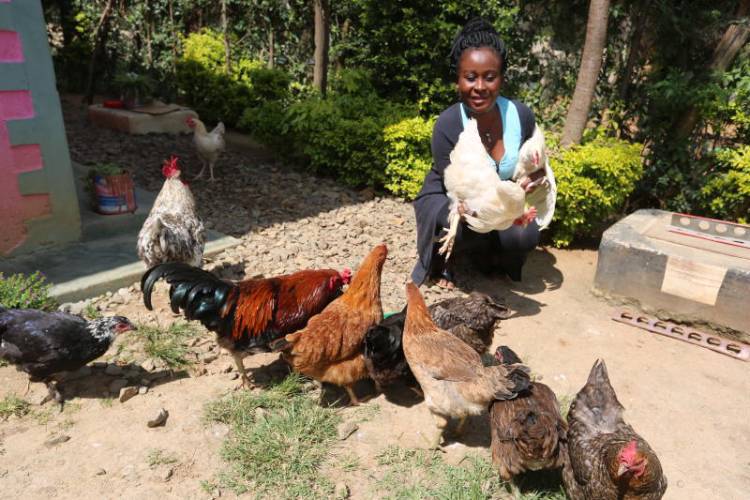 When Smart Harvest visits Esther Mumia (pictured) at her poultry farm at Shitoto village in Mumias East, she is busy putting red hot charcoal in strategic points in brooders to keep the chicks warm.
"I have to ensure the charcoal are replaced to keep the chicks warm all the time," says Mumia.
Mumia, who keeps improved kienyeji, quit an office job to rear chicken and has never looked back.
"After college, I worked as a community development expert for a while but the job didn't inspire me. After soul searching, I quit," she says.
She has over 500 improved kienyeji layers. She also does hatching, a craft she learnt by researching online and attending various poultry trainings.
To set the ball rolling, she used her savings to buy an incubator that had a capacity to carry 56 eggs.
Delicate chicks
Each brooder has chicks of different ages with recommended feeds placed inside depending on the number of the chicks she explains.
Because of their age, she says the chicks need tender care like a newborn.
"Chicks eat throughout the night. Therefore, we use the small solar lights to keep the brooders lit and warm," she explains.
Though some buyers prefer day-old chicks, she says majority prefer three week old and above because they are easy to manage having received critical vaccines.
She sells a day-old chick at Sh100.
She also charges Sh20 to hatch an egg.
Demand for chicks is high and she is forced to source for more eggs from other suppliers for hatching.
To avoid buying diseased stock, she sources for the eggs from farmers known to her. "I make sure the farmers have the right type of cocks and layers to guarantee the quality of eggs and health chicks. I also monitor the way they feed their chickens and whether they observe the recommended vaccination regime because some diseases are passed from the parent flock to the chicks."
She ensures a farmer observes the 9:1 hen to cock ration to guarantee proper egg fertilisation.
Experts recommend that farmers hatch eggs that are less than seven days old because they are fresh and have high chances of hatching into health chicks.
Hatching tips
Mumia knows this too well and only buys eggs that are five days old and below.
"To guarantee high hatching rates, I also consider storage of the eggs. Those kept in cold environment or plastic containers are not ideal for hatching."
Once the chicks have hatched, Mumia introduces them to chickstart and Marex vaccine.
"The two build the chicks immune system making them resistant to infections," she says.
With the help of a vet, she administers Newcastle vaccine after a week which is repeated after 10 days.
"Fifteen days later, I give them Gumboro and Fowl typhoid which is administered through the clean water given to the chicks," she explains. Occasionally, Mumia changes the chicks feed because some may be allergic to certain type of feeds.
"I also give them glucose in water to boost their energy."
For marketing she uses social media as her main market platform. "I get many orders from Facebook and Whatsapp from as far as Nairobi." Like all agriventures she has faced hurdles. At one point, a disease wiped out number of the chicks.
"They started looking dull before dying one by one. But luckily, a vet from the county contained the situation in good time. To avoid more deaths, I learnt to call a vet as soon as I spot signs of illness like dullness and poor appetite."
Additionally, sometimes buyers delay to collect their chicks forcing her to feed them for more weeks and vaccinate them. This is an extra cost. That aside, she plans to venture into value addition in future.
Want to get latest farming tips and videos?
Join Us