Trans Nzoia now a major tilapia source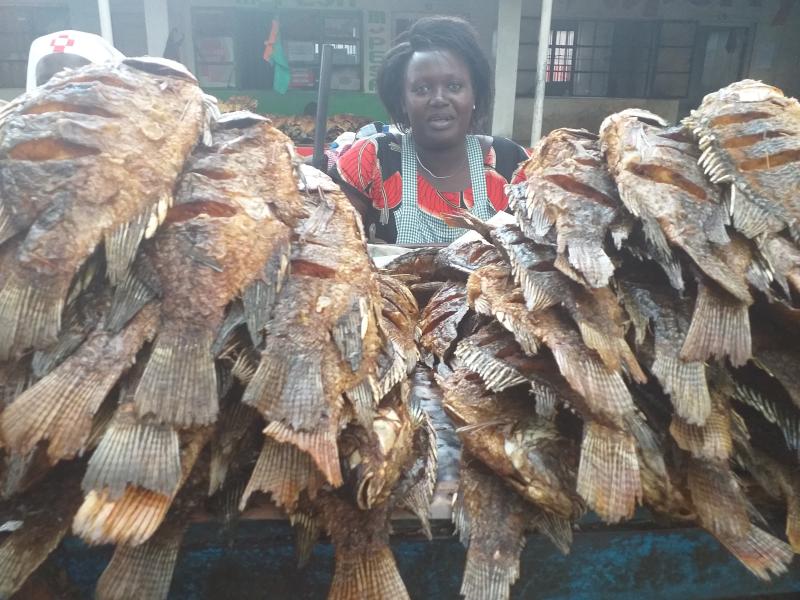 With dwindling fish stocks in Lake Victoria and an insatiable demand for the delicacy countrywide, a new fishing county is emerging — Trans Nzoia.
The 2019 census shows that farmers in Trans Nzioa have the most number of fish ponds which they use to rear tilapia and catfish fish. Tilapia is particularly popular in most restaurants and households for its taste.
The report released by the Kenya National Bureau of Statistics shows that Trans Nzioa County has 10,098 ponds followed by Kirinyaga County at 8,154 ponds.
There are 6,169 ponds in Bungoma, Busia has 5,171, Vihiga 3,330 while Kakamega has 9,361.
Radical shift
In Nyanza where fishmongers in Nairobi and other parts of the country used to get their fresh water lake fish supplies from, the report shows Kisumu has 4,711 ponds, Siaya has 4,867, Homa Bay 7,258 and Migori 3,373.
To meet the growing fish demand, fishmongers in Nyanza, a region perceived to be leading in fishing, has been relying on supplies from Western.
"I get my fish supplies twice a week from Kitale in Trans Nzoia County and some of my colleagues import from Uganda. This has been going on for the last four years because production in Lake Victoria has dropped," says Alice Atieno, a fishmonger in Kisumu. This trend is backed by facts on the ground. Homa Bay County has the highest number of fish cages at 3,943 followed by Kisumu at 2,999.
Drop in production
Statistics at the Ministry of Agriculture, Fisheries and Livestock show a drop in fish production in Lake Victoria in the last five years. Production now stands at 90,000 metric tonnes annually down from 140,000 metric tonnes.
To meet the high fish demand, most sellers have been relying on imports.
Atieno says there are many hatcheries in Tororo, Uganda and most of her colleagues who import fish from the neighbouring country think they are from the lake.
Fish tastes muddy
Fish from Lake Victoria is on high demand and sought after in most eateries because of its superior taste. Fish from Lwanda Kotieno or West Uyoma is uniquely tasty because of the grey colour of water while that from the pond or cage tastes muddy.
But how can one tell the difference between fish from the lake and the pond?
"Fish from the ponds have tiny bones inside the meat while those from the lake have none," she explains.
In Homa Bay County, Joseph Omondi who has been a fisherman for 25 years, says the volumes of fish have been dwindling and this has seen many farmers opt to construct ponds.
"Years back, fishermen used to come back with tonnes of fish from their escapades. Now they toil in vain. Some have invested in cages and ponds to avoid getting out of business. But majority cannot afford that investment," he says. West Uyoma Beach Management Unit Chairman Alfred Odhiambo says there are 20 boats in Kombe beach but things have worsened in the last five months.
"Out of the 20 boats, we at times manage to net only 40 pieces of mature Tilapia fish a day and 500kgs of Nile Perch. That is a far cry from what we used to get years back," Odhiambo says. He attributes the decrease in fresh water lake fish to unsustainable fishing practices such as overfishing.
Other practices that have contributed to drop in numbers is illegal use of banned fishing gears and the rainy season including hyacinth that has pushed fish into deep waters.
Mr Alfred Kiboi, a fish farmer in Kitale, says fishmongers from Siaya and Kisumu counties flock the market as early as 5am in search of fish supplies.
"Some of the fish farmers sell mature fish directly from the ponds with the 500 grams selling at Sh150 and 250 grams Sh300. Tilapia is consumed more than catfish," he explains.
Unlike Western and Nyanza, residents of North Eastern have not embraced fish farming. The 2019 census recorded zero fish cages and ponds in Garissa, Mandera and Wajir counties.
Mandera County CEC Agriculture Ms Johora Abdi dismissed the report saying the county government has made major achievements in the fishing industry since devolution started.
In Coast, locals still depend on fishing deep in the Ocean compared to having cages and ponds. The study shows Mombasa has 309 ponds and 306 cages, Lamu has 407 ponds and 217 cages. Kwale has 522 ponds and 172 cages while Kilifi has 1,756 ponds and 193 cages. Tana River has 438 ponds and 108 fish cages.