Man's undying love for cassava farming pays off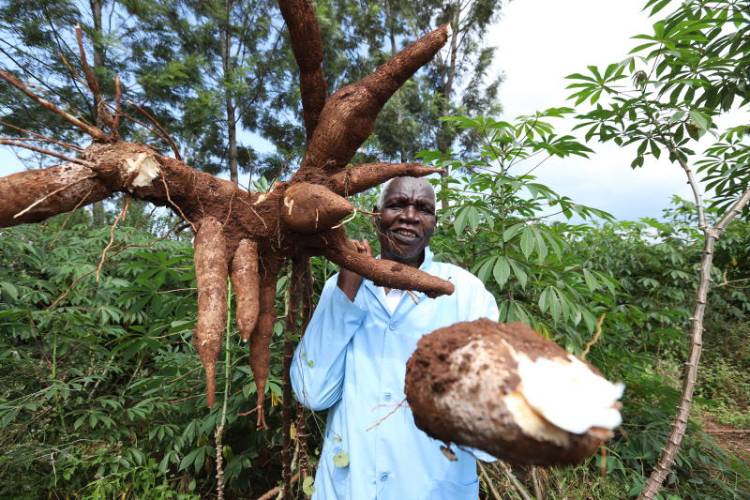 Mzee Raphael Owaka's (pictured) love for cassava farming is simply impressive. While other farmers have invested in exotic crops, he has stuck to good old cassava in his farm in Nyabondo, Upper Nyakach.
His three acres of cassava crop looks like a small forest of sorts.
"I have planted cassava for more than 12 years, I know the crop in and out. The beauty of this crop is that it does not require a lot of water," says Owaka.
At the farm, he has planted, TME 14, a high-yielding new variety developed by Kenya Agricultural and Livestock Research Organisation (Kalro).
"This is a sweet cassava variety that is multipurpose. I use it as food and medicine," he says.
Cassava is a calorie-rich vegetable that is a good source of vitamin C, thiamine, riboflavin and niacin. Having been at it for years, he grows giant cassavas that are popular in his village. To grow the giant cassava, one must get it right from land preparation. Once the land is ploughed, ridges are made at one metre apart, and planting is done. The cassava stems are then planted at a spacing of one metre. After a month, the first weeding is done. The weeding is repeated twice more at an interval of two months.
"By fifth month, the soil must not be disturbed as cassava tubers begin to form. Any weeding may lead to the cutting of the tubers," he says.
By eighth month, the cassava is ready for harvest. If tended to well, Owaka says every plant produces 32 tubers.
He sells each tuber at Sh10 per piece.
Take a quick survey and help us improve our website
Take a survey
Mzee Owaka is exploring benefits of value addition and apart from selling the raw product he also makes the powder. After harvesting, he cleans, dries then peels the cassava and cuts them into small pieces. He then puts the chopped pieces in an extractor, which squeezes out all the water.
The cassava is then sun-dried for another three hours before it is grinded to make powder, which is then packaged into sachets of 50 grams.
The grounded cassava, Owaka claims helps to boost libido. He also uses the cassava flour to make tasty snacks for sale.
"I sell a kilo of cassava cake at between Sh500 to Sh1, 500 depending on the demand. There are days I have many customers but there are also slow days. My clients are mostly men who want to improve their sex drive," he says.
For quality products, Owaka, sources the cassava seeds from Kalro, at Sh800 per sack which contains 1,000 stems.
After harvesting, he sells his stems to other farmers at Sh600 per sack.
"The stems from my harvest are good enough for seeds, but I cannot replant them in my field as that would compromise the quality. I can however sell them or plant in my other farms located far from here," Owaka explains.
To ensure his soils remain rich with nutrients, after every harvest, he plants cereals on the same land and also allows the land plenty of resting time.
Cassava Mosaic remains the disease that gives Owaka sleepless nights, but he has learnt to deal with it.
"Since this is a viral disease, all we do when we spot it early enough is to uproot the affected plants, and burn them far from the field. I also practice crop rotation religiously," he says.
The most common symptoms of Cassava Mosaic disease is stunted growth, leaves drying and falling prematurely, as well as coiling branches.
Poisonous cassava
Aphids also cause havoc at times, but Owaka uses pesticides to manage them.
His other biggest challenge is the moles which invade the firms when the tubers begin to form. He uses traps to control them. According to Professor Mathews Dida, the Dean School of Agriculture at Tom Mboya University College in Homa Bay County, cassava is a tolerant crop which can survive harsh climatic conditions. "The crop requires rain just to start it off, and once they are stable, they can grow to maturity with little water," says Dida.
He says most cassava take averagely 12 months to mature, but there are some improved varieties which takes shorter period.
"The sweet cassava has low cyanide, making it good for use as food, either directly through boiling, or as flour, as opposed to the bitter variety which has to be processed," he says. He says in most instances where people have died after eating cassava, the deaths are caused by poisonous cyanide, which can only be controlled by ensuring that the crop is harvested after full maturity.
"The more it stays in the field, the lesser the cyanide," says the expert.