Duo shares secrets from small mushroom farm scratch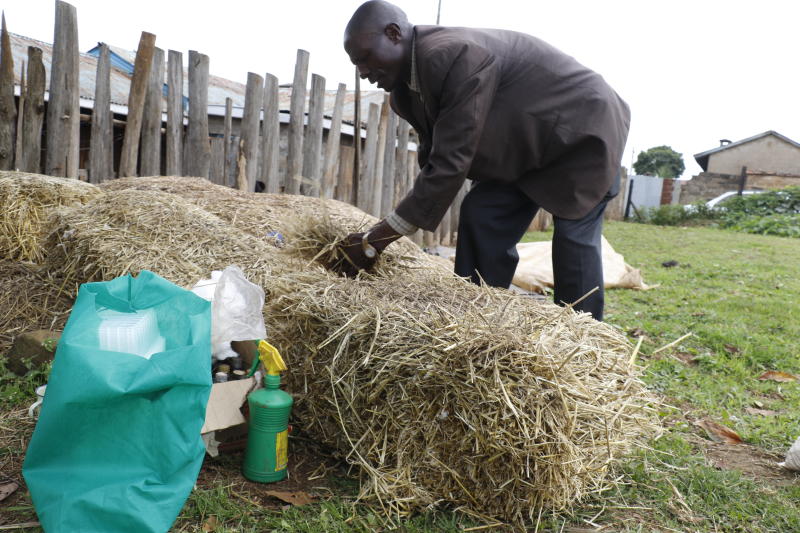 The homestead of David Mwangi is a hive of activity. Workers in aprons are busy collecting some stored rainy water which they spray on Mwangi's mushroom farm.
Here, Mwangi, 31, grows oyster mushroom variety, in a mud-walled house on a quarter acre farm at Kenyatta Estate in Molo town.
"I settled on mushroom as a passion and to earn extra money. I like this venture because it requires minimal attention and the mushrooms have a ready market," says Mwangi.
Mwangi sells the mushrooms to locals and a few hotels and he says demand is growing steadily. Mushrooms are loved because they contain vitamins B and powerful antioxidant called selenium, which helps to support the immune system.
Since he discovered their potential courtesy of a friend, Mwangi has never looked back.
"When I visited this friend in Nyeri, I was surprised to learn that he was earning a living from growing mushrooms. He was using readily available materials and the space was modest. I was excited about this idea and decided to try it out back home," Mwangi recalls.
Training
To sharpen his skills in mushrooming growing, Mwangi enrolled for training at Kitusuru Mushroom Training Centre in Nairobi on the same.
When he was fully armed, he established the farm together with Bernard Nyongesa, a trained mushroom production expert from Jomo Kenyatta University of Agriculture and Technology (JKUAT).
The duo, started the joint venture in 2014 with a starting capital of Sh100, 000, from their savings. There are various mushroom types but they settled on oyster mushrooms because they are highly tolerant of variations in temperature, humidity, light levels and carbon dioxide levels.
Weather shocks
"In addition, mushroom farming is not weather dependent- it does well in all-weather, so long as a farmer observes best farming practices," Mwangi points out.
To kick start the project, Mwangi bought 20 kilos of spawns, at JKUAT with each kilogram costing Sh600. The spawns were grown in 50 specialised polythene bags of 4 kilograms.
Mushroom spawn is any substance that has been inoculated with mycelium, the vegetative growth of a fungus. Mycelium, a thread-like collection of cells, is to a mushroom like the apple tree is to an apple.
Two months after planting, the duo harvested the first crop that was sold to individual consumers and at the local market.
"With the rise in lifestyle diseases, there is a high demand for mushroom because they are organic produce. No pesticides and fertilisers are used anywhere and this makes it healthy produce," explains Nyongesa.
Now they harvest 250 kilograms of mushroom every week and the harvesting is done for three continuous months. They sell a kilo at Sh600.
"Production of the mushrooms is done in different stages for continuous supply," he tells Smart Harvest.
They use wheat straw to grow the oyster mushrooms, produced in partitioned wooden shelves.
Nyongesa explains that wheat straw is preferred because it is hollow and hastens the growth of mycelium. To get rich and healthy mushrooms, one must follow the meticulous production process.
The wheat straw is soaked in water to hasten decomposition process, says Mwangi.
Lime is added to the straw, as it is rich in calcium carbonate. To boost nitrogen in the straws, cotton seeds are added. Sawdust is also added to hasten decomposition.
"Mushroom is a decomposer; this is why it's grown in wheat straws. To speed up the process, different nutrients are added to the straws, just like crops that are grown in soil," explains Nyongesa.
He adds "Wheat chaffs, hay and dried beans are used as substrates because they are cheap and easily available. Sawdust and cobs can also be used."
The straws are cut into smaller sizes and fitted into polythene bags and pasteurized through heating.
Temperatures for heating are maintained at 60 degrees Celsius, a process that takes about 3 hours. Nyongesa explains that pasteurization is done to kill germs.
The substrate-filled bags are inoculated with antiseptics and placed on timber shelves in the production house where temperature, humidity, light and atmospheric gases are carefully controlled.
For clean and healthy products, cultivation of mushrooms must be done under very hygienic conditions to kill bacteria that might contaminate the final product leading to losses.
"Mushroom is a sensitive crop that must be grown under clean conditions. If this is not taken into consideration, it will not sprout. Instead of soil, the substrates are used and they are placed on timber to avoid soil contamination," he explains.
The bags are later cooled and spawns placed inside a dark room for mycelium (germination) that takes about 28 days. Mycelium develops into mature mushrooms after sprouting.
After germination, aeration should be done to speed up the maturity of the fungi. It takes 14 days after mycelium for the crop to mature and be ready for harvesting.
"Mycelium looks like a white furry cobweb formed in the substrates that are spotted a few weeks after planting. Watering is encouraged for quick sprouting of the mycelium that grows into the mushroom."
When to harvest
Nyongesa explains that mushrooms are harvested while their rims are still curled over a little and pointing downwards. In case the rims seem to be turning upward, it's time to harvest, he notes.
Dos and don'ts
Having been at it for a while, the two farmers have mastered practices that encourage the growth of healthy mushrooms. Key among them is sprinkling the floors of the darkroom (farming house) with water to maintain humidity.
During sprouting, a sprinkling of water should be done carefully to avoid breaking the newly forming mushrooms.
Being a dry area, water is a rare gem here and the two farmers harvest rainwater which they use to keep the temperatures in the room moist.
"The water used in production should be clean without chemicals and for that reason, rainwater is recommended. Watering should be done frequently to keep temperatures low," explains Nyongesa.
To protect the harvest, farmers should have in place mechanisms that keep away flies, mites, rats and snails that feed on the mushroom.
Fungus gnats are also common insects that flourish under the same conditions as mushrooms
The duo keeps snails away by spraying the produce with salty water. Iron sheets have also been fitted on the lower wall of the house to keep rats at bay.
Ventilation is also critical for the growth of the fungi and to achieve that goal, there is a small opening at the door covered with a wire mesh that acts as a window to allow fresh air in.
There is also an inside wire mesh door to keep away predators from the production house.
"Predators are a major challenge in mushroom production. One can keep them away by keeping the area clean and closing any unnecessary openings," says the farmer.
Crop husbandry
Mature and healthy mushrooms are determined by the selection of the right spawns. Nyongesa advises upcoming farmers to buy spawns and other farm input in licensed agrovets to avert losses attributed to poor quality.
"New farmers suffer losses because they buy spawn that does not germinate and also cotton seeds of low quality. To avoid such blunders, we advise them to link up with researchers and authorised distribution outlets," says Nyongesa.
Though they are still making baby steps, the duo's vision is to scale up the mushroom farm and train more farmers into the venture to meet the high market demand.
Want to get latest farming tips and videos?
Join Us