Athritis pushed me into goat farming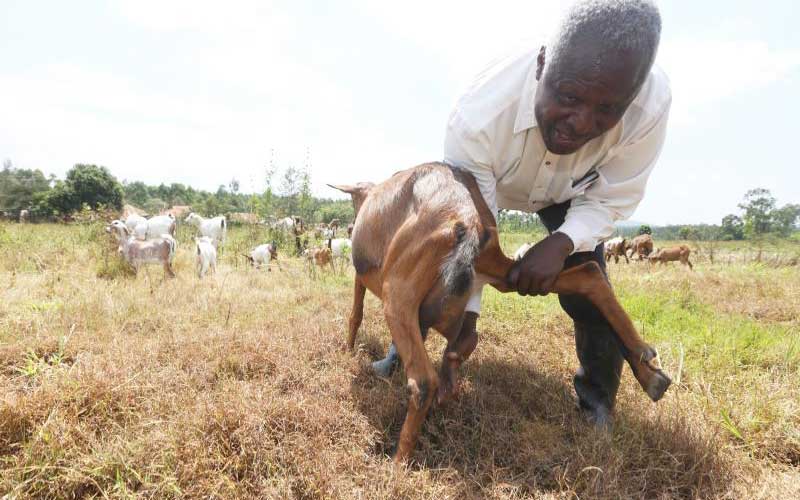 It is around noon and Mr Clement Ocharo is watching keenly as his goats graze peacefully on his nine-acre farm at Borabu Settlement Scheme in Nyamira County.
The 70-year-old farmer whistles his favourite Kisii song as he admires his 60 goats of various breeds, ages and sizes. The elderly farmer keeps German Alpine breed, a mix of African breeds and Toggenburgs.
"These animals are my solid retirement project. I keep them in pens but I usually set them free to feed naturally because they are natural browsers," the farmer says.
Sharp pains
He treasures these animals given that other than giving him a source of income, they also gave him a new lease of life years back.
"Fourteen years ago, I was down with arthritis. I used to have this sharp pain in my joints that affected my mobility. To treat it, my doctor told me other than the medication, I had to take goat milk every so often. Since I started taking it, I saw a big difference in my health. I no longer experience the pains," Mr Ocharo says.
According to research, other than the medicinal value, goat milk is superior to cow milk because its proteins and amino acids are more digestible and absorbed efficiently. This makes goat milk preferable for people on medication.
Why goat milk is richer
The farmer believes the milk is richer and healthier because of the numerous herbs they feed on.
"Goats feed on a lot of herbs and other weeds which enrich their milk," he says.
According to Home.bt.com, an online science journal, goat's milk has similar healing properties to those of olive oil and regular consumption is recommended as a home remedy for anaemia, magnesium deficiency, eczema and acne.
Goat's milk also helps in quick manufacture of hemoglobin and fast healing of osteoporosis, a bone condition.
With that information now in public domain, a ready market for goat milk is almost guaranteed as Ocharo attests.
Growing demand
From his herd, 12 of his goats are lactating and each gives him two litres of milk.
He sells the unprocessed milk at between Sh70 and Sh100 per litre, which is slightly higher than what a litre of cow milk fetches.
So high is demand for the milk, the farmer who also takes milk together with his grandchildren, says his big challenge is meeting the demand.
To satisfy the market need, Ocharo came together with fellow goat breeders and formed Nyainogu Self Help Group, which he chairs. The group has 30 members.
Some members of the group - George Arwonga and Samson Mainye - from Borabu confess that coming together has changed their fortunes. Each member has 20 goats.
"We sell a goat at between Sh15,000 and Sh20,000 depending on the size," Mr Arwonga says.
Clients interested in buying dairy goats have to make bookings three months in advance.
"We have so many orders, one has to make bookings in advance," Ocharo says.
To meet the demand, Ocharo is on a mission in the village to recruit more dairy goat keepers and they all spoke highly of the venture.
Huge potential
Going by their testimonies, it is evident that dairy goats are more advantageous to keep compared to cows.
This is why International Fund for Agricultural Development started the Small Holder Dairy Commercialisation Programme in 2006 in the county.
The programme has changed the fortunes of many dairy goat farmers, Ocharo included.
Unlike Ocharo, many locals have small parcels of land making goat farming ideal as opposed to keeping dairy cattle.
"Goats can thrive on small spaces and still give you good returns," Mainye says.
Going by statistics on the ground, goat farming is indeed picking in the county.
According to Peris Mong'are, the County's Agriculture Executive, more than 7,000 litres of goat milk are produced daily and is expected to rise.
The county projects that within the next two years, the number of goats will have more than tripled.
Want to get latest farming tips and videos?
Join Us