CEC bets on value addition to boost farmers fortunes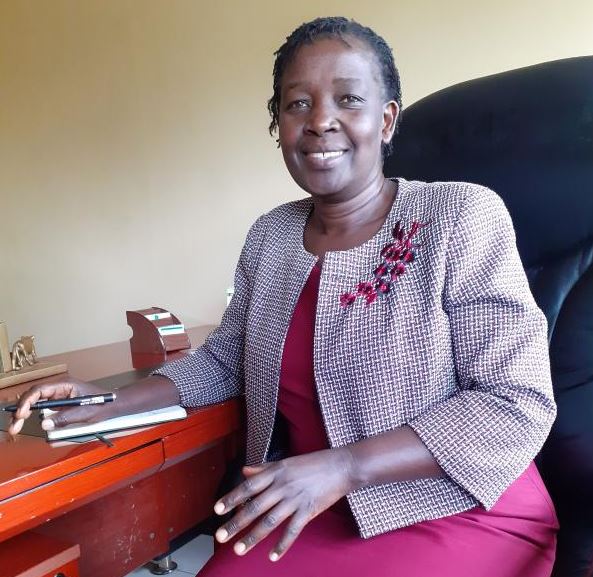 Nyamira agriculture CEC Peris Mong'are on strategies the county has put in place to boost production, link farmers to markets.
Achieving food security has been a challenge in the country, what is Nyamira County government doing to ensure the country achieves this, which also happens to a pillar in President Uhuru Kenyatta's Big 4 Agenda?
As a county, we are also having it as our main agenda in support of the President's National initiative. This county relies mainly on agriculture and its uptake is well about 90 per cent. So far, we have made huge steps in achieving the objective of ensuring every household is food secure.
For instance, we have recruited 73 extension officers in the devolved unit's 20 wards besides equipping them with 40 motorbikes to ease outreach services to farmers. The officers have also been retrained on emerging modern trends and skills in agriculture.
We are also scaling up partnerships with institutions like World Vision, Food and Agriculture Organisation (FAO), International Fund for Agriculture Development (IFAD), Japanese International Cooperation (Jaica) Kisii University among many others.
What is the main challenge in the county in terms of food production?
Farmers in this region are in a constant struggle against various challenges which include scarcity of agricultural land due to population pressure; climate change and unpredictable weather patterns; pests and diseases - in particular, fall army worms and maize necrotic disease; cross border cattle theft, maize lethal necrotic disease and armyworms. My office is doing its best in tackling these challenges.
What are some of the solutions the county has offered farmers to deal with some of these challenges?
We have been encouraging farmers to test their soils before planting and we make this possible by linking them up with our agronomists, we also help them in choosing the best fertilisers that go well with local soils.
We have also introduced high yielding seeds like the high iron bean which is already being piloted at Borabu sub-county. We also provide subsidised AI services. My office has also provided improved kienyeji chicken breeds in addition to offerring help to those interested in greenhouse farming.
Disease and pests have been major hindrances in food production in the county, any serious interventions so far?
The county recently formed a team of experts to do surveillance around the county to do mapping of the Fall armyworm infestation. We are also linking up with research institutions like Kalro and local universities as well as partnering with the national government in addressing some of these challenges.
In conjunction with some organisations endeared with research in pests, we have trained plant doctors who hold clinics across all the wards in the county on pests and diseases. The International Center for Insect Physiology and Entomology (ICIPE) is also doing research on integrated pest management.
Agribusiness is the future of agriculture, how are you empowering farmers towards this?
Agribusiness in the county is picking tremendously even though not many people have fully adopted the concept. Much of the produce from Nyamira feeds neighbouring urban centres and such emerging markets are awakening our farmers on the concept of agribusiness.
Value addition on dairy products is also being taken up on a good scale and we hope it will be a major thing in the future.
Farmers have for long been exploited by middlemen, what's is your office doing to help farmers market their produce?
The county has established bulky collection centres for fruits, milk and other horticultural crops which are sold through organised markets steered by farmers.
Most organised growers have formed cooperative societies which they are now finding important in the marketing of their produce. We are encouraging many others to form cooperatives which will boost their marketing power.
Greenhouse farming has been picking in the region over the last six years, how many such farmers have you listed so far?
So far, the county has supported groups of farmers as well as individual growers to establish 80 greenhouses through its funding programmes, but there are about 100 more individual farmers who have started doing greenhouse farming on their own and are a big count towards achieving productivity. Previously, it has been not very dynamic.
But since the inception of devolution, we have witnessed a rapid growth in the region with many farmers adopting growing of vegetables, fruits and quick maturing agricultural crops like tomatoes, sweet potatoes, pineapples, and avocados. We are happy with progress.
Value addition is also a key sector that could solve marketing issues as well as post-harvest challenges, what is the county doing about this?
This is one of the priorities of the county government in strengthening agriculture in the region.
Plans are at an advanced stage to set up a banana value addition centre in Kemera, we also plan to establish a public-private partnership with Highland Creameries which is in already in the county to boost value addition of dairy products.
There's also a plan to establish a honey refinery in Nyamusi area. The county will also establish a revolving fund for small scale farmers.
Want to get latest farming tips and videos?
Join Us