There is a huge local market for mushrooms, over to you farmers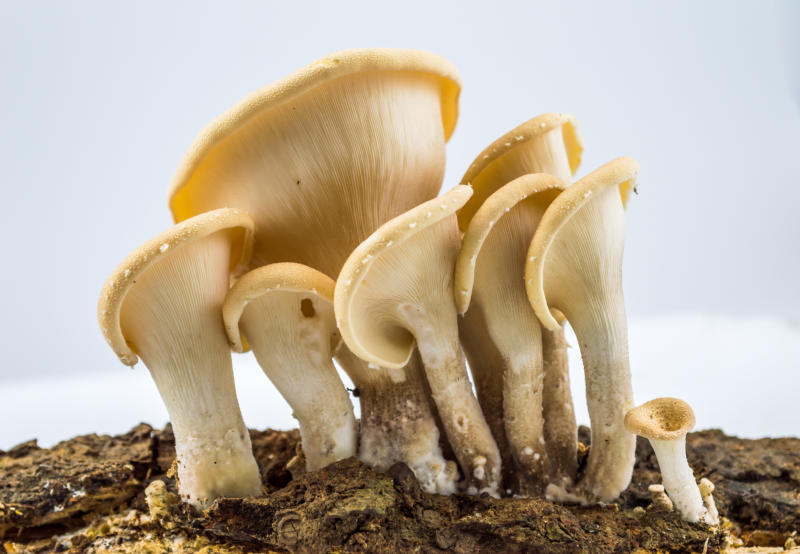 We have fruits and vegetables, then we have mushrooms which are neither of the two. Technically, mushrooms are not even plants. They are a special type of fungi, a notion that puts some people off. Startling, right? In most instances, the key to getting enough vitamins and minerals in the diet is to eat a colourful variety of food since that which lacks colour also lacks necessary nutrients - but edible mushrooms which are commonly white, prove quite the contrary.
The four popular exotic mushroom species currently grown and consumed in Kenya are Button, Oyster, Shiitake and Reishi mushrooms. Of the four, oyster are the easiest to cultivate, growing in a wide range of substrates and temperatures, and thus referred to as "mushrooms for all seasons".
They are also the most common in Kenya. However, button mushroom has the highest demand, with Kenya importing most of it to satisfy its tourist industry. Due to its complicated growing process, many farmers shun it. But with the know-how, this variety pays handsome dividends. A report by National Farmers Information Service (NAFIS) indicates that the annual demand for mushroom in Kenya is 1,200 tonnes, yet only 500 tonnes (476 tonnes being button) are available.
Health benefits
Other than being a substitute to meat, mushrooms are globally appreciated for their nutritional value and medicinal properties. A number of scientific studies reveal the health benefits of this food, stating that besides low fat, high protein and vitamin contents, mushrooms are rich sources of several minerals and trace elements, as well as dietary fibers.
Lately, mushrooms have emerged as a wonderful source of antioxidants, anticancer, anti-inflammatory, antimicrobial, and anti-diabetic. Owing to the synergistic action of present bio-active molecules, majority of mushroom products possess beneficial health effects and can be used on a regular basis without harm. Button and Oyster mushrooms are rich in zinc, iron, potassium, calcium, phosphorus, vitamin C, folic acid, niacin, and vitamins B-1 and B-2.
Environmental conservation
The process for growing button mushrooms begins with thorough mixing of these components manually. After that, the substrate is pasteurised. Spawning follows pasteurisation. The process involves putting spawn in the ready substrate. Packaging is the next step then storage, which involves putting in dark cool room. When this is done, level the top of the bag and add virgin soil that has been treated.
Now you can wait for them to mature. For oyster mushrooms, water that's mixed with lime and molasses is used to mix the components manually. Thereafter the components are heat in a drum of 20 - 30 litres of water for 2 - 3 hours so as to sterilise. After cooling, the bag of substrates is then transferred to a dark room and left for three to four weeks. This will allow the mushroom spawns to cover the entire substrate and begin maturing.
The beauty about mushroom growing is that their cultivation is an effective bio-conversion technology of transforming wastes into potentially valuable resources, making it an important part of sustainable agriculture. The process contributes towards environmental conservation since they grow from waste products, in which after the cycle is complete, the substrate is used as manure. Different mushrooms do well on different substrates.
The commonly used substrates that are cheap and readily available for oyster mushroom, depending on location, are wood sawdust, sugarcane bagasse and maize cobs. Wheat straw, banana leaves, banana pseudo stems, barley straw, bean pods/straw, coconut fibre,coffee parchment, coffee pulp, coffee sawdust, corn fibre, corn stovers, cotton straw, cotton husks, grass, groundnuts shells, legume straws, paper pulp, potato foliage, rice straw, sorghum stovers, sunflower stypes, tea leaves and water hyacinth are also used to achieve this goal. The bulk substrate materials used for Button mushroomare wheat straw, chicken waste and horse manure (some use urea if horse manure is not available) supplemented with cotton seed cake and molasses.
Challenges
Mushroom farmers face quite a number of challenges, reason why there is a shortage in the market. The major problem is lack of expertise in cultivation and disease management.
(The writer is a researcher, a PHD in Finance Candidate, Jomo Kenyatta University of Agriculture and Technology, and CEO of Splendid Mushroom Enterprise)
Want to get latest farming tips and videos?
Join Us