Forget raw fish, I earn triple from sausages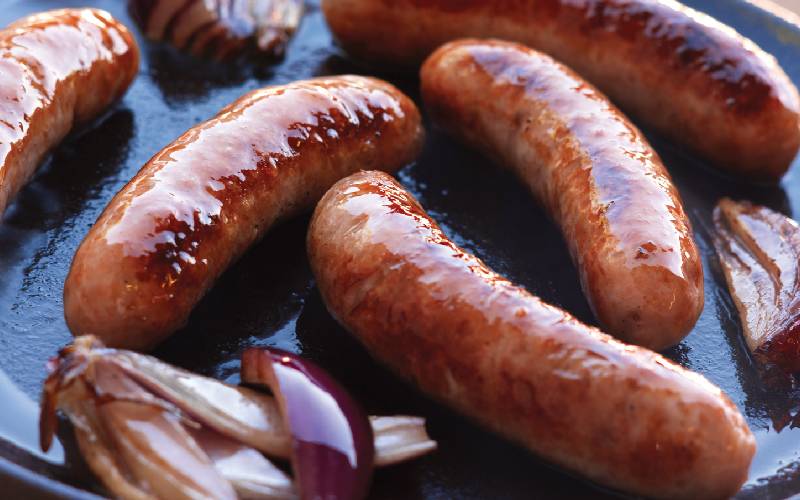 In 2009, David Ruhiu was on the verge of retirement and worried about his future after leaving a stable job. With a family to take care of and no consistent source of income, Ruhiu had to think fast.
Coming from an area where dairy farming is the norm, his obvious first choice was keeping cows on a commercial basis.
To start the journey, using part of his pension, he bought eight dairy cows and got things in order — the cow pen, the feeds and others. But the business never picked up.
"For some reason, I was not making solid money. First, despite feeding the cows well, they were not giving sufficient milk for sale. I was actually running my house from my pension cash and I knew that was not sustainable. I started looking for a more viable option," he recalls.
After months of research, he settled on fish farming. To do it professionally, he started Avil Farm in Ndaragwa Constituency, Nyandarua County.
Business is booming
"I started with one fish pond, bought tilapia fingerlings from the Kenya Marine and Fisheries Research Institute in Sagana facility and rolled out. My first batch was 2,000 fingerlings and they earned me Sh97,000. I was impressed," Ruhiu says.
Lucky for him, his fish business started doing well and he never lacked customers. Locals had heard of the many health benefits of fish compared to red meat and they were open to change.
"I think people were tired of githeri and beef and just wanted something healthier and tastier. I also did a lot of marketing among my family, friends, former colleagues and word spread," he shares his magic wand.
With time, business was booming, he sold the dairy cows and went full throttle into fish farming. Ten years later, Avil Farm boasts a hatchery for monosex tilapia fingerlings, 13 fish ponds, and a processing site for fish sausages. The highlight is the sausages which he sells like hotcake at supermarkets in Nyahururu town.
"They are a new product, but have the capacity to compete effectively with other varieties of sausages, but they sell faster because they are healthier than beef and pork," Ruhiu says.
One of the advantages of sausages is it has high profit margins. While he may sell 1kg of fish for Sh400, he can sell 1kg of fish sausages at Sh1,000.
"My facility has a capacity to make 150kgs of sausages per hour but for now we are making 300kgs a day because we are doing it by hand. However I have ordered a sausage making machine which will allow me to do more," Ruhiu says. One advantage of processing fish into sausages is that he has no competition in the market.
"Nobody else is doing this. So most of the time they fly off the shelf when placed next to beef and pork sausages because they are healthier options," he points out.
So what inspired him to go into processing?
"Well one morning I was on the farm doing the usual when I got a call from a client to supply a large order of mature tilapia on short notice. It was a five-star hotel. As expected I was excited and put my best foot forward. I harvested the best, cleaned them up, packed them well and put them in cool boxes ready for the journey," Ruhiu recalls.
He sold each piece at Sh300. He was paid immediately after delivering the order. He was so proud of himself, to reward his efforts, Ruhiu ordered a plate of fish and ugali, at the same hotel. He was in for a surprise.
"After it was served, I was given a bill of Sh1,700. I was shocked. I mean I had sold the same fish to them at Sh300 but they sold it back to me for Sh1,700 simply because they had cooked it. My eyes were opened… !"
When he went back to his farm, he embarked on research on ways to process fish. That is how he settled on fish sausages.
"To sharpen my skills, I enrolled for training and had to get clearance from the county government, Ministry of Health and certification from the Kenya Bureau of Standards," he says.
Now he is a master of the game.
Other than processing fish, he is also big on fish production. He owns 13 ponds, five large ponds measuring 15 metres by 20 metres each containing 300,000 litres of water each while eight small ponds containing fingerlings in various stages of growth breeding catfish and tilapia.
The farm has a green house in which the tilapia fingerlings are reared, in a sterile environment.
"My smallest pond produces 4,700 tilapia fish while the largest can produce 10,000 fish. I sell each tilapia for between Sh300 to Sh500 per kilo," he says.
His catfish ponds produces between 10,000 and 15,000 fish per harvest.
Top tips
He says the key to successfully producing tilapia is good feeding, especially proteins. And rearing two species is work, he says.
"For me to succeed in rearing the two breeds beside each other I ensure that 70 per cent of their diet is made up of proteins. I vary their diets between fish pellets and sweet potato vines, which are high in protein."
The sweet potato vines he says, have at least 21 per cent protein content and the leaves are fed to the fish to supplement their diets of algae and fish pellets.
For safety reasons, he is keen to ensure that he does not introduce the catfish into a pond with young tilapia unless the tilapia are older than the catfish to avoid cannibalism among the two species.
Ruhiu introduces, chicken and cow manure into the ponds to stimulate the growth of algae which are crucial for the fish to thrive.
Each tilapia can grow to between 350 grams to 400 grams each, while each catfish can grow to between 1kg to 2kgs in sizes.
Works with local farmers
To ensure a steady supply of fingerlings, Ruhiu set up a hatchery on the farm, where he maintains brooders and has 17,000 monosex fingerlings which he supplies to farmers he has contracted.
"My hatchery is maintained in the green house where the brooders are kept in nets alongside the fingerlings in high temperatures and in clear water," he notes.
He has employed five permanent staff and during harvest season he gets an additional 15 people to help dredge the ponds and main the nets.
Nothing goes to waste on his farm, when he drains the ponds of the water, he uses it to irrigate his vegetable farm and is able to produce 400kgs of spinach a week which he sells to his neighbours and the nearby market.
To meet demand for fish for sausages, he works with local fish farmers.
Already, he reached out to fish farmers most of whom had personally trained and started buying their fish to supply his venture. He has a database of 200 farmers.
Want to get latest farming tips and videos?
Join Us