New payment system to help rid sector of bad milk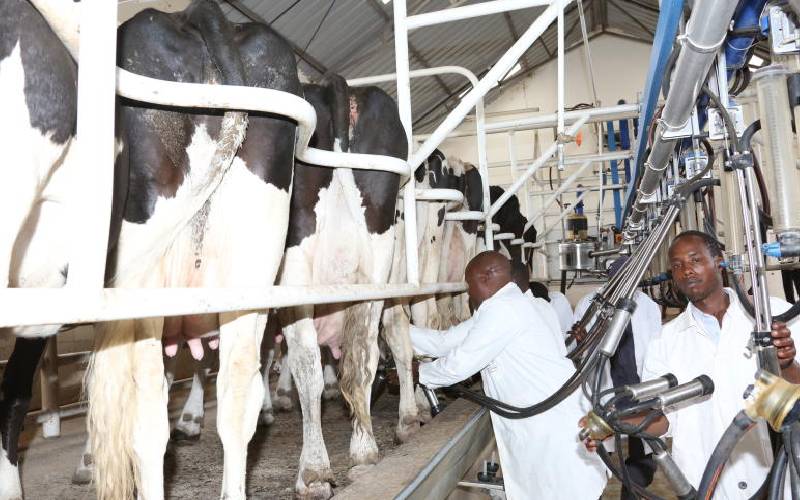 The Kenya dairy industry has for long grappled with poor quality milk. And in a market that pays depending on how much one produces, unscrupulous farmers will use almost anything to shore up milk volumes or prolong its shelf life.
The additions usually endangers lives of dairy products consumers as well as deny Kenya access to high paying export markets.
This could however start changing in the coming months, with proposals for the industry to adopt a method of payment that focuses more on the quality of milk rather than quantity.
The Ministry of Agriculture plans to institute regulations that will herald such a system, where farmers whose milk is richer in components such as butterfat get more per litre of milk.
Quality vs quantity
As it is, players point an industry in chaos and one that has put lives of consumers at risk, just so that wayward businesses can make that extra shilling.
"Players in value chain are messing up with the milk. From water adulteration to addition of chemicals to prolong the shelf life of milk to others adding forms of fat, wheat flour, sugar some even preserve it with soap," Emmanuel Kabaki, GM Milk Procurement and Extension Brookside told participants at a recent dairy workshop in Nairobi.
He said there are numerous instances where milk has tested positive for antibiotics.
Cows that may have been under treatment for diseases like mastitis where antibiotics are used are required to be isolated and not produce milk. Sometimes the isolation period can go for as long as 10 days, which some farmers take to be too long and resume milking with the effect being antibiotic residuals found in dairy products.
"A large proportion of the milk being sold out there is full of antibiotics because many farmers do not observe the withdrawal period," said Kabaki.
This could affect public health, and according to the Kenya Dairy Board (KDB), it has resulted in some Kenyans being resistant to antibiotics.
"If you do not observe the withdrawal period, the antibiotic residuals will be found in milk and when it is consumed, it causes (health) challenges among humans… you will find instances of resistance to antibiotics among some Kenyans," said Mary Kibogy chief executive KDB.
Other than the health risk to Kenyans, impurities in dairy products have also been costly.
"Only a tiny fraction of Kenya's milk production is exported. In recent years, a number of trade conflicts arose, when regional importing countries (Zambia, Tanzania) rejected products, processed in Kenya on the grounds that the raw milk production was of insufficient quality. High total bacterial counts in the raw milk supply were cited as the cause for rejection of the products," said a study by SNV Netherlands Development Organisation.
Incentive to farmers
Livestock PS Harry Kimutai said the regulations are expected to come in to force by March. The industry will be given a transition window, after which the industry will start transiting from the current system to one where farmers will be paid depending on quality.
Among the parameters that milk processors will use in the new system include high fat content in the milk delivered by the farmers. The system is also expected to deal with adulteration of milk.
"If we introduce the quality based system of paying farmers, then they are going to produce high quality milk," said Kimutai during the dairy workshop.
"The current milk payment system is based on quantity because of ease of calculating the price of milk. It however does not provide inventive. It also does not discourage malpractices such as adulteration."
Research findings
The system is similar to one used in the tea industry, whereby some leaves fetch a premium and in some instances farmers with lower volumes tend to fetch more than their colleagues churning high volumes. Brookside, the biggest processor last year said it would start using this system to pay farmers.
Kimutai added that the Ministry is also planning to start regulating the animal feeds industry, which is partly to blame for some of the toxins in local dairy and meat products.
A law on animal feeds, PS Kimutai said, would reign in on rogue producers that use substandard maize and other raw materials, with the end result being unsafe levels of aflatoxins and other poisons in dairy and meat products.
A 2018 report by the International Livestock Research Institute found that more than 70 per cent of milk collected from small scale dairy farmers and 84 per cent from large and medium-scale farmers had aflatoxins. Most of the milk also had aflatoxin levels above what is recommended as safe for human consumption by the Food and Agricultural Organisation.
Want to get latest farming tips and videos?
Join Us