How I started seaweed beautyline from home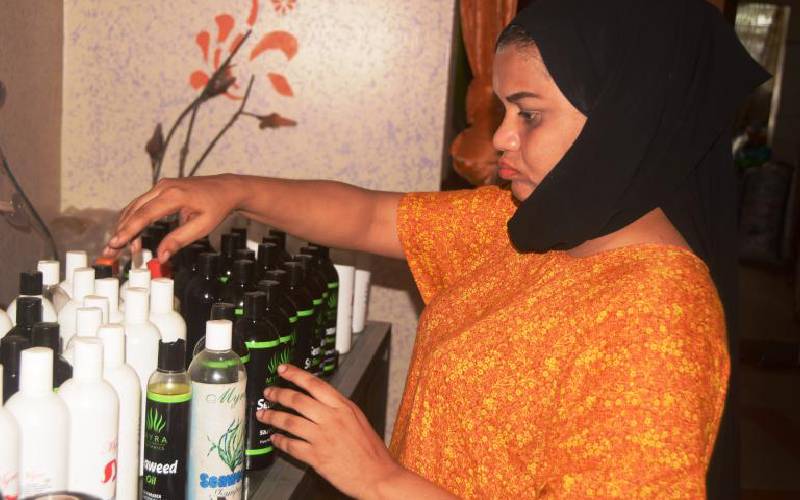 Agriprenuers have various inspirations for their businesses. For Ms Maryam Abubakar, she had her Eureka moment while on a tea date with a friend in 2017.
"As we were chatting, this friend spoke to me about the many opportunities in sea weed value addition. I decided to give it a try," she tells Smart Harvest.
She did research
After the meeting, she travelled to Zanzibar to do a factfinding mission on seaweed trade. Her plan was to start exporting this sea vegetable to China, Japan or Korea.
"I searched for possible clients in Asia on the Alibaba.com app. There were many clients but I could not afford the cost of freight. I needed Sh1 million capital," she says.
When she failed to raise the money, Abubakar decided to go local. Her plan? She would start production of beauty products using the sea vegetable from her house in Mombasa. Seaweed are forms of algae that grow along rocky shorelines around at the Coast, especially, in Kwale County and is a delicacy in Asian countries like Japan, China and Korea.
To beat competition
Owing to its many benefits, this sea vegetable hailed as a new superfood, has also been incorporated into products like toothpaste, medicine and shampoo. It's potential is however unexploited in Kenya.
For Ms Abubakar, she focused on making beauty products. To gain production skills, the graduate of Business Administration from Moi University, enrolled at Kenya Institute for Public Policy Research and Analysis for training. Here, she learnt how to make shampoo and other beauty products.
"I learnt how to make gel and perfume through the Internet. All my products have been certified by Kenya Bureau of Standards (Kebs)," she says.
Armed with knowledge and skills, Ms Abubakar launched the business at her house in Tudor.
To beat competition, Ms Abubakar began by selling a package containing all her three products (shampoo, gel and perfume) at Sh1,000).
"In the market, a bottle of seaweed shampoo goes for Sh500 but I decided to start with a promotional offer. Later on when I secured a solid client base, I started selling each product on its own. Currently, a half a litre bottle of seaweed shampoo retails at Sh1,000," she says.
Business is good, she says.
On the day Smart Harvest visits, it is a beehive of activity. She has turned one of her rooms into a 'mini factory' where she has erected machinery for processing the products. The startup, Manami Brand Limited, is now adding value to the seaweed by producing shampoo, lotion and perfumes.
With popularity of organic products growing and demand for chemical-free skin and hair care products also rising, the agriprenuer is confident she will be in business for a while.
Chemical free products
"Other than being free of toxic chemicals that many women are avoiding, the seaweed is extremely versatile and can be used in many ways," says Ms Abubakar.
So how does she do the processing? First, she pours dry seaweed into the mixer, adds clean water, colour and perfume and mixes the concoction for an hour. A kilo of seaweed produces 20 litres of shampoo.
"I boil the concoction for an hour to get rid of the sea smell. I then allow it to cool down before I start to package it," explains Ms Abubakar the director of Manami Brand Ltd.
The sea products have numerous benefits for hair and skin.
"Seaweed has high levels of calcium, Vitamin A and E thus very good for skin and hair," explains the agriprenuer.
Her finished products go under the brand name Myra Botanics. One of the senior officials Fatuma Mohammed, says they process an average of 25 tonnes of seaweed per year.
Currently the farm gate price of a kilo of seaweed is Sh20. To sustain the supply of the sea weed, she has contracted a group of farmers from Kibuyuni in Kwale County.
Empowers Kwale farmers
Ms Abubakar says she decided to specialise in the production of lotions or seaweed gel, shampoo and perfumes because she did not want to compete with the farmers.
"I buy the seaweed from Kibuyuni farmers at Sh50 per kilo. But the total cost which include transport is Sh1,500," she reveals.
The hair care market in the country is flooded with organic or natural hair products and it was not easy for Ms Abubakar who produces 20 liters of shampoo per week. But she stood the test of time and grown the business despite the odds.
"My initial capital was Sh100,000 which was a loan from a local bank but the firm now is worth Sh1.5 million," she says.
Her market is solid.
For new opportunities, she markets the products through her Facebook accounts, Twitter account, friends and family.
"My first client was my MP (Lamu East MP Shariff Ali Athman) and my former boss at Equity Bank."
She sells also her products in major beauty parlours in Mombasa, Malindi and Lamu and hopes to expand to Nairobi in the near future.
Want to get latest farming tips and videos?
Join Us