Farmer reaps big from tree tomato juice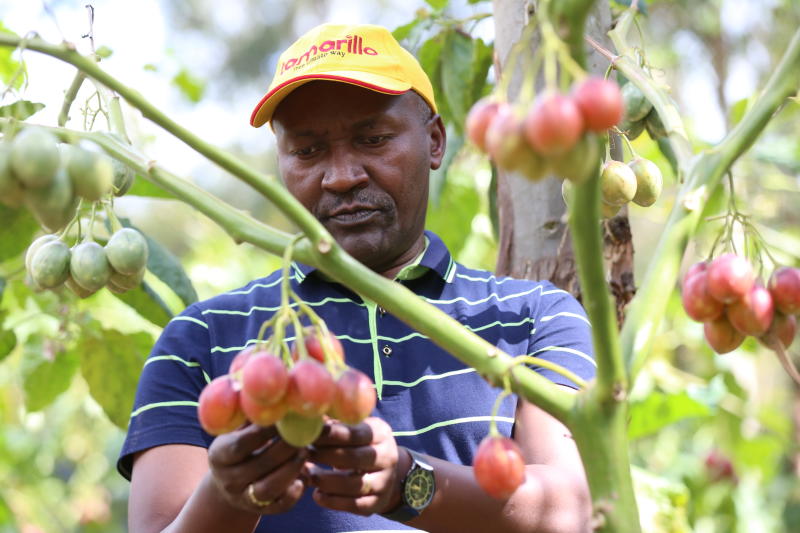 In 2014, Daniel Kiboi, bought 2,000 tree tomato (tamarillo) seedlings just to try his luck with them.
To set the ball rolling, on his two-acre piece of land in Mweiga, Nyeri County he integrated the surrounding forested area, with his tree tomato plants, a farming technique known as agroforestry.
This entails integrating crop farming alongside the cultivation of trees. Four years on, the fruits are evident.
"I have a background in agronomy specialising in herbs and vegetables. For me, farming came naturally as a potential venture. But I chose tree tomato because I learnt that it had good prospects," says Kiboi who has 30 years' experience as an agronomist.
Another reason he settled on them is the high prices and low labour costs.
The journey
"At the time, 2015 the market was fair and I could sell a kilo of tree tomato for Sh90. However, it is subject to price fluctuations," Kiboi explains.
Like all ventures, before he broke even, he suffered setbacks. Having heavily invested in the venture, he was greatly discouraged when prices dropped to an all-time low of Sh50, and the buyer also asked him to wait for up to two weeks for his payment.
"I had invested in a pickup and my shipment fruit was delivered but when it came to negotiate for price, I was disheartened that not only was the price less than I expected but also that I had to wait for the payment," he says.
Lucky for him, an opportunity for training emerged to sharpen his skills.
Take a quick survey and help us improve our website
Take a survey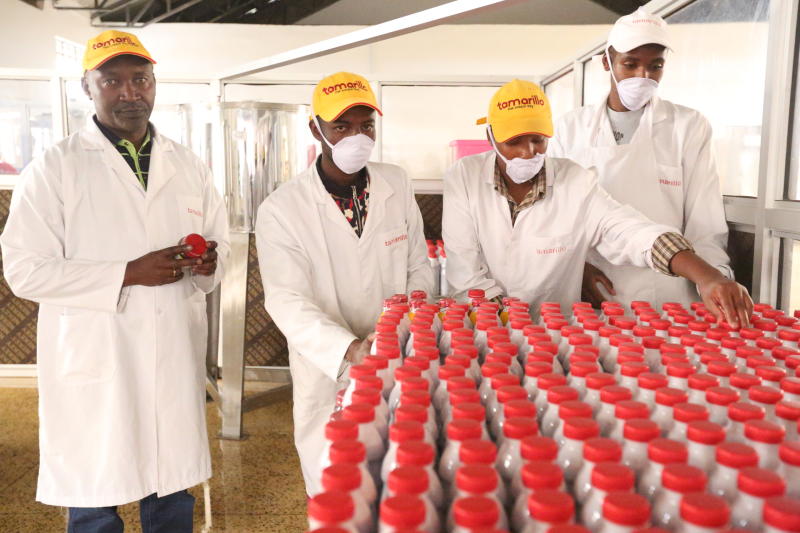 Attended a training
"My wife and I attended classes at Jomo Kenyatta University of Agriculture and Technology, where we underwent a training on how to process tamarillo fruits into juice and other products," Kiboi tells Smart Harvest.
The next step for Kiboi was to put theory into practice. He went to Nairobi Industrial Area and ordered the necessary machines at fair prices.
Before setting up the machines, he toured the JKUAT Food and Science department to get technical support.
There was more that was required from his end.
"A key challenge in agro-processing is getting the necessary approvals from the Kenya Bureau of Standards, because your products must meet a certain standard to get the mark of quality and through the expertise from the JKUAT graduates working in my plant we were finally able to meet those standards," he says.
With that backing, he got the go-ahead to sell packaged tamarillo juice and jam in the market. Now things are looking up.
KEBs mark of quality
Currently, there are six graduates from JKUAT working at the processing plant. He also gets interns from the institution who come and sharpen their skills.
"I offer them accommodation and a small stipend to the interns and ensure they are comfortable," he says.
Four months ago, he started selling his products in a few outlets and in a short time, there was a positive response from the consumers.
Currently the facility has the capacity to process 2,000 kgs of fruits per hour and is producing 300 litres per hour.
Processing
One of the unique things about processing Tamarillo is the chemistry of the fruit which is rich in pectin, a gelling agent found in products such as jam.
The first step is to keep harvested fruits for at least two weeks before they are ready to be processed.
Next they are washed and sanitised after which the fruit stalk is removed.
Following this process is the blanching in hot water that will allow the skin to peel off the fruit, after which the fruits undergo pulping where the seeds and skins are removed to get rid of the (bitter) taste.
The thick pulp is pasteurised at 75degrees for 15 minutes to kill microbes. Afterwards, water is added to give it right consistency.
"For our any product to be considered a fruit juice the standard amount of water added is 10 per cent," he says.
The juice is then set aside for cooling and later bottling, a fully automated process.
To ensure consistent supply of his products in the market, Kiboi has increased his trees from 2,000 to 20,000 and also contracted at least 16 farmers to provide him with same when demand soars. The farmers are from Nyeri, Eldoret and Nakuru.
Extension services
With a shortage of extension services, Kiboi visits farmers on their farms to offer advice on best practice.
"Being an agronomist for three decades, I have a wealth of experience, and able to help the farmers on pest and disease contracts. I do that willingly," he explains.
For those interested, the agronomist recommends them to plant the Oratia tree tomato variety as it has better yields and only 10 percent loss in the processing.
"When dealing with the Oratia variety, 500kgs can produce 2,000 litres of juice with only 10 per cent loss in terms of peels and stalk, which is unlike other variety where you lose most of the fruit," Kiboi says.
The many benefits
He has also set up a tree tomato nursery with the variety and also has Hass Avocado and macadamia seedlings and is in the final stages of being certified.
An advantage of processing the tamarillo fruit is that it is productive throughout the year, which means there is rarely any shortage in supply.
"You can have the tree, harvest every week after it matures and remain productive for up to eight years unlike other fruit trees that are seasonal."
The juice is high in nutrients such as potassium.
And being an untapped market, it can also be processed into jams and other products.