How I cut feeding costs for profitable big birds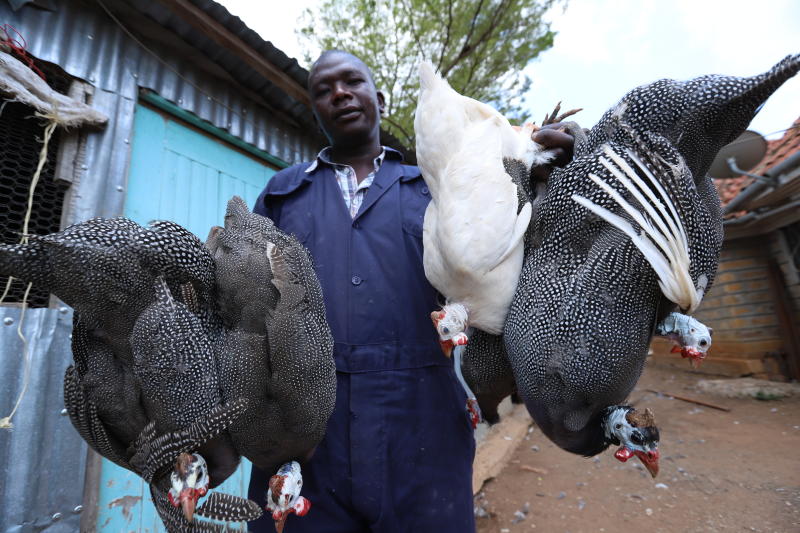 To many farmers in Homa Bay County, maize cobs are farm by-products that many a times have no use. But one farmer has discovered a creative way to use it to cut feeding costs for his poultry.
George Ouma, uses the maize cobs to make a rich mix which he feeds his flock of Guinea fowl, his main source of income.
"Five years ago, I discovered that maize cobs can be used to make poultry feed. Since I discovered that, it has significantly reduced cost of buying feeds," he says.
To make the feed, he mixes maize cobs, rice jam, dagaa (omena), sunflower, soya beans and other food supplements, which he then mills in a special machine. Afterwards he feeds this to his birds.
How he does it
"The different components provide various nutrients that the birds require, and the ratios are determined by the age of the bird. The smaller ones require nutrients to help them grow, while the mature ones need the foods which support laying of eggs and fattening," he explains.
The advantage of these cobs is that apart from ready availability, they are low cost.
The 36-year-old, ventured into poultry business ten years ago, starting with chicken, before a friend introduced him to guinea fowl.
"He (the friend) gave me two birds, and told me they are just 'special chicken' which need similar care to the normal chicken I was raring. He taught me how to tend to them," says Ouma.
Value of trainings
Along the journey, the birds proved heavy feeders compared to chicken, a situation which almost pushed Ouma out of business. After attending several training, Ouma decided to try his hand in feedsmaking to cut cost.
After he had made his first feeds mix, to test the waters, he put one day-old chicks into three groups. He fed two groups with two different modern feeds, while he fed the third group with feeds he had made.
He did these tests for a month and observed the behaviour and growth of the young birds. The result was impressive.
"I noticed that the birds that I had feed on my composition were heavier. But I must confess it was not easy getting it right. To get the right rations, I scrutinised contents of the modern feeds produced by the well-known manufacturers, and gambled for months before I could get the perfect ratio for the feeds," he says.
But now he has found a perfect balance.
With the ratio of maize cobs to rice jam to soya beans at 5:3:1, Ouma says he is capable of producing quality feeds, which, when mixed with the natural feeds, his birds acquire admirable weight which enables him fetch good prices in the market.
What expert says
According to David Mieno, Director Non-ruminant Research Institute based in Kakamega County, Ouma needs to invest much on maize grains, and reduce on cobs due to its low nutrient value.
Mieno says birds need a lot of energy and protein, which if well-mixed can give guinea fowl better income.
"Maize cob has a lot of fibre, but Ouma is lucky because his birds are left to scavenge out for the nutrients they miss from the feeds," he says, adding that "We can still use the local foodstuffs to formulate proper feeds, but with this we can do when we see how Ouma does it."
Get maximum yields
To stay on top of his game, Ouma starts work at the farm at 6am. He then releases the 300 birds out of their house to a waiting feeding tray and troughs of water. The feeding takes between 30 to 45 minutes.
The birds are then released on the two-acre farm to scavenge for worms, greens and other natural feeds.
Once the sun becomes hotter, the birds move to a shade within the compound, where they rest. Here, they are given clean water.
To keep safe, the birds move in groups, and can defend one of them under attack by attacking the threat, or crowing loudly to attract the attention of whoever cares.
Hygiene is also key.
"I regularly disinfect the compound, so there is little risk of infections," says Ouma.
The challenges
The birds, he says, have developed a strong bond to people, and other domestic animals in his compound. The downside of this is that stray dogs take advantage to sneak into the compound and attack them. Ouma says at maturity (six months) they acquire good weight and fetch as much as Sh2,500 and Sh3,000.
Already, the farmer has two solid orders, which he is working towards meeting.
Want to get latest farming tips and videos?
Join Us