Top three reasons why youth shy away from agriculture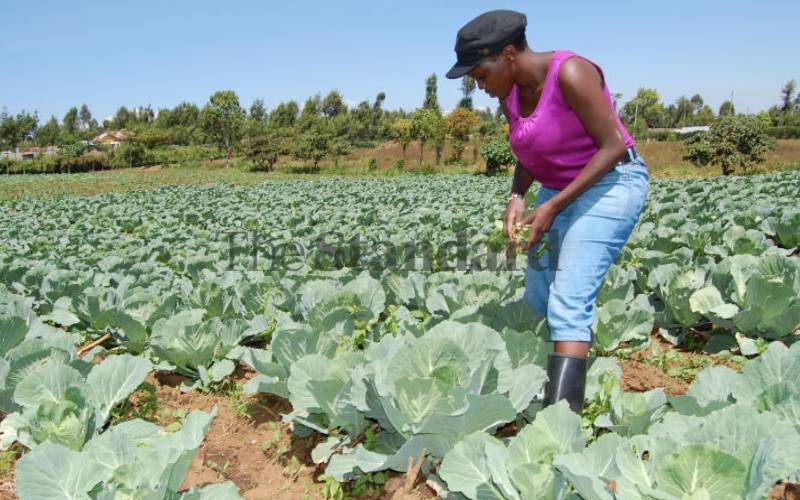 Access to land, agricultural training and technology are the major issues hindering the youth from practicing agriculture, a new report says.
Heifer International report, published in May 2021, titled Future of Africa's Agriculture shows that 59 per cent of youth interviewed in Kenya indicated access to land as an impediment to pursuing agriculture.
About 3,000 youths and smallholder farmers participated in the survey.
Despite having a large expanse of agricultural land, the report says less than eight per cent is used for crop and food production and less than 20 per cent of the land is suitable for cultivation. Some 12 per cent is classified as high potential agricultural land due to adequate rainfall and about eight per cent is medium potential land.
"Access to land or ownership is a major cause of concern as 59 per cent of youths surveyed indicated they lack both. Stakeholder engagement with governments to provide access to land, tax waivers and fiscal policies that deliberately support youths in the sector should be a component of every programme," the report read.
Youth Affairs Principal Secretary Charles Sunkuli said due to cultural systems, it is difficult for the youth to claim space to do farming.
Bright idea
"The customs and family values within the African setting gives powers to the parents to make decisions. So even if a young person has a bright idea for farming, however profitable the venture is, cultural values may act as an obstruction, for example, some cultures do not allow pig farming," said Sunkuli.
Additional findings from the survey showed that only 46 per cent of youth are engaged in agricultural activities and 45 per cent are employed within the agricultural sector.
Crop and livestock agriculture are the major types of agriculture youths are involved in at 36 per cent and 31 per cent respectively. Processing came third at 30 per cent.
Some 90 per cent are exposed to agricultural technology but only 39 per cent of the youth are using any form of agri-tech.
"Smallholder farmers surveyed said their low literacy level, socio-economic status, and inadequate or no extension service are the key reasons for their low adoption of technology," the report read.
Sunkuli said the biggest challenge is how to increase youths' employability in the formal and in informal sectors, noting that the agricultural sector had the greatest potential for employment.
He added that the Youth Enterprise Development Fund will now focus on youth enterprises particularly in agriculture so that youths are more involved.
"We will mobilise the youth working together with all the skill providers to provide agricultural training to build a better understanding of agriculture. A good share from the fund will have to go to youth involved in agriculture," said Sunkuli.
He added: "Following the launch of the 4k Club, we now want to walk the talk by providing resources to the youth. We will also work with institutions of higher learning that are providing simple technology and encourage young farmers to take them."
Heifer Kenya country director George Odhiambo noted that there is low adoption of technology within the agricultural sector which is affecting productivity.
Other issues that emerged from the study are lack of access to innovations, funding and training and mentorship.
"Some of the approaches we think might be effective in ensuring the youth are engaged in agriculture is linkage to expert knowledge and linkage to existing practicing farmers that may then change their perception," said Odhiambo.
Other recommendations are addressing access to the market to spur production and digital literacy as a way of reaching out to the youth.
"Using technology and technological innovation, integrating agricultural training into national curriculums, focusing on youth issues in agricultural policy and government support would be key issues to bring more youth to the sector," said Odhiambo.
Want to get latest farming tips and videos?
Join Us