Pesticides residue problem must be tackled head on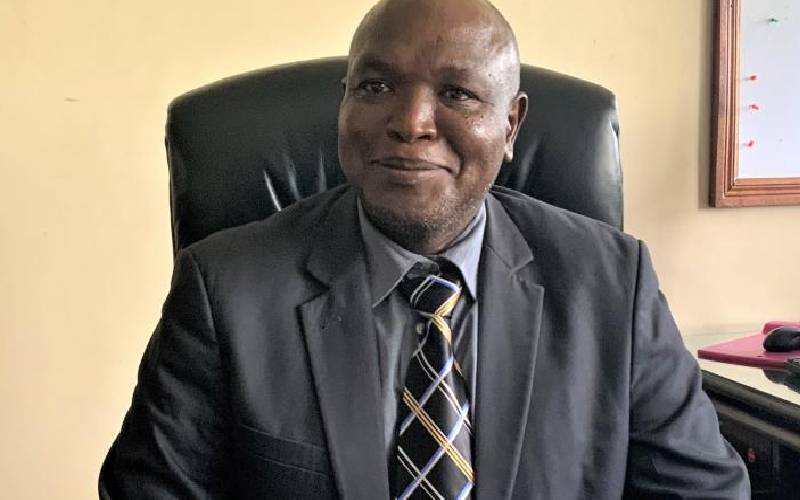 Benjamin Tito talks about the sector's potential, the challenges posed by the ongoing pandemic and how the directorate plans to navigate the ensuing storms.
Describe the country's horticultural potential
Horticulture is among the top agricultural subsectors in terms of income generation through both domestic and foreign markets. In 2019, the value of horticulture was estimated at Sh268.5 billion, from an estimated area of 496,062 hectares and production of 7.9 million metric tonnes. The total value of fresh horticultural exports in 2020 was Sh150.2 billion from 313,668 metric tonnes, compared to Sh143 billion in 2019 from 328,335.5 metric tonnes. Flowers accounted for Sh107.5 billion (72 per cent), while vegetables and fruits accounted for Sh24.2 billion (16 per cent) and Sh18.8 billion (12 per cent) respectively. Such figures tell you the country's horticultural potential is enormous.
The local and international lockdowns affected horticultural production...
Yes it did. The bulk of inputs such as fertilisers, pesticides and seeds are imported. Therefore, the lockdowns affected access to inputs due to delays in supply as a result of local and cross border transport restrictions and night curfews. However, this was addressed by the government providing protocols for movement of goods across the country and the borders. Second, movement of staff across counties under lockdowns impacted on farm operations like spraying, weeding and harvesting. However, the HCD facilitated their movement as essential service providers.
Impact on markets?
The key destinations taking over 60 per cent of Kenyan products are European Union and the United Kingdom. International lockdowns suppressed consumer demand in the foreign market. In addition, reduced cargo freight capacity resulted to increased airfreight charges. For example, flower exports reduced by 50 per cent in the months of March-May 2020 compared to the same period in 2019. Growers laid off workers due to reduced liquidity. They were also unable to tend to their crop thus affecting product quality. The directorate received increased complaints on non-payment by vegetable exporters. However, the avocado sector was not affected as sea transport was not greatly affected.
How will the travel impasse between Kenya and the UK affect local exporters?
This impasse is temporary and has been necessitated by the global increase in the Covid-19 infections. However, the exports have not been suspended as cargo flights are still operational. Still, some marginal effects will be felt especially in increased cost of freight. This will be the case where horticultural products are largely transported by passenger flights especially through British Airways and Kenya Airways whose passenger flights have been suspended. Fortunately, Kenya and the UK signed a bilateral trade agreement in December 2020 and we hope this will not be negated by the travel impasse.
Are you developing other emerging markets such as Asia?
We can work together to increase promotional activities through fairs, exhibitions and trade missions, both inward and outbound. Then we can follow with signing bilateral agreements that will develop these new markets. For example, HCD and South Korea signed an MOU to promote flower exports between the two countries. From the MOU, banana and broccoli exports from Kenya have been permitted. The Kenya-China bilateral agreement resulted in frozen avocado exports.
How can farmers harness modern technology to improve their yields?
Innovations and new technologies that farmers and other stakeholders can embrace to maximise their yields include use of improved and certified seeds and planting materials and climate smart practices that conserve water. Among the sustainable practices are water harvesting and drip irrigation, use of environmental sensitive fertilisers and pesticides among others.
What is the Directorate doing to develop small-scale farmers in horticulture?
The Directorates collaborates with counties on various programmes that support small-scale horticulture farmers. These include capacity building on emerging issues such as pest and disease management, production of clean planting materials, food safety standards and quality, value addition and market linkage.
How can we create value addition to local crops rather than sell raw products?
We need to encourage local and foreign investors to set up agro-processing industries in Kenya through incentives. We should continuously negotiate tax charged on our finished products in our external markets. In addition, we can develop local cottage industries to enhance shelf life of our produce and reduce post-harvest losses.
Let's talk about high levels of pesticide residue?
Pesticide residue is a challenge in fruits and vegetable production system. Our environment is suitable to a wide range of crop destructive pests that must be controlled to maintain yields and quality. Continued use of pesticides has resulted in resistance buildup, forcing farmers to use harsher chemicals. This results in pesticide residues above the set safety limits, or maximum residue limit (MRLs). Incorrect application of pesticides also results in higher MRL. To manage this risk, farmers need to be trained to use pesticides safely by following the label instructions and avoid using unapproved pesticides. Also, alternative means such as growing crops under insect screen nets, insect traps or repellants are encouraged.
Want to get latest farming tips and videos?
Join Us