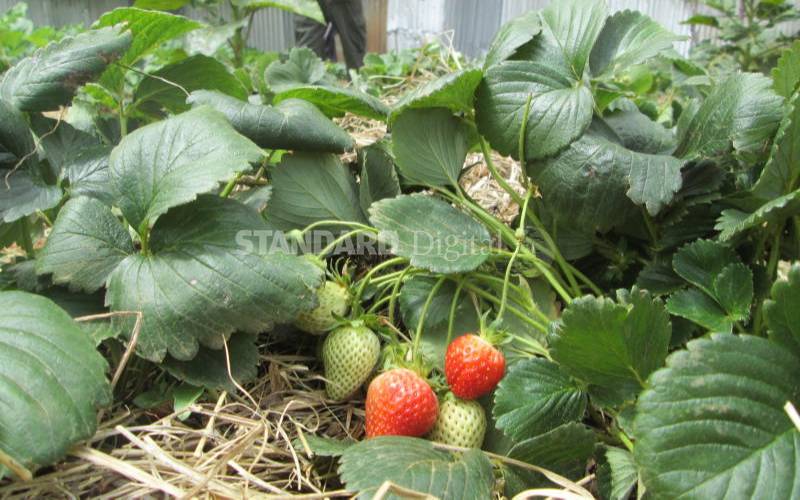 The big headache of our time is climate change, which continues to hinder efforts to increase agricultural productivity, and food and nutrition security in many developing countries. In mitigation, studies propose crop diversification as a robust risk management strategy to increase production and food security.
Kenya's agricultural production is dominated by a narrow range of commodities, which include maize and wheat, as well as cash crops like tea, coffee and flowers. Their cultivation contributes to livelihoods for 70 per cent of rural families, causing a concerning overreliance on just a few crops.
Diversifying production towards non-traditional varieties could help improve agricultural productivity, stabilise output, and enhance food insecurity, as well as mitigate the risk of climate change.
Diversification not only expands the number of potential crop types for markets but also contributes significantly to household nutrition needs. And while it is neither a one-size-fits-all strategy nor a substitute for specialisation — especially where specific crops are thriving with a market portfolio to match — diversification is the most robust option towards creating resilient agricultural systems that can contribute significantly to household and, subsequently, national food security.
Agricultural organisations, government agencies, and other stakeholders must consciously work to diversify their crop offerings to farmers to consolidate the gains made in maize farming.
Although maize is the country's biggest and most important crop, diversification studies, such as one carried out in Elgeyo Marakwet County, demonstrate that by trying different well-suited crops in different regions, farmers address their nutritional needs more adequately, and cope better with production and marketing fluctuations. In the Marakwet study, a combination of three or more types of crops consistently generated higher revenue.
The Kenyan government highlights policy items touching on diversification and value addition in its Vision 2030 economic blueprint, including catalysing enhanced agricultural productivity, food security, and income growth.
Already, counties in western, central, and the Rift Valley, have partnered with various stakeholders to implement diversification plans that promote high-value crop enterprises. Elgeyo Marakwet, for example, which is known for maize production, has pivoted the study mentioned above, to identify passion fruit as a high-value example that could transform the fortunes of its residents.
One Acre Fund, which supplies agricultural services to 400,000 Kenya farmers in 23 counties, has demonstrated that crop diversification significantly improves crop productivity, and consequently resilience, in rural smallholder farms. Since 2011, the organisation has offered potato, millet/sorghum, avocado, bean, vegetables, and tree bundles to complement its maize inputs offering across the country.
Through the years, these additional varieties have proven to be both highly productive, as well as timely responses to the nutritional needs of various communities.
What is more, when some of these varieties are intercropped, they bring great benefits to soil health by reducing the fertiliser quantities applied in some instances, facilitating effective use of soil nutrients, and increasing productivity.
Input provision is an important factor for diversification among smallholders — farmers are inclined to practice diversification when they are guaranteed inputs because this allows them to redirect their short-term income to more immediate living needs.
More than this, the promise of increased income, which rises with more crop varieties planted, decreased use of inorganic fertiliser, access to off-farm livelihood options, and exposure to knowledge and extension services are important motivators for diversification.
Linking farmers with agricultural organisations, agro-dealers, research institutions, and government, can increase farmers' access to a wider variety of seeds and planting materials that can help build resilience to production shocks.
In our experience, smallholder farmers are the understated drivers of crop diversification, demanding more productive, resilient, and family-friendly crops when they realise a decreased benefit from staple crops.
For instance, in Central Kenya, farmers asked us at One Acre Fund to vary our crop portfolio to include more than just maize, which we did by introducing, among others, avocado. This is one of many instances where we have seen smallholders driving innovation.
An important phase of Kenya's diversification effort is articulated in the Agricultural Sector Growth and Transformation Strategy as; 'growing the economy, reducing the cost of food, alleviating poverty and delivering 100 percent food and nutrition security' to all Kenyans.
As well, the Kenya Agricultural and Livestock Research Organisation's (Kalro) efforts to research and promote climate-smart agriculture through the Kenya Climate Smart Agricultural Productivity (KCSAP) aims to inspire innovation outside dominant food systems.
While, traditionally, agricultural policies have been cascaded down to the farmer, we might get ahead faster if we collaborated with smallholders as central stakeholders first and not as mere beneficiaries.
Farmers have a critical understanding and knowledge base, particularly on traditional crop varieties, honed through generations of farming.
This is knowledge whose importance we cannot overlook when trying to entrench 'informal' crop varieties.
As the primary stakeholders in food production, other actors in the chain — government and non-governmental agencies — can facilitate smallholders to drive the diversification agenda by involving them in policy conversations, and empowering them through research, collaboration, and funding.
Mr Maritim is a government Relations Senior Analyst at One Acre Fund. Mr Daniels is a government Relations Advisor at One Acre Fund