Highlights from just-ended global food systems summit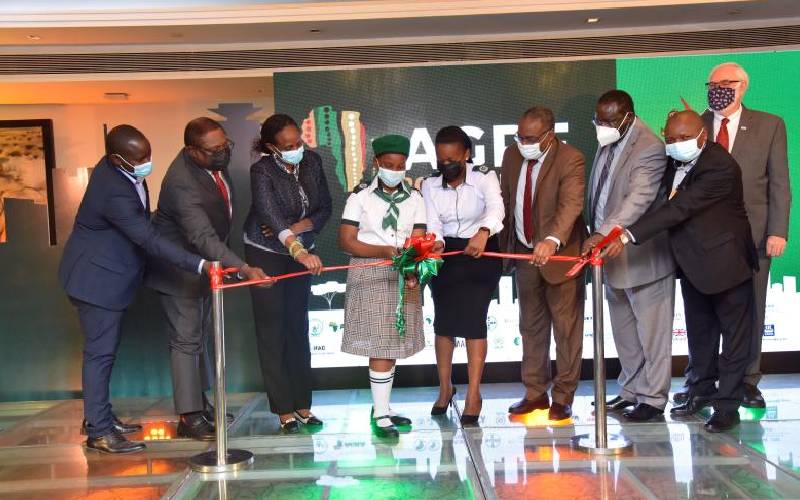 As the high-level Africa Green Revolution Forum (AGRF) 2021 Summit came to an end last week, the message that resonated was the need to take action to improve Africa's food systems.
Speaking during the closing ceremony, former Prime Minister of Ethiopia and Board Chair of Alliance for a Green Revolution in Africa, Hailemariam Dessalegn said this is a turning point in Africa's agriculture.
"The task of transforming our food systems is for all of us. If we all do our bit, we will make it," Dessalegn said.
President Uhuru Kenyatta urged leaders in the continent to improve food security policies by basing decisions on data and science.
Data and science
"Armed with relevant and precise data, we are better able to make targeted interventions that address water scarcity, climate change, land pressure and the competition between subsistence food crops and export cash crops," said Kenyatta.
President Uhuru also acknowledged that Africa must make agriculture as attractive to children just as law or other careers.
"In order to overcome these negative perceptions and to show our children and youth the nobility and profitability of agriculture, we are elevating the place of agriculture in our schools by revitalising the 4-K-Clubs," Kenyatta said of Kenya's efforts.
"We are doing this because Kenya's 31,218 public primary schools and their enrolment of close to 10 million school-going children, offers a vast network through which knowledge about food and nutrition security can be boosted."
Kenyatta mentioned agriculture clubs, which were common during President Daniel Moi's era, lost fame as children turned to other careers. He argued that reviving the clubs could change children's perception of the value of farming.
Innovation
The Africa Green Revolution Forum (AGRF) 2021 Summit whose theme was 'Pathways to Recovery and Resilient Food Systems' took place from September 7 to September 10, 2021, in Nairobi virtually and physically.
There were major commitments made in nutrition, innovation, renewable energy, climate change, regional food trade, and investment being made towards the transformation of food systems.
This was done in the wake of the Covid-19 pandemic, recognising its effects and how it could disrupt the already made gains in Africa's food systems.
The Summit was addressed by more than 700 speakers, heard how important it is to invest in innovation, digital technologies, and renewable energy.
The discussions also focused on building a coordinated African voice, ahead of the UN Food Systems Summit (UNFSS) to be held later this month.
The Summit also focused on advancing the commitments made at the Malabo Heads of State Summit and working to achieve the Sustainable Development Goals (SDGs). It was noted that food is the critical link to tackle some of the world's major crises, including hunger, poverty, and climate change. It was agreed that quick action must be taken.
Defining moment
The Summit provided a platform for governments and communities; including youth, women, civil society, and other stakeholders around the world to discuss their food systems and identify ways to strengthen them.
Guided by the Africa Common Position Document and the UN Food System Summit areas of action, Africa's leaders identified areas of urgent priority.
African countries agreed to catalyse rapid expansion in agriculture and food productivity, with a key focus on smallholder farmers and women.
"This Summit brings us together to collaborate and hone our leadership and technical skills useful in unlocking sector implementation challenges. By auctioning commitments and discussing challenges on our way, we can partner to empower African communities," Dessalegn said.
The AGRF recognised the breadth of policy and financial commitments required to drive investments, from the government to the private sector.
Right policies
In the Agribusiness DealRoom, more than 4,000 entrepreneurs and leaders from 89 countries presented over Sh560 billion investment needs.
Recognising that SMEs are key to building resilient food systems, especially those led by women and youth, 822 SMEs sought investment in the Agribusiness DealRoom. Participants learned from each other and the experts at this forum.
The panel discussions provided an opportunity for debate around the strategies for the reduction of agricultural risks and vulnerabilities.
The Nigeria Agribusiness DealRoom session covered investment opportunities in oil palm, cassava and livestock value chain in one of its states.
Agriculture Cabinet Secretary Peter Munya said the Summit has helped Africa to recommit to the goals the continent set for itself and individual countries, to end hunger by 2030.
"It is possible to deliver this because we have the resources, experience and knowledge and are mobilising the will. We need to support the young people of Africa to get involved in agriculture," said Munya.
The Summit gathered consensus on the role of youth and women, as well as innovative technology to revitalise agricultural productivity and support farmers to heal from the effects of the Covid-19 pandemic.
During the Summit, the International Crops Research Institute for the Semi-Arid Tropics (ICRISAT) was named 2021 Africa Food Prize laureate, for its work in improving food security across 13 countries in sub-Saharan Africa.
Africa Agriculture Status Report
The Africa Agriculture Status Report 2021 was also launched, indicating that sub-Saharan Africa has had the fastest growth in agricultural production since 2000.
Principal Secretary, State Department for Agricultural Research in the Ministry of Agriculture Prof Hamadi Boga profiled key milestones alongside the challenges in policymaking in agriculture in Kenya.
Boga said there are smallholder farmers who are still underprivileged and lack vital information that could help them improve their agricultural practices.
"Kenyan policies in agriculture recognise that we have smallholder farmers who are still very poor, women are equally not adequately involved. However we ensure that we do not exclude anyone in dialogue and policy regulation," said Boga.
He added that this year's AGRF summit underscored and reaffirmed the understanding of what food systems are and the criticality of food and agriculture on this continent. It was recognised how Covid-19 amplified understanding of the weaknesses in our food systems.
It underscored the deep-rooted threat posed by changes to our climate, exacerbated by other external shocks and pressures that influence the way we produce, process, trade and consume food.
Want to get latest farming tips and videos?
Join Us