Coffee farmers reap big as sector makes Sh17 billion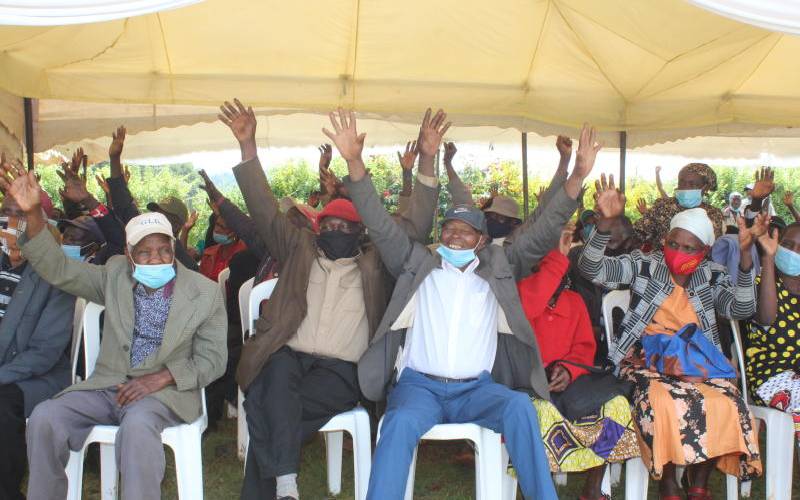 Coffee farmers in the country are expecting a windfall in payments for their 2019/2020 season supplies after many factories declared they will pay more than Sh100 for a kilogramme of cherry.
Farmers in Nandi County will be the biggest earners as will take home at least Sh160 per kilogramme.
On the other hand growers in West Pokot will be the least earners as they will be paid Sh60 per kilogramme, according to a report by the Kenya Coffee Directorate.
The agency, in the report, said farmers across the country produced 36,873 metric tonnes of coffee which earned a total of Sh17.4 billion in the season.
The amount of money paid per kilogramme of coffee is determined by the quality and quantity of cherry.
After years of neglect, poor returns, political interference and lack of a legislative framework to guide the sector, farmers' fortunes appear to be changing if the current payment rates declared by some societies are anything to go by.
Several societies have attributed the impressive rates to the fact that 90 per cent of coffee was bought through direct sales as opposed to auction.
Lion's share
In the rates already released for the ending season, farmers at Kiangoi Factory, which is under the Rungeto Co-operative Society in Embu, are earning Sh118.60 per kilo for their supply in the 2020/2021 season.
Kiambu, Kirinyaga, Murang'a, Nyeri and Bungoma farmers took home the lion's share of the earnings with growers in Kiambu set to earn a total of Sh3.6 billion.
Their counterparts in Kirinyaga earned Sh2.9 billion as producers in Murang'a and Nyeri earned Sh2.3 billion and Sh2.1 billion respectively. Farmers in Bungoma earned Sh1 billion.
The directorate reported that at least 23 factories in Kirinyaga County have paid Sh100 and above for a kilogramme of cherry.
In Nyeri, Barichu Cooperative Society under Karindundu factory, paid farmers Sh101.10 per kilogramme. Another five factories have announced they will also be paying above Sh100 per kilogramme.
Kibugu Cooperative Society in Embu County paid out Sh107.65 per kilogramme of cherry for Gikirima Factory. More than five other factories also paid above Sh100 for a kilogramme.
Tropical Farm Management general manager Peter Githinji said production increased over the last year by five per cent.
"The average production of clean coffee for premium grades such as AA as well as Grade C went up from 3.5 per cent last season to 5.5 per cent this year, boosting the prices and earnings by farmers," said Githinji.
Weakening of shilling against the dollar has also seen farmers get better earnings according to Githinji.
Kenya Planters Cooperative Union (KPCU) chairman Henry Kinyua said the entry of the union in the coffee industry has brought transparency and competition that have seen farmers' pay go up.
"The little coffee that was available in the auction attracted better prices since the demand far outstripped the supply," said Kinyua.
The weather, he said, was also not favourable. There was more rain that affected flowering. However, the few berries that were left grew to good quality of grade AA and AB which in return fetched good prices.
Barichu Co-operative Society chairman John Gitinga attributed the good earnings to reforms that have been introduced in the coffee sector.
"The reforms initiated in the industry are starting to bear fruit as prices continue to improve day by day. We are hoping the trend will be permanent," said Gitinga.
Africa produces 11 per cent of the global coffee production. Ethiopia and Uganda produce 40 per cent and 30 per cent of the continent's coffee respectively.
"Coffee production in Kenya was forecast to reach 39,000 metric tonnes in 2019/ 2020 but it decreased by 18 per cent. It dropped from 44,990 metric tonnes in 2018/19 to 36,873 tonnes," the Kenya Coffee Directorate report said.
Smaller holder farmers make up to 70 per cent of Kenya's coffee growers. In the 2019/2020 season, land under coffee was 119,675 hectares.
A drop in coffee production within Mt Kenya counties of Murang'a, Kiambu, Nyeri and Meru has been attributed to real estate development that is taking up more land.
"While production of coffee has expanded to western parts of the country, this expansion cannot adequately compensate for uprooting of coffee bushes going on in major growing regions," directorate said.
Top export destinations were the US, which consumed 20 per cent of the coffee. Germany and Belgium took 17 per cent of the coffee produced while Korea nine per cent.
"Total volume exported was 46,333 metric tonnes of green bean valued at Sh22.02 billion. Coffee exported over a similar period in 2018/19 was valued at Sh21.70 billion," the report said.
Want to get latest farming tips and videos?
Join Us