From cruising European skies to farming herbs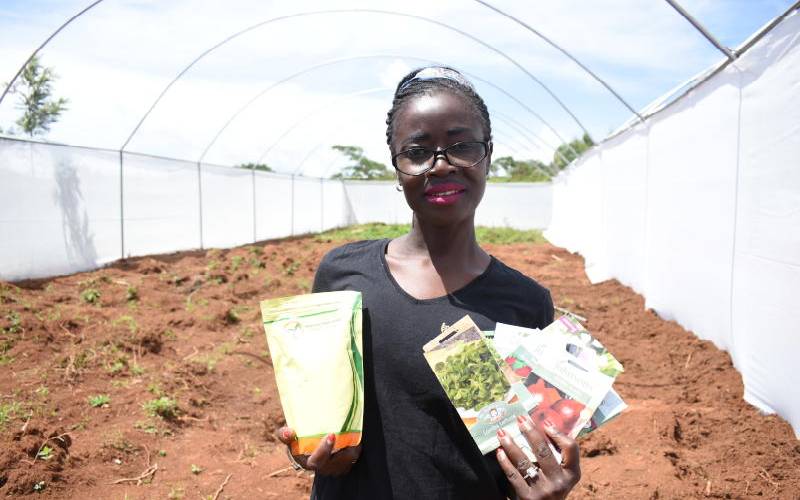 Barely a year ago, Synthiah Opuge was living her dream.
Opuge had a job she loved - she worked as an air hostess with Smartlynks Airline based in Riga, Latvia but this is no more. She is now starting a new life at Goma village in Bondo, Siaya County, thanks to the coronavirus pandemic.
Opuge, 44, is among many other Kenyans who have been forced to go back to the drawing board as the pandemic brought their jobs to an end.
"East or West, home is best, and I have decided to come back home and venture into farming using the skills I borrowed from abroad," she said.
Born and brought up at Ogumbo village in Onjiko, Nyando Sub-county, Opuge has come back home to start afresh.
With the situation of the pandemic getting worse, she is not sure of ever getting her job back.
When The Standard team visited her home in Ogumbo, she was busy setting up her hydroponic farm.
Her fading Luo accent was noticeable as she explained how her life has changed -- having to forget about the flight, the runway, the altitude, the cabin, and the huge aviation terminologies and settle down to deal with plants and animals.
She no longer wakes up in the buzzing city life and has to contend with the slow but friendly village life.
"I decided to first come back alone and set up this farm. I will be going back to bring my family," she said, adding that her two children aged 21 and 13, as well as her Caucasian husband, are already excited about coming to Kenya to help in her new venture.
Opuge, who was orphaned at the age of 10, lived with relatives through her school life at Okanja Primary School in Ahero, St Georges Primary School in Nairobi where she sat her Kenya Certificate of Primary Education examinations, and then to Bishop Okulu Girls Secondary School, but had to drop out of school at some point.
It was then that she got a well-wisher who adopted her and moved with her to Iceland in 1997, where she undertook an aviation course and thereafter joined Iceland Air as an intern. She was later absorbed as a full-time employee.
"I first worked at the air ticketing desk, then between 2002 and 2004, I worked as a flight attendant," she said.
In late 2004, she joined Emirates Airline in the same capacity and worked till 2007 before moving to Alaska, in the United States, to venture into business, dealing with Nokian Tyres.
In 2012, she went back to Iceland to pursue a Law Degree at the University of Iceland, but dropped out in third year.
She retreated to the aviation industry, where she worked as a chef and cabin crew for Smartlynks Airline till late 2019 when the coronavirus pandemic hit.
With the impact of the coronavirus pandemic continuing to ravage many industries, Opuge said farming has helped her open a new chapter in her life.
During her stay in Iceland, she practiced hydroponic farming for her domestic needs and could produce more than her family could consume.
Through the help of relatives, she secured a parcel of land in Bondo, where she has set up a greenhouse and ventured into hydroponic farming.
This is the type of farming where the soil is not a necessity, and the crops are grown in nutrient-rich water flowing through special containers.
"During my time as a flight attendant, I spent most of my time in the capital cities of European countries and could access a number of herbs and spices," she said.
Opuge has also begun recruiting local farmers, whom she said will be trained and empowered to produce their food through the new technology, and then helped to get market for their produce.
Want to get latest farming tips and videos?
Join Us