Kenya bans all maize imports over aflatoxin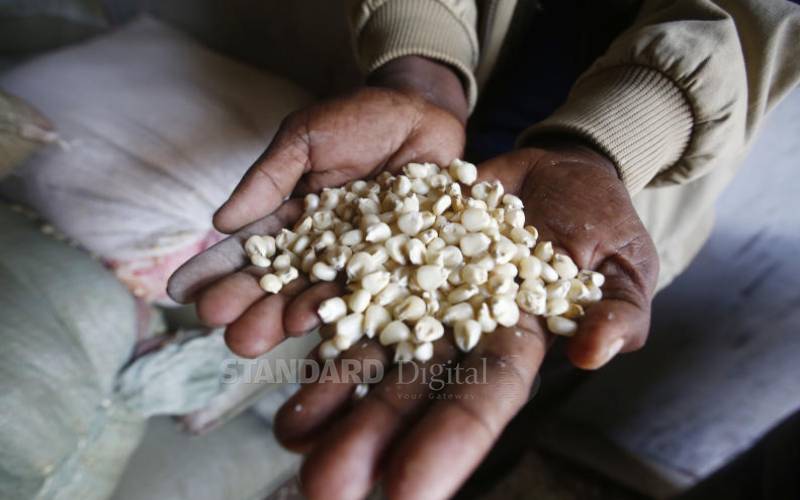 Kenya has banned all maize imports to curb the entry of unsafe grains into the country.
According to a letter by the acting Director-General of the Agriculture and Food Authority (AFA), Kello Harsama to the Commissioner of Customs in the Kenya Revenue Authority, the ban has been put in place after a survey on maize from Uganda and Tanzania showed it was not fit for human consumption.
"The authority has been conducting surveillance on the safety of food imports into Kenya. The results from maize imported from Uganda and Kenya have revealed high levels of mycotoxins that are consistently beyond safety limits," reads the letter dated March 5.
Mycotoxins such as aflatoxins and fumonisins are carcinogenic can cause disease and death in humans and other animals.
Effects of aflatoxin
Aflatoxins are a family of toxins produced by certain fungi that are found on agricultural crops such as maize (corn), peanuts, cottonseed, and tree nuts.
People can be exposed to aflatoxins by eating contaminated plant products (such as peanuts) or by consuming meat or dairy products from animals that ate contaminated feed.
Farmers and other agricultural workers may be exposed by inhaling dust generated during the handling and processing of contaminated crops and feeds.
Exposure to aflatoxins is associated with an increased risk of liver cancer.
According to the letter, several Kenyans have suffered from acute and chronic aflatoxin- related diseases and deaths over the years hence the need to take action.
According to International Crops Research Institute for the Semi-Arid Tropics, Poisonous levels of aflatoxins reportedly killed at least 157 people in Kenya in 2020 and the overconsumption of maize contributing to the country's growing burden of cancer.
AFA said it has stopped the importation with immediate effect as they work on the way forward with the two countries and other trading partners.
"The Republic of Kenya is committed to facilitating safe trade with her trading partners and look forward to working closely with all stakeholders to address the concern."
Ban on maize flour
In January 2020, the Kenya Bureau of Standards (Kebs) banned 17 maize flour brands, over high aflatoxin levels.
The 17 are African King, Unique, Mlo, City Corn, Sarafina, Tosha, Shiba, Hakika Best, Budget and Wema. Other are Jomba, Adardere Mupa, Afya, Uzima, Tetema and Dola.
Kebs, in a statement, requested the products to be removed from shops' shelves.
Kebs said the ban followed market surveillance and multiple reports from the public.
The ban is likely to affect and farmers from neighbouring countries who sell maize to Kenya.
Want to get latest farming tips and videos?
Join Us