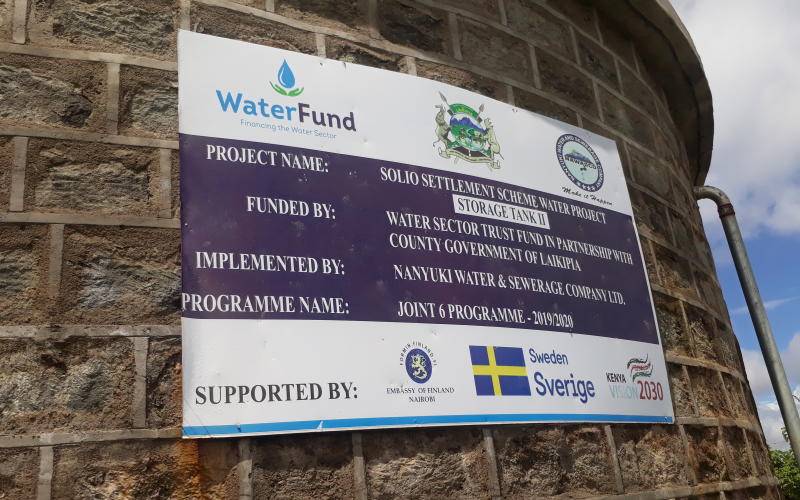 A rural water scheme, located in a remote part of Laikipia, has become a model on how to reap maximum benefits from irrigation.
Solio settlement water project, founded four months ago, has been visited by officials from seven rural-based schemes wishing to learn how water projects can transform rural life.
Besides irrigation, the project has ensured safe water supply to the area.
The project was initiated through a partnership involving Laikipia County Government, Nanyuki Water and Sewerage Company and Water Sector Trust Fund.
A month ago, Groots Kenya donated first batch of 35 drip water irrigation system to residents in a move to improve food security.
Solio Settlement Water Project Manager Duncan Maina said the donors are interested in transforming rural life.
A visit to the farms established the 35 farmers have installed the irrigation systems, growing cabbages, kales, onions among other crops in their kitchen gardens.
"All members registered in the scheme will get irrigation equipment, to help improve their living standards," said Maina.
The management of Gitaru Community Water Company in Kiambu led by its chairman Muhia wa Ngige, toured the nine-kilometre radius.
"We have learned management skills employed to distribute water in the vast area and the partnership between the players who led to establishment of the scheme in a very short time," said Muhia.
Solio Water Project chairman Nicholas Thagana said cooperation between county government and the State's Ministry of Water was key in getting funding.
"The project cost Sh143 million out of which Sh123 million was sourced from Water Sector Trust Fund. County government through Governor Ndiritu Muriithi gave Sh20 million and in total we are supplying to 1,700 members," said Thagana.
Hannah Wanjira, a local, recounted the challenges they underwent because of consuming salty water. "It is a relief to families in Solio settlement; at last we are enjoying piped water after decades of suffering," she said.