Cage fishing is good for country, say governors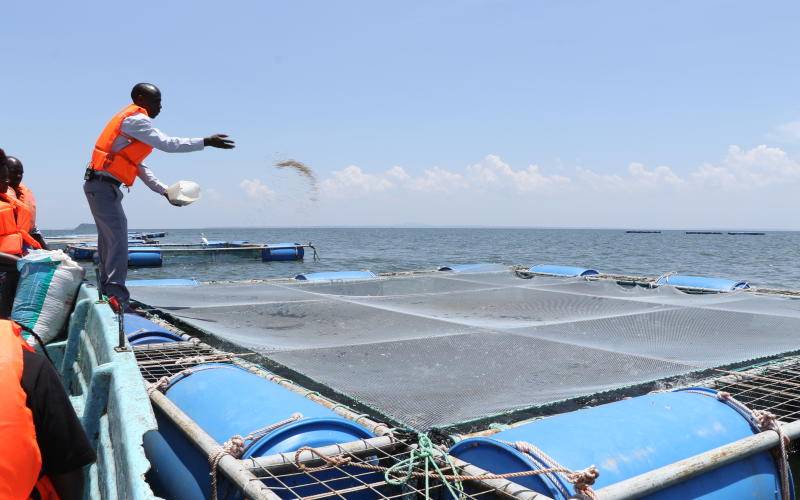 Governors have supported cage fishing, saying it had the potential to bridge the supply-and-demand gap for fish in the country.
In a joint statement, Council of Governors said on Saturday that although fish production in Lake Victoria had continued to decline since 2002, use of strong, durable, and non-toxic materials to construct cages would improve fish farming.
"Cage farming and other systems of aquaculture have the potential to bridge the gap between demand and supply of fish in Kenya," the statement said.
It added: "Although there is some information available on cage culture in Kenya, it may be an overlooked asset in the aquaculture sector."
They made the remarks during the commissioning of projects worth Sh700 million in Kisumu by the Food and Agriculture Organisation (FAO).
The governors also resolved to review and lower tax bands on aquaculture inputs to attract investment in the blue economy, improve revenue generation, streamline and harmonise fisheries licensing and revenue flows.
They further resolved to have the Ministry of Agriculture, Livestock and Fisheries get an allocation of three per cent of the total national budget for the development of the aquaculture and fisheries sector.
According to statistics from the Kenya Fisheries Service, total fishery and aquaculture production in the country amounted to 146,543 tonnes last year.
However, the report indicated that there was an annual fish deficit of 350,000 tonnes.
The report further indicated that Lake Victoria contributed over 95 per cent in inland fish production, whereas aquaculture accounted for 25 per cent of fish production in the country.
However, pollution and reduction of water levels in the lake have contributed to the reduction in production since 2014.
Chair of the Council of Governors Wycliffe Oparanya said this was a setback as the population of people within the bloc was increasing.
Fresh water fish
"This means that the lake can no longer be depended upon to meet the demand for fresh water fish. It is unfortunate that we are importing fish and yet we have a huge potential, especially in the region," said Oparanya in a speech read on his behalf by nominated Senator Rose Nyamunga.
Agriculture, Livestock and Fisheries Cabinet Secretary Peter Munya said unsustainable use of water resources rich in fish had led to a reduction in natural fish stocks.
Munya said cage fishing faced challenges of utilisation of space and competition and that the government needed to limit the number of cages in the lake.
"We will review the policy and ensure cage fishing is done in a sustainable way. We should use the lake without endangering its future," the CS said.
He said the blue economy would spur urban and rural development, adding there should be innovation and growth of the maritime and marine sector to help in realising sustainable development in the country.
"Innovation and growth in the marine and maritime sector could deliver food, energy, transport, among other products and services, and serve as a foundation for sustainable development in Kenya," he said.
FAO representative in Kenya Carla Mukavi said expansion of fisheries and aquaculture activities in the region, especially in Lake Victoria, was critical considering the growing population and the increasing demand for food and nutrition security.
"The FAO corporate initiative, AgrInvest, is aimed at fostering private sector investment in agriculture that is aligned with the SDGs that contribute to economic growth and generate employment in rural economies," Mukavi said.
FAO commissioned six projects aimed at promoting sustainable development in the Lake Region Economic Bloc (LREB) counties, which include Bungoma, Busia, Homa Bay, Kakamega, Kisii, Kisumu, Migori, Nyamira, Siaya and Vihiga.
"AgrInvest has identified LREB as a strategic partner that can be supported to facilitate private sector investment in aquaculture in the lake region," Mukavi said.
The projects include AgrInvest, Integrated Actions for Innovative Food Systems Across Rural Urban Communities, Integrated Approach for Boosting Decent Jobs for Youths in Agrifood System in Kenya, and Overcoming the Challenges of Covid-19 and Flood Crises.
Want to get latest farming tips and videos?
Join Us