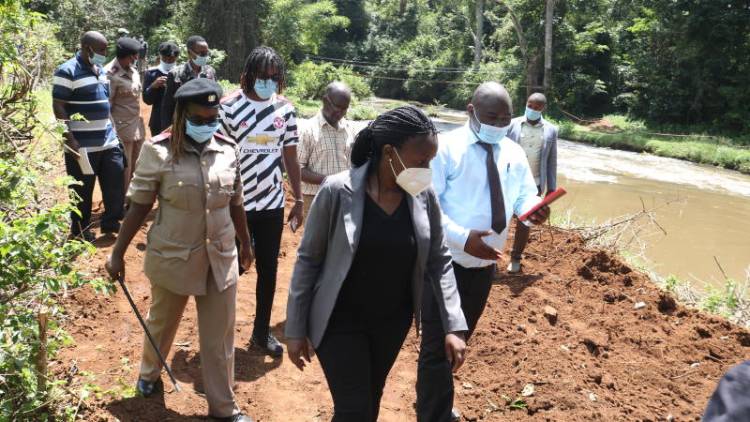 Residents of Mbeere South in Embu County are exploring alternative crops apart from Muguka under a project funded by the World Bank and the county government.
Over 750 households are set to benefit from the Sh298 million Rupingazi-Weru irrigation water project that was launched in August 2020 by Agriculture Cabinet Secretary Peter Munya.
Speaking while on an inspection tour of the project at Ruguru-Ngandori ward on Thursday, Chief Administrative Secretary in charge of Agriculture Ann Nyaga, said the project is expected to be completed by February.
Ms Nyaga said the government has pumped Sh148 million for phase one while Sh150 million has been set aside for phase two.
She said the project is progressing well with 6.5km of the irrigation trench installed and 4.8km of pipes laid down.
She added that the government was keen on checking the implementation of the project to ensure the quality of work done.
"The inspection tour is to identify if there is any challenge facing the project to ensure it is completed on time," Nyaga added.
Apart from benefitting residents in the lower region of Embu, the CAS said the project has employed women and youths who offer casual labour.
"As a Government, we want to address the issue of food and nutritional security," Ms Nyaga said.
Embu County Agriculture Executive Dr Jamlek Muturi said the project will enhance the value chain for farming run under the National Agricultural and Rural Inclusive (NARIG) project.
The project seeks to enhance the production of mangoes, green grams, poultry, and dairy farming that are the four value chains under NARIG.
Dr Muturi noted that the county government was keen on partnering with other stakeholders to ensure the people of Mbeere benefit from their expansive land that has remained underutilised over many years.
Jeremiah Nyaga, the chairman of the project noted that once the project is complete the farmers in Mbeere South will diversify their farming rather than relying wholly on Muguka.
Nyaga further noted that for a long period of time, the lower region of Embu especially Mbeere South, had experienced frequent drought but said the project will end locals' suffering.
"Since our land is fertile we will look for alternative farming that will also provide better jobs for our people," Nyaga said.