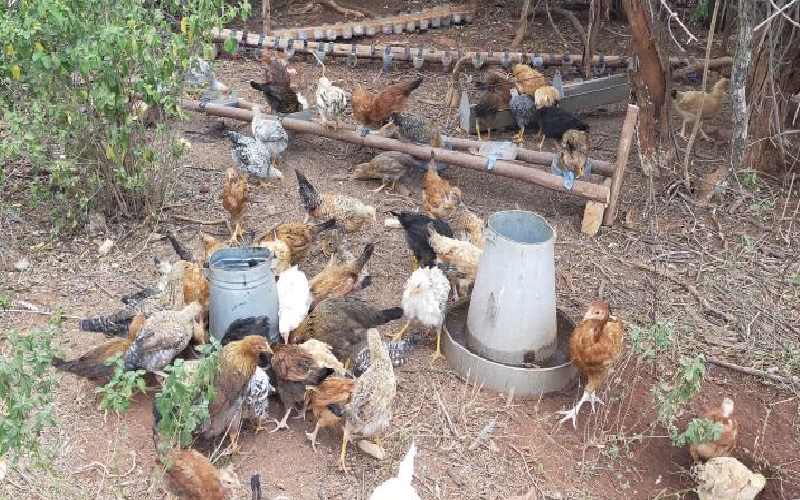 John Maina has been a member of the New City Focus group since 2018, and now he runs not just one but two thriving businesses from what was started as a table banking initiative.
Living and thriving in New City Village, Nairutia, Nyeri County is a feat many would consider challenging and undesirable.
The vast landscape is sparsely populated, with large tracts of land that require hours of travel on murram paths to access the nearest tarmacked road.
But for a group of 21 youth whose families are living in the area, the opportunities are endless as they have successfully established one of the most successful chicken hatcheries.
Maina runs a small hotel in New Village Shopping Centre and is keen to spend his free time visiting the group's hatchery located in the compound of one of the members.
His duties as the manager of the business is to supervise the daily feeding and watering of hundreds of chicks and the group's incubator room.
"We all have our duties, and take turns in taking care of the hatchery, I mainly ensure that whoever is on duty does their job, cleans and feeds the chicks and in case of a power outage monitor the incubator," he explained.
The group chairperson, Dennis Muriuk,i said the group members started out contributing funds which would be used to buy each member between 10- 12 kienyeji chicken.
"All of us wanted to have a small business but living in New Village there were no formal jobs, we needed to save what we had to come up with enough capital to start our personal projects," he noted.
After registering their group in March 2018, they focused on saving at least Sh5,000 per member to purchase the chicken based on the prices.
After eight months each member had chicken in their home but unfortunately they found themselves facing the dilemma of sourcing for more chicks to increase their flock faster.
"As a group we need more chicken but we had insufficient stock of chicks so we decided to set up a hatchery to provide us with enough stock and also a source of income," Muriuki noted.
The group focused on kienyeji chicken because the production costs were lower than those of broilers as they are resistant to diseases, and with the large parcels of land at the farmers disposal, they can apply free range farming.
"In Kieni the farmers have access to enough space to allow the chicken to roam freely, and this reduces the cost of feed for the farmers," Maina noted.
Market demand for kienyeji chicken and eggs is high with ordinary eggs sold for as little as Sh8 while the traditional chicken can earn as much as Sh20 per egg, the demand is insatiable.
"There is a perception that kienyeji chicken is healthier and better nutritional option and this makes the demand high and market value for the chicks high," Muriuki explained.
The cost of running a hatchery in a remote part of the country has been challenging for the group, with frequent power outages. The cost of power has been the biggest concern for the young farmers.
With power outages lasting between a few hours to several days, the group has had to purchase a generator to ensure they reduce the losses experienced with the disruption of power to the incubator.
The price of chicks varies based on the age, 1-3-day-old chicks sell for Sh80 while 4-7-day-old chicks retail for Sh110. Between 8-14-day-old chicks are sold for Sh130 while the group sell of their 28 day old chicks for Sh150.
This is determined by the cost of production, with the price increasing due to the vaccinations and feeding rations required to maintain the chicks.
"Chicks require vaccine against Marek's disease between the 1-3-day after hatching, and vaccination against Gumboro disease during the first week after hatching. The chicks require a second dose of the same vaccine 18 days after hatching," he noted.
With two incubators which can each hold 528 eggs each, the group has a hatching rate of 80- 90 per cent, but to spread the risk in case of any extended power blackouts 200 eggs are incubated after every three days.
"One of the main reasons for us not loading all the 528 eggs at once is to ensure we don't risk all our eggs at once and also to ensure every 21 days we have a batch of hatchlings ready for the market," Muriuki explained.
He noted while four members of the group had managed to secure formal employment, the rest were able to open up small businesses which are located within the area.
"We have members who have small hotels, opened salons, boda boda businesses and also motorbike spare shops, we all have at least one additional source of income from our project," he explained.
The group has managed to secure funding under the KSCAP to purchase, an 1/8th size parcel of land, flock of 500 kienyeji chicken which will provide them with stock for their hatchery, a generator, incubator and chicken feed.