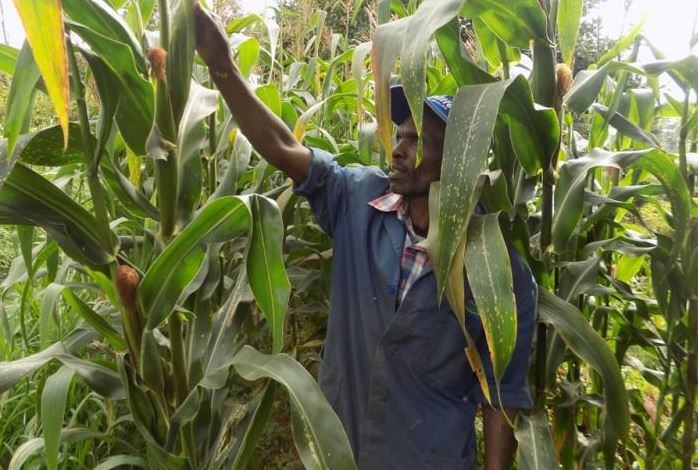 Thousands of small-scale farmers across the country are expecting a major turnaround in their fortunes from the supply of free maize and vegetable seeds.
The free inputs are part of an initiative that targets more than 700,000 farmers across Africa and is a brainchild of German crop science giant Bayer.
Kenya, South Africa, Tanzania, Nigeria, Zambia, Zimbabwe, Malawi and Mozambique are set to serve as launchpads for the programme.
In addition, Kenya alone is set to benefit from up to 300 tonnes of maize and vegetable seed to be distributed to more than 15 counties including Bungoma, Tana River, Meru, Kilifi, Machakos, Laikipia, and Narok.
The early maturing seed varieties are worth Sh93 million.
Agriculture Principal Secretary Hamadi Boga said during the launch last week that the effort is a big boost to the State's long-term quest to achieve the Big Four Agenda's pillar of food security and nutrition, adding that like-minded partners would be welcome on board.
"Our idea in the agriculture sector transformation strategy is more private sector-oriented intervention with the government just stepping back and providing an enabling environment," he said.
Prof Boga also urged farmers to be patient with the government, adding that the pace of implementation of various reforms had just accelerated after several calamities that hit the country in recent times, with Covid-19 the most felt.
He further noted that Kenyans should no longer have to worry about locusts since the menace had been fully contained with help from multi-sector players across the continent.
The PS was also optmistic that the country would quickly recover from the aftershocks of the Covid-19 pandemic where even its maize harvest would surpass expectations.
"Last year, the country realised 43 million bags of maize. We expect 44 million bags this year," he said.
Bayer East Africa Managing Director Laurent Perrier said the firm's worldwide Covid-19 response could not have come at a better time, adding that they were committed to helping small-scale farmers not only to address immediate challenges but also build resilience for the future.
"As part of our overarching commitment to empower 100 million farmers by 2030 globally, the initiative is tailor-made to help smallholders with a three-phased 'response, recovery, resilience' approach," he said.
"Beyond the immediate response in the form of support seed packages, we are working with partners to put in place a mid and long-term plan to build up resilience of our food systems and ensure smallholder farmers are better prepared for the future."
Mr Perrier said the main thrust of the programme would be targeted at input support through provision of maize and vegetable seeds, service and knowledge support in collaboration with partners and other support through value chain linkages.
"As we commission the programme, I am thrilled by the thought of directly impacting close to 170,000 small-scale farmers in Kenya for this planting season," he said.
"This number translates to individuals in 15 counties to whom we will not only have placed food on their table, but empowered their lives."
Perrier further said the programme was one among many high impact initiatives it had undertaken with millions of farmers across the country.
"Just over a week ago, we joined hands with the Ministry of Agriculture through our umbrella platform Asnet to present a consignment of 170,000 litres of Deltamethrin product estimated at over Sh100 million to help in efforts to contain the deadly locust invasion in East Africa," he said.
Bayer East Africa Chairman Chris Kirubi called on the ministry to pump more resources into the agriculture sector given it is the biggest source of livelihoods for many Kenyans.
"Agriculture is the best solution to the problem of unemployment among the youth. The government should put more money in things such as silos to keep farmers from losing harvest due to lack of storage," he said.