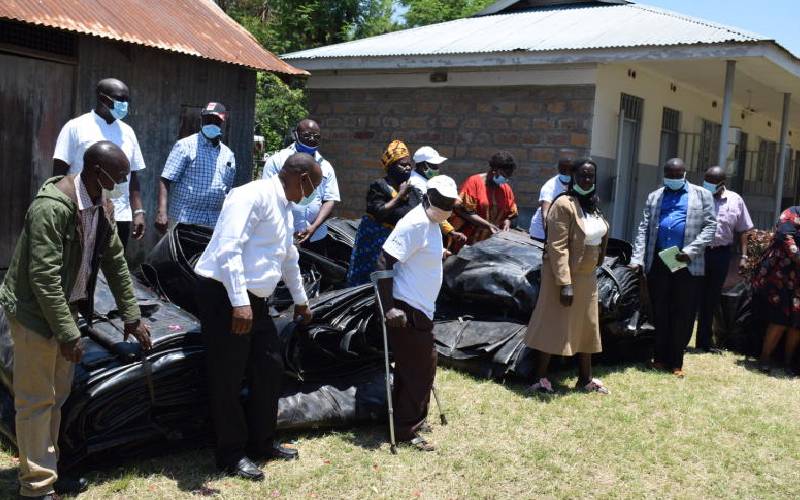 The Ministry of Agriculture has launched an aquaculture empowerment project in Homa Bay County to reduce overfishing in Lake Victoria.
The project is undertaken by supporting farmers to produce fish in ponds to enable them to prevent over-reliance on Lake Victoria for fish.
The ministry distributes fish pond liners to farmers who have ponds for producing fish.
Agriculture CAS Linah Kilimo, Fisheries PS Japhet Ntiba and Homa Bay Agriculture executive Aguko Juma presided over the distribution of fish pond liners to farmers in Homa Bay town yesterday.
Through the programme dubbed Aquaculture Business Development Programme (ABDP), 40 farmers from poor rural households received the liners. The farmers hail from various sub-counties in Homa Bay.
Each farmer received a liner that they will use in protecting their fish ponds.
The liners are laid in a pond to prevent drainage of water underground. Water is poured into a pond after installing the liner.
Kilimo said the liners will enable the farmers to undertake fish farming sustainably.
The programme is also aimed at improving food security besides boosting the livelihood of local farmers.
"Our main purpose is to boost the livelihood of rural farmers from poor households. Fish pond farming is an important economic venture that will uplift the living standards of many households," said Kilimo.
She said the programme is part of the government's agenda of improving the health of the locals through enhanced nutrition.
"Fish pond farming will reduce pressure on overfishing fishing in Lake Victoria because many people can have an alternative source of fish," Juma said.
Juma urged farmers undertaking fish pond farming to insure their projects to cushion them from losses that may occur during a calamity.
"We lost a farmer in Rachuonyo North Sub-county after his fish were eroded by floods from a fish pond into Lake Victoria. Let farmers also consider insuring their fish farming projects," Juma said.
Ntiba urged the Homa Bay county government to incorporate aquaculture in its budget. This will enhance the sustainability of the programme.
"As the national government, we are just supporting this project to kick off. However, the county government should allocate funds in its annual budget to ensure sustainability of aquaculture in the area," Ntiba said.
He told fishermen to avoid illegal fishing which thwarts the growth of fish in Lake Victoria.
"Let fishermen stop catching fish which are undersize because this will lead to the extinction of many fish species in the lake," he added.