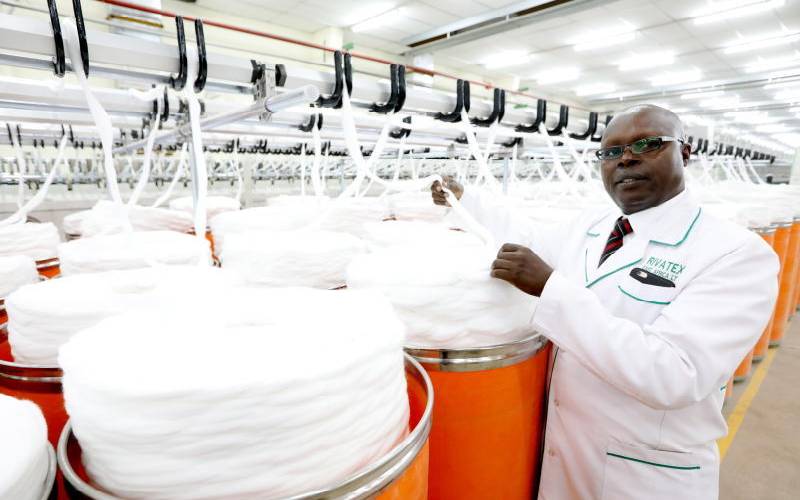 The national government has prioritised two more ginneries in Teso North constituency for revival.
One of the ginneries, Angurai Cotton Industries, is located in Katakwa, while the other is located in Malakisi.
Funyula based Mulwanda cotton ginnery that the State revived to the tune of Sh30 million is almost completed, according to area MP Oundo Mudenyo.
The management of Rivatex East Africa Limited has already distributed 11 tonnes of cotton seeds and pesticides to local farmers.
The objective, according to Rivatex Chief Executive Officer (CEO) Thomas Kipkurgat, is to ensure the cash crop is planted in large quantities to guarantee the ginneries sufficient raw materials.
Kipkurgat revealed that Angurai Cotton Industries will in due course be revived by the national government through Rivatex.
He led the distribution exercise of the cotton seeds and pesticide to the Teso North farmers at the weekend.
He told farmers in Busia county to embrace cotton farming and noted that there is money that will be used to buy the raw materials.
"We want the raw material to come from our local farmers. There is money that we shall use to buy the cotton from our farmers," said Kipkurgat
He continued, "The government is committed to reviving ginneries that collapsed in various parts of the country, and in Busia Rivatex is going to revive Angurai Cotton Industries."
The chairman of the task-force that was constituted by cotton farmers in Teso North to explore the modalities of farming the cash crop in the constituency Wycliffe Opilly, said it will cost at least Sh50 million to revive the Angurai cotton industry.
The ginnery was initially owned by a private developer who abandoned it in 2005 and since then, nothing has been going on inside the factory.
"The task force also encouraged farmers to grow cotton which they heeded. We now want the collapsed ginneries in Busia revived to create a ready market for their produce," Opilly said.