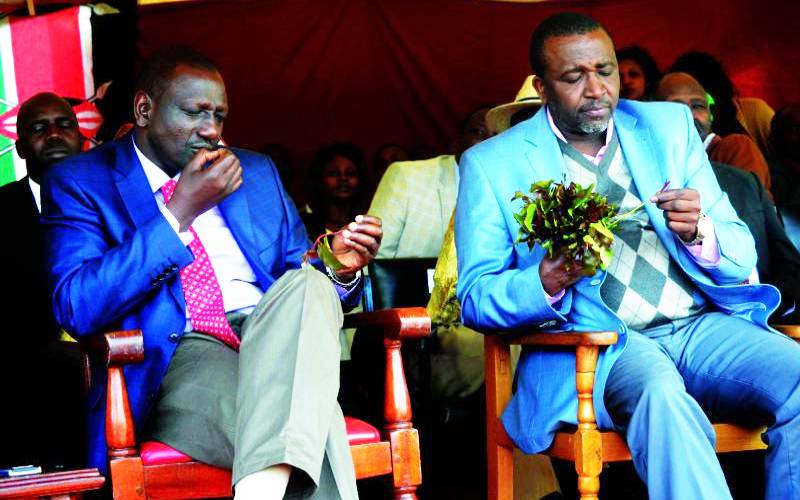 Leaders under the Meru parliamentary group met on Monday with the thorny issue of the welfare of miraa farmers taking centre stage.
The meeting at the office of Senator Mithika Linturi in Meru town discussed the woes facing the subsector reeling from export blockage in Somalia since the Covid-19 pandemic outbreak in March.
South Imenti MP Kathuri Murungi who deputises Linturi as the Meru PG chairman described the meeting as "routine".
Although the meeting also discussed Meru political future, it was the
miraa
issue that took priority with legislators taking in concerns raised by the Nyambene Miraa Traders Association (Nyamita).
The lobby said legislators can help push the government to allow for the transportation of miraa by road through the border towns of Mandera, Elwak, Kiunga, Dagare, Kolbio, Dif and Hagadera.
Somalia opened its airspace early this month but miraa freight remained excluded.
Nyamita chairman Kimathi Munjuri said they previously took more than 20 tonnes of
miraa
to Somalia. Cargo freight normally exports 50 tonnes daily.
"This export market has been lost for the duration the flight ban has been on and we expect our political representatives to be our frontline soldiers in such matters," said Munjuri.
The PG also discussed the government 'poor' response to export market woes, still born projects funded under the Sh1 billion budgetary allocation in 2018/19 year to help the stimulant value chain.
They decried the general lethargic attitude by the government as regards the livelihood of a large section of
miraa
growing population in five constituencies in Nyambene, Meru.
Nyambene Miraa Farmers and Traders (Nyemifatra) Sacco spokesman James Mithika said the new interest on miraa was the start of a perennial cycle in which politicians capitalize on the subsector woes for maximum benefits for their campaigns.
Noting that politics had tied up the budgetary allocation for the subsector, Mithika said Uhuru's government had done much for the subsector, including giving miraa legal status as a cash crop, appointment of a taskforce and later an implementation team and allocations totaling more than Sh1.5 billion.
"Unfortunately the politicians hijacked the taskforce by appointing cronies and relatives and Meru turf wars now threaten most projects. Nyemifatra wishes to move on by applying for allocations from the Sh180 million revolving fund for onward lending to farmers," said Mithika.