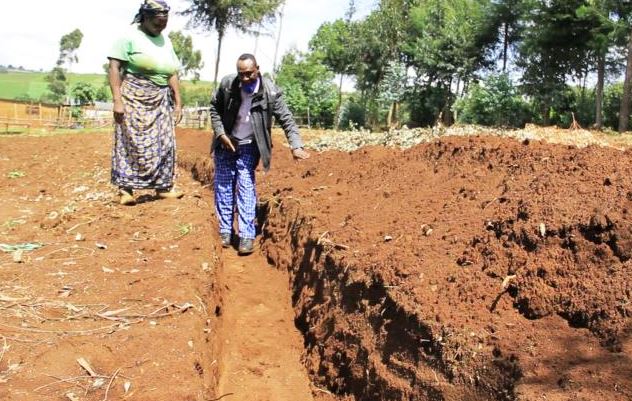 Having suffered from soil erosion and eradication of soil fertility, Irish potato farmers in Kuresoi North, Nakuru County, were a worried lot.
Coming from a sloppy area, the torrents of rain that is characteristic of the area, led to degradation of tens of acres of land that was left unproductive after fertile top soil was washed away by run off rain water.
But now there is hope with a new agroforestry project.
To address the gully erosion and replenish the soils the National Agricultural and Rural Inclusive Growth Project (NARIGP), run by the State is encouraging local farmers to adopt terracing, planting of brachiaria grass and tree crops.
Many farmers have embraced the initiative and are starting to see positive change.
Salome Njeri, an Irish potatoes farmer on the Baraka ridges, says production of the tubers had dropped significantly following the heavy rains that led to deep gullies.
"Currently an acre produces an average of four tonnes of potatoes per harvest. This is too little given the inputs that have gone into producing the potatoes. Loss of top loam soil through erosion has been a major challenge but we are glad the project has brought positive change," said Njeri.
She says the loss of soil fertility has forced many of them to apply more fertiliser, which in turn increases the cost of production.
But adoption of terracing and growing brachiaria grass soil erosion is sorted and they expect higher yields.
"The April and August rains have been both a blessing and a pain to us. With the erosion challenge addressed we shall now have high yields," she says.
Jane Omosa, another farmer says with declining soil fertility, she had resorted to using more chemicals which was not helping the situation.
"To compensate for lost fertility, I was using more foliar fertiliser. This has seen a rise in soil acidity which affects production. Most of us do not test the soil so we just keep adding more chemicals," says Omosa.
Through the World Bank funded project, the government intends to supply farmers across 16 villages with more than a million splits of the brachiaria grass.
The grass whose roots can grow as deep as 15 feet is to be planted on contours across the slopes affected by gully erosion.
"In Kuresoi North we are targeting to cover land covering 7,000 hectares. We are also implementing the project in 20 wards within Molo, Njoro, Bahati and Naivasha sub-counties," says the county project coordinator Peter Githunguri.
Benefits of brachiaria grass
Githunguri describes brachiaria as a wonder grass that not only helps address soil erosion but is also a great animal feed.
"Brachiaria grass is highly nutritious and self-propagating once planted. It is drought resistant and good source of feed for dairy farmers. Apart from stopping soil erosion it will boost milk production in the area," he points out.
In addition to reversing the extensive degradation of productive farmlands, the project will help reduce siltation of rivers most of which have gradually lost their depth over the years.
To support the efforts, Kuresoi North Sub County Agriculture Extension Officer Elijah Kimani said the programme also involves planting of tree crops such as Hass avocado, pears and plums.