Fears as deadly maize rust affects 3,000-acre field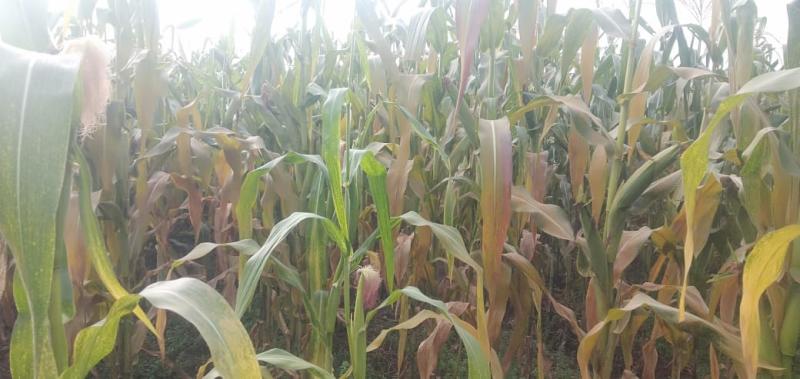 Farmers contracted to grow certified maize seeds at Perkerra Irrigation Scheme in Baringo are staring at loses following outbreak of maize rust disease.
According to the National Irrigation Board (NIB), there are eight farmer-managed schemes contracted to plant seed maize crop on a 3,000 acreage farm.
The schemes include Eldume, Kapkuikui, Kamoskoi, Murda, Lemarkweny, Sandai and Mosuro.
Chairman of Lemarkweny farmers' scheme Kevin Sauroki said the crop germinated evenly, but was hit by the fungal disease at the flowering stage and was spreading fast.
Out of the 450 acres contracted by both Kenya Seeds Company and Monsanto, about 300 has been destroyed by the disease.
"Several variety of maize were grown, but at flowering stage, the disease affected one variety that we fear might cause us more losses," said Sauroki.
The farmers were expecting to harvest about 2,700 kilogrammes per acre, but now fear the production will drop to about 2,000 kilogrammes this year.
Seeds growing companies pay farmers Sh69 per kilogramme of maize produced.
"Harvesting of the crop was expected in the months of August, September and October, but we are worried that production might be so low because of the fungal infection," said the chairman.
The Standard visited the scheme and established that leaves of the crop appeared brown and rusty.
A researcher, Harrison Lopedes, said preliminary inspection indicates that at least 30 acres out of 200 contracted by Kenya Seeds have been affected.
He said they were expecting to harvest 2,500 kilogrammes per acre, but due to damage of the crop, they anticipate to harvest 1,500 kilogrammes.
"It is worrying that we might not manage to repay loans we acquired to produce the seeds," said the farmer.
The scheme manager, Wafula Simiti, said a team of officers from Kenya Seeds Company that contract farmers to produce maize seeds are inspecting the farms.
"A small portion of the scheme has been affected and a quick solution is expected," he said.
He attributed the disease to cold weather in the region following heavy rains, saying it could be managed by spraying fungicides.
County agriculture executive Thomas Longonop added that extension officers have been sent to the ground to find mitigation measures.
According to NIB, the eight farmer-managed schemes benefit a population of at least 13,000 people in Baringo and neighbouring counties.
Last year, about 2.8 million kilogrammes of seed maize were supplied to Kenya Seeds, and farmers paid Sh170 million. A kilogramme of maize seed was selling at Sh67.
The scheme is also contracted to grow green grams, cow-peas, sorghum and millet on 1,000 acres, contracted by Simlaw, a subsidiary company of Kenya Seeds.
Production capacity of green grams and cow-peas at the scheme is between four to five bags, according to scheme records, with a kilogramme ranging between Sh100 and Sh120.
Want to get latest farming tips and videos?
Join Us