Groups receive cash grants to boost farming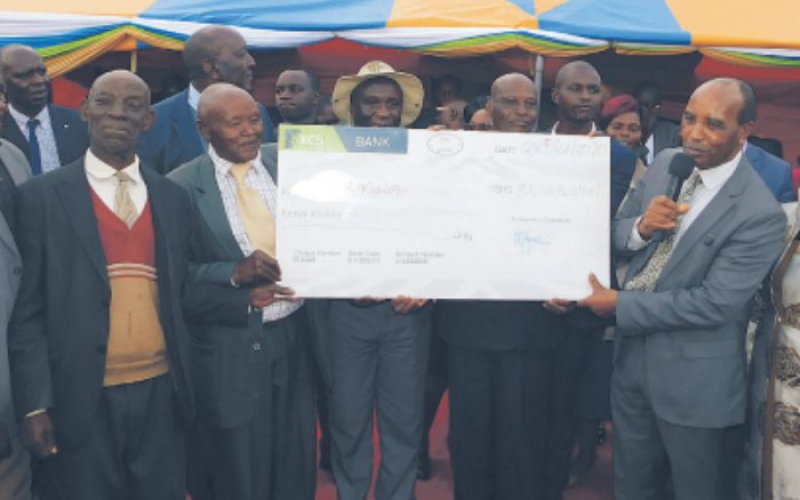 Seventy two farmers' groups have benefited with grants worth Sh60 million under the Kenya Climate Smart Agriculture Project. The grants were presented to the groups by Nyandarua Governor, Francis Kimemia during the official launch of the project at Wakirogo Stadium in Kipipiri on Tuesday.
Thirty seven of these groups are drawn from Ndaragwa while 25 are from Kipipiri and 10 from Kinangop Sub Counties. The groups received Sh31.8 million, Sh19.2 million, and Sh8.8 million respectively. They are part of the 300 organized groups which presented successful proposals for funding in the target areas of dairy farming, commercial peas, Irish potatoes and indigenous chicken rearing under the World Bank funded programme. Kimemia said the rest of the groups will be funded cumulatively with time.
Nyandarua is one of the 24 counties in Kenya jointly collaborating with the national government and the World Bank to implement the Kenya Climate Smart Agriculture Project. He said apart from soliciting for funding, such groups and cooperatives will also enable the farmers to market their produce by enjoying economies of scale and negotiating power. He encouraged more farmers should form common interest groups to benefit through this project.
"There is room for more funding but only for those farmers who heed the call to come together as groups. In particular, I am challenging the youth to take advantage of this chance for I am convinced it is only through involvement of youth that we can leverage the future of agriculture in our county," he said.
The project aims at supporting production of drought tolerant crops, forage production, storage and marketing, and small scale farmer managed irrigation.
Build reservoirs
Other projects, he said, include delisting of dams, water-pans and waterways, building of reservoirs, installing boreholes, constructing and rehabilitating small farmer-managed irrigation schemes.
Umoja Mbuyu and Raichiri water pans, both in Leshau Pondo ward in Ndaragwa Sub County will be rehabilitated this financial year. Further, he said, his administration will carry out county-wide vaccination exercise of our livestock against foot and mouth and lumpy skin disease, and run around the clock surveillance.
Kimemia said to make the project successful the County Government has availed clean seeds to farmers besides fast-tracking clean seeds multiplication at the ATC Ol Joro Orok laboratory, where he said more than 45 tons of seeds such as Caruso, Markies, Rudolf, Destiny, and Toluca has been procured.
These seeds have been given to farmer groups to multiply and distribute to other farmers. In order to provide critical infrastructure to support increased production, stabilize prices and hedge for higher prices, he said, the county is in the process of constructing various cold stores in the County so that farmers can be able to store part of their produce during the glut harvesting season and resell later and earn better incomes.
"To improve market access, we plan to construct collection and marketing centers for both Irish-potatoes and commercial peas at various strategic sites across Nyandarua County, "he added.
The Deputy Governor Cecilia Mbuthia, encouraged farmers to make use of extension officers in livestock and agriculture to help them in modern farming practices.
Want to get latest farming tips and videos?
Join Us