EU pledges support for healthy foods project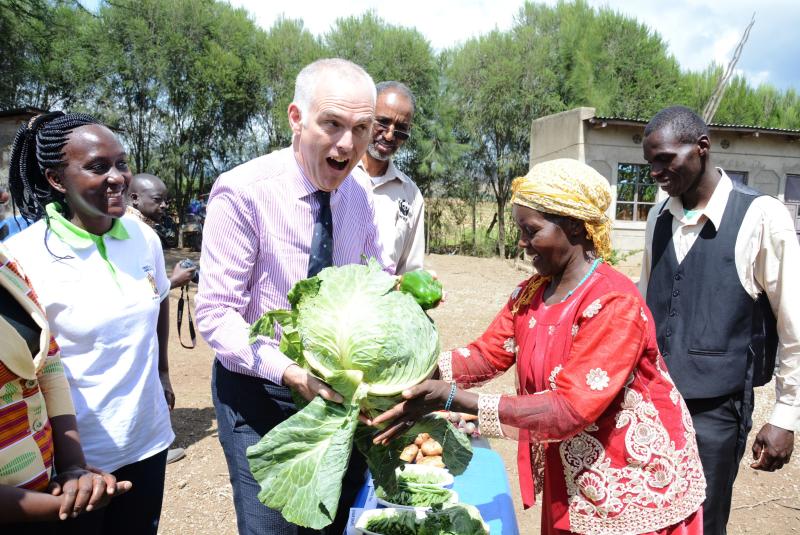 The European Union is undertaking a food nutrition project in partnership with Jomo Kenyatta University of Agriculture and Technology (JKUAT).
European Union Ambassador to Kenya, Simon Mordue paid a visit to the Jomo Kenyatta University of Agriculture and Technology Juja campus to chart the way forward on the project.
The university in partnership with the Ministry of Health is implementing the European Union Funded Food Fortification project that seeks to strengthen the current government initiative to fortify maize flour.
The programme, dubbed 'Strengthening the Kenya National Food Fortification Programme,' has been in operation since February 2017, to improve the health and nutritional status of poor and vulnerable groups.
During the visit, Amb Mordue reiterated the EU's commitment to the project saying, the Union will support Kenya to ensure maize flour is fortified with important micro-nutrients to improve health and nutritional status of Kenyans.
JKUAT Vice-Chancellor, Prof Victoria Wambui Ngumi, thanked the EU for their continued support of the programme and assured the ambassador of their commitment towards the implementation of the project.
JKUAT's Prof Daniel Sila said the project has seen the construction of a food fortification laboratory equipped with state-of-the-art analytical equipment.
He said the laboratory will serve as a training ground for industry, regulators, researchers and students on best practice.
He said this year, the lab analysed 35 flour samples from 15 companies on the main parameters as stipulated by the Kenya Bureau of Standard guidelines.
"I am confident that through the outputs of the project, food fortification will become part of the routine milling process for all maize millers in Kenya," said Prof Sila.
Take a quick survey and help us improve our website
Take a survey
Chief Executive Officer, Beada Maize Millers, Amb David Mutemi said the training they have received from the programme has enabled his company to work efficiently with the regulatory bodies.
"We need to be cognizant to the fact that for us to achieve 100 per cent fortification especially for small and medium scale millers, we need to involve every stakeholder in the process," said Amb. Mutemi.