Vision impaired teacher best in farming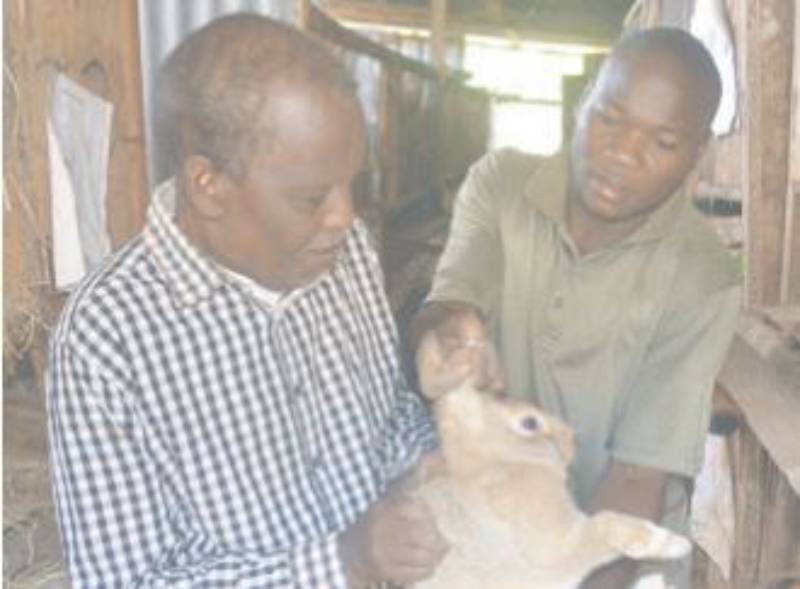 Everyone has hardships they encounter in their lives, but when someone with a disability is able to overcome, it is an amazing thing to behold.
It is, however, not all doom and gloom as there are those who have risen past these challenges to become achievers and have set out to inspire thousands who shy away from taking that first step to change their circumstances.
One such person is Harbel Ndiga Karari who has not only braved torrents of a kidney failure but that of diabetes which left him totally blind.
Born in 1951 without disability in Kiamuruga, Kirinyaga Central sub county Kirinyaga County Karari lived a normal life until he was discovered to suffer from diabetic.
"One thing led to another until I was told the sad news that my kidneys were failing from the diabetes," he said.
"I was lucky that one of my younger brothers donated one of his kidneys to me in 2006 with a successful transplant at Nairobi hospital. The whole thing nevertheless left me totally blind forcing me to take an early retirement from my teaching career."
"I was a mathematics teacher having trained at Exeter University South of England where I had trained in Mathematics and Education. I taught at various schools in Kirinyaga including Kabare Girls, Kamuiru High Kianyaga High School before I was transferred Pumwani Girl's High School in Nairobi. The sickness caught up with me when I was the deputy principal at Kerugoya Boys around 2000," he says.
Karari who has moved on said he was not deterred by being blind and embarked agriculture in his two acre farm at Kiamuruga village.
"I did not trouble my body by carrying the worries of the world, I realized my sight was gone and there was no way to get it back," Mwalimu Karari said.
He said nobody is completely disabled but your altitude determines your knowledge and success. First, he said, he tried his hands in keeping the dairy cattle but realized he was not doing well which made him turn to Banana farming.
He said he wanted to go for a different type of farming which made him settle at Plantain banana mostly grown in Senegal and Nigeria and the coastal region.
Karari now sells the banana at Sh80 to 100 per kilogram of the bananas which is much fetching when compared to the locally grown bananas. His market is in Nairobi though he gets a few local traders who come for the bananas at his home.
He says most of his customers come for his produce at home since he is not able to take them to the market. The over three hundred banana stems are able to meet the demand of his customers all the year round.
"Plantain banana is first ripened before is either boiled or fried which makes it a very delicious meal," Karari said.
He says from the bananas he is able to make around Sh300,000 every year which has made him a champion farmer nationally. Last year Karari was overall winner in the category of the Physically Challenged in Agriculture which made him get a trophy form president Uhuru Kenyatta in Nairobi.
Apart from banana farming Karari also engages if fish and rabbit farming which has also been an inspiration to the local community. He has constructed four concrete water tanks where he is rearing his cat fish mainly for his family consumption and for selling to the locals.
He says he intends to be a supplier of cat fish to the in and out of the county in the near future. In keeping of rabbits, Karari says he started with only 30, twenty females and 5 males which reproduced in a short time and increased from the initial number to 160.
He says an adult female rabbit is able to produce up to eight kits. One adult rabbit goes for Sh2,000 but prefers the use of weighing machine with a kilo of the same going for Sh300. Since the beginning of this year, he has been able to sell over 300 rabbits with 89 adult rabbits remaining for sale.
He says the challenge of rabbit farming includes shortage of veterinary personnel.
"I have to keep on calling for a vet in Nairobi who I give the symptoms and in return does the prescription. Rabbits are not commonly treated with antibiotics since it is difficult to excrete the end products of the same."
Want to get latest farming tips and videos?
Join Us