How young graduate runs family's modern fish farm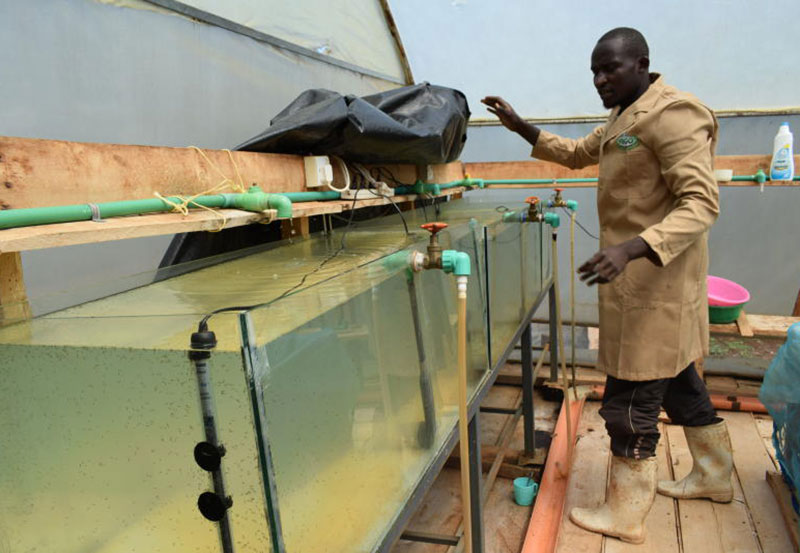 At 24, Brian Mwiti is a successful fish farmer in North Imenti, Meru County. His passion for fish farming was nurtured by his father, Sam Muthuri a veteran in the business.
At 68, he has now left the driver's seat for his son who has infused modern technology, fresh skills and knowledge.
"My dad set the foundation for this business, but now that I am on the front seat I am trying my best to run everything the modern way. This way, we make more profits and run efficiently," says Mwiti, a Biotechnology degree holder from Jomo Kenyatta University of Science and Technology.
Mwiti manages the four fish ponds on the farm where they breed thousands of fingerlings for commercial purposes.
Father and son have secured a solid customer base in Meru, Tharaka Nithi, Isiolo counties.
The thriving fish farm was started in 2010 with only one pond but it now supplies fingerlings to hundreds of farmers in the neighbouring counties.
Ideal temperatures
Mwiti breeds African Catfish and Nile Tilapia and at times the big ponds carry hundreds of thousands of fingerlings in the hatchery housed inside a greenhouse.
Over the years, he has acquired a wealth of knowledge on fish rearing he offers training to interested farmers.
He says for production of healthy fingerlings, everything must be right including temperatures raised as high as 49 degrees fahrenheit.
Mwiti says selection and fertilisation of eggs take 24 hours under controlled conditions.
Inside the greenhouse which resembles a biology laboratory, the fry produced after fertilisation is reared in glass compartments, in clean water.
"The fry are delicate creatures and the water quality has to be the best, and free from any form of predators. We feed the larvae with egg yolk. The temperature here is between 26-28 degrees Fahrenheit. Temps higher than that will lead to growth of harmful fungus and below would delay growth. After 10 days, we transfer them to nursery pond and after a month, to the growing pond," the young graduate explains.
In the hatchery, sunlight is the best to generate ideal temperatures as opposed to electricity, Mwiti says.
"This is where we get the eggs and sperm and mix them to have quality breed before the young breeds are fed with yolk. They are then transferred to the nursery ponds then after 10 days in the greenhouse, and to the ponds after a month."
Attended trainings
Each pond holds 210,000 fingerlings and with each fingerling sold at least Sh20, profits are good.
He sells a 6-week old fingerlings at Sh10, an 8-week old at Sh15 and beyond that at Sh20.
After identifying a fish to harvest, the sperms and eggs they are transferred to the hatchery where the harvesting takes place. Next, the farmer uses his scientific knowledge to fuse them, to produce fingerlings.
To polish his hatching skills, Mwiti has undergone trainings at the Sagana Fish Research Institute where he has learnt everything from production to marketing.
"When a buyer comes over, I package the fingerlings in a special bag, a third water and two thirds oxygen. The bags can be put in cartons and the buyer goes and deposits them in the fish ponds," he explains.
As a point of caution, he does not sell fingerlings straight from the greenhouse because it is important to have them acclimatised to the pond water first.
"From the hatchery the fingerlings are fragile and it is important to handle them with care, so we put them in a recovery pond first. In addition, it is important to stock fingerlings of same size together in the recovery pond before we transfer them to the main pond where we keep them before selling," Mwiti adds.
He takes caution not to put too much food in the ponds as overfeeding can result in death and the leftovers make the ponds dirty.
"... left-overs, though important for algae growth which fish feed on, makes the water dirty and this affects growth and development of the fish."
Water quality is also key.
"The quality of water is critical because survival of the fish depends on it. It has to be of the right temperature and PH. Dirty water leads to reduced sunlight which helps get quality seedlings," he points out.
Pond materials
The ponds are made of readily available and affordable materials like wood and have plastic liners, which cost Sh10,000 each.
For constant water supply in the ponds, the farmer pumps water from nearby Kathita River.
"A reliable supply of clean water is key for the success of the venture, so we have fitted a filtration system to purify it to avoid contamination. In case there is no water from Kathita as it happens many times, we have an alternative— a huge underground tank from where water flows into the ponds."
Quality of water
Urea and DAP fertiliser is applied to promote growth of natural organisms for the fish to feed on. Mwiti says he disinfects the fish ponds with lime for hygiene.
The microscopic organisms are food for fish. Since the creatures are omnivorous, they can eat insects, snails and frogs if they fall into the pond, Mwiti says.
"By keeping the water clean and regularly disinfecting the ponds we keep harmful bacteria at bay... As long as the quality of water is good and feeds are available, you are guaranteed of high yields and profits from fingerlings," the older Muthuri says.
For catfish to thrive, warm temperatures and a 25 degree fahreinheit to 32 degree is advisable.
Low temperatures or higher than 32 degrees Celsius can harm the fish and even lead to death. Since the rate of growth of tilapia is faster, as a strategy he usually introduces catfish into the ponds occupied with the former, to check on population and by extension production costs.
Like many livestock farmers say, cost of fish feeds is prohibitive. To address this, the duo is looking for finances to start a Sh3 million fish feeds factory.
"We buy fish feeds from Nairobi which is a costly affair given that we have to also incur hefty transport costs."
Want to get latest farming tips and videos?
Join Us