Farmers frustrated by five-bag only fertiliser limit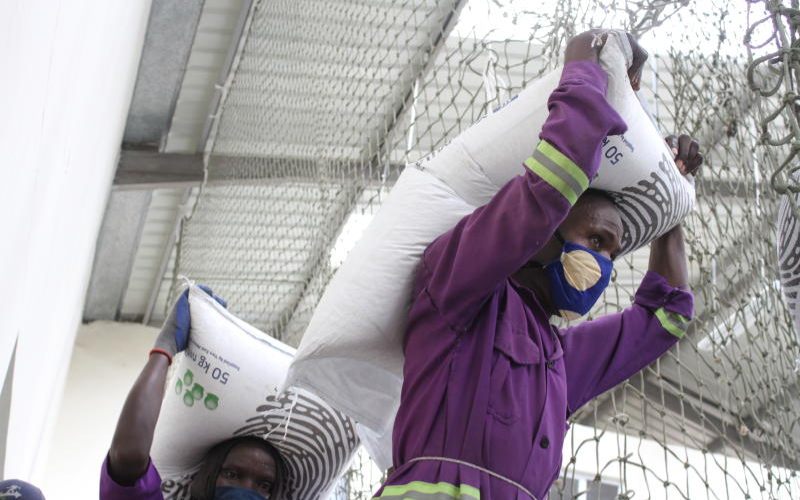 Desperate farmers milled around the National Cereals and Produce Board's (NCPB) silos in Kitale, Trans Nzoia County, yesterday as they scrambled to get the government-subsidised fertiliser, in vain.
Hundreds of farmers drawn from all the 25 wards decried the inadequate stock of the di-ammonium phosphate (DAP) fertiliser at the depot, with many of them returning home without getting even a single bag.
The farmers had to confirm their names from a database managed by the county government's department of agriculture, with county officials tasked with verifying genuine farmers and acreage of their farms as one way of keeping cartels at bay.
But most of the farmers who spoke to The Standard said their names could not be found in the database despite having registered earlier. To make matters worse, limited fertiliser supplies meant that those who passed the vetting process could only buy a maximum of five bags instead of the 20 bags pledged by Agriculture Cabinet Secretary Peter Munya.
Christopher Kibiego, who cultivates 40 acres of maize in Endebes sub-Sounty, lamented that the five bags were not sufficient for those with huge farms.
Database
"Many farmers have been turned away after their names were missed from the database. We have tried to seek help from agricultural officials, but all they say is that we have to wait for the system to refresh to update. We do not know where to find help," said Mr Kibiego.
He challenged the government to plan better to avoid a similar crisis when farmers will be seeking top dressing fertiliser later in the year.
John Wanyama, another farmer from Maridadi in Kwanza sub-County who cultivates 20 acres, voiced concern that fertiliser supply was insufficient despite assurances by Mr Munya that there was enough commodity for everyone.
Mr Wanyama said the CS had assured residents in January that fertiliser costs would drop, but it had taken months for prices to drop.
He said that despite a subsidy programme, many farmers still could not access the commodity yet the planting season was about to end.
Fredrick Ronoh also criticised the decision to limit how much fertiliser farmers could buy. Mr Ronoh, who grows maize on over one hundred acres, said the five bags were a drop in the ocean and challenged the government to increase supply.
"I require 100 bags for my farm, and with this challenge I expected to walk home with at least 50 bags. But getting only five bags is a serious joke since this cannot manage even a quarter of my farm," he said.
The large-scale farmer also warned that the high fuel prices had contributed to challenges they were facing, and they had to be addressed quickly to avert a food crisis in the country.
Reached for comment, NCPB Corporate Communications Manager Titus Maiyo said they was selling fertiliser from private dealers.
"The board was still waiting for official communication from the relevant ministry department. The supplies from local manufacturers were still inadequate and hence farmers could not get as much as they wished," Mr Maiyo said.
He, however, expressed optimism that fertiliser consignments at the port of Mombasa will arrive in the county in good time for farmers to access the input in time to take advantage of the ongoing planting season.
Fertiliser cartels
In his visit to the county last week, Mr Munya assured farmers that they would get at least 20 bags of fertiliser and that additional supplies would be delivered from the port in two weeks' time.
"Every farmer who is in the database will be able to buy the fertiliser. For those who are not, they should go to the county government so that their data can be verified and confirmed so that cartels who buy your fertiliser and resell at exorbitant prices can be checked," said Munya.
While the CS assured farmers of adequate stocks, he also took the opportunity to explain how the Covid-19 pandemic and war in Ukraine had affected the manufacturing and distribution of the essential farm inputs.
Want to get latest farming tips and videos?
Join Us