Sh700m Kajiado modern market funded by State and World Bank is ready for use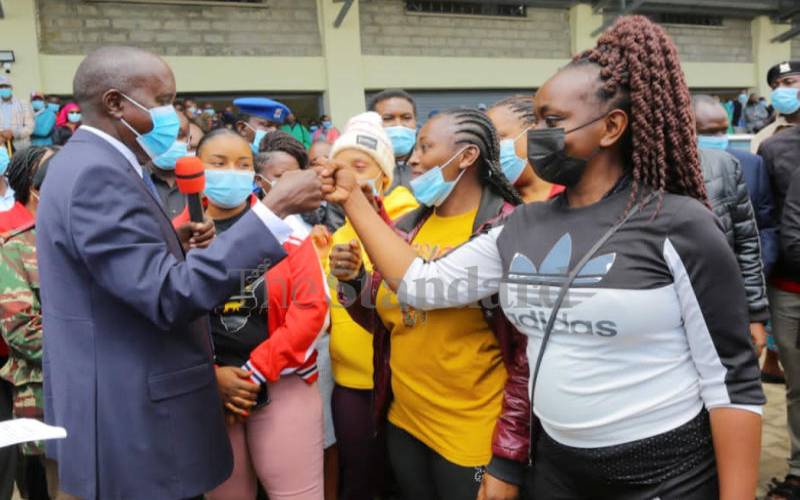 Kajiado County now has a retail market built by the government and the World Bank. The four-storey Sh700 million facility built in Ngong will accommodate 2,300 traders.
Kajiado Governor Joseph ole Lenku said the project that began two years ago met resistance from traders raising various concerns, but that both teams came to an agreement.
The World Bank-funded project is one of the three multi-million shilling markets the government is to construct in the county.
Before the market was constructed, World Bank spent Sh60 million to relocate the traders who used to sell their wares at the roadside. "Finally, our mission to create a conducive trading environment for our business community has borne fruit. We will relocate all the traders," said the county boss.
The market is also a joint venture between the county government of Kajiado and the national government.
Lenku said in order to ensure there was order and maximum utilisation of the market, hawking in Ngong town would be banned.
"I urge all residents to be vigilant and not fall into the trap of conmen who could be out there soliciting money with the promise of allocating stalls," he said, adding: "We shall give priority to the traders who were already there and the youth. We want a minimal disruption of livelihoods. The market will transform Ngong town, and attract customers from Nairobi."
Ngong traders told the county establishment to keep their word on ensuring established traders get priority in the new market.
"We are very grateful for this projects, however, we call upon the county government to fulfill its part of the bargain," said Joyce Mumbi, a trader.
The traders had initially supported the project, but later disagreed with the county administration over relocation plans since the market had to be moved nearer to the Ngong stadium.
Trade and Investments Chief Officer Grace Saitoti has held meetings with the traders to iron out all pending issues.
The county's department of Trade has managed to end the standoff between traders and the county government that almost frustrated efforts to have the new complex market.
"This particular project will help our youth and the disabled create jobs," said Ngong MCA Robert Sungura.
Want to get latest farming tips and videos?
Join Us