337 public schools in Nairobi to benefit from fruit trees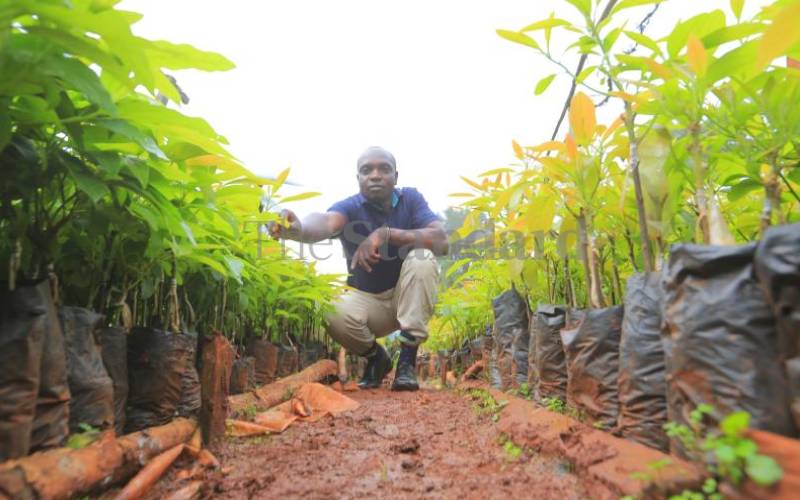 Some 337 public schools in Nairobi County will benefit from an ambitious tree planting exercise.
The project a partnership of Ashut Engineers Limited, Fruity Schools Africa and The Standard Group Plc, will see school-going children benefit from the fruit trees as a source of food and for conserving the environment.
Fruity Schools Africa team leader, Kennedy Odoyo said they chose fruit trees because they are not likely to be cut down for timber and charcoal.
"The reason for planting fruit trees is because climate change is here with us and it has become critical for everybody to plant trees. But the trouble we are having every year is that the trees which are planted are cut down for timber and charcoal, that is why fruity schools came up with this concept of fruit trees," said Odoyo.
Why fruit trees?
Another reason for planting fruit trees is to add fruits to the school feeding programme and become a source of income for the school.
The tree planting in Nairobi began yesterday at City Primary School where 41 Hass avocado fruit trees and strawberry guavas were planted.
"Children in public schools do not eat a lot of fruits. We believe if we plant fruit trees in schools, in the next three to five years all our schools will not only be green but also have plenty of fruits. This will guarantee good nutrition for the children," said Odoyo.
The fruit trees project in Nairobi county will see all the 35,000 public primary and secondary schools benefit from the project.
"Ashut Engineers have been so kind to sponsor the whole of Nairobi County and with their help, we will plant 41 fruit trees in 337 schools within Nairobi County till the end of June. This is a good thing because one avocado fruit tree can produce 300 to 500 fruits and if we plant 40, that is a lot of fruits," said Odoyo.
He added: "We want to plant in all the spaces available in schools to also support the government's agenda of 10 per cent forest cover."
Mehul Shah, Director at Ashut Engineers Ltd said it will be the responsibility of the teachers and the students to take care of the trees. That way they can learn about the environment and the importance of trees.
"The fruit trees will take about three to five years to grow," said Shah.
The fruits being planted will be based on the climatic conditions of each area he said.
"We hope other corporates will join Fruity Schools Africa and make this project successful. While people are planting many trees, the fruits will not be cut because they will be used as a source of food. We want long, sustainable trees which will last for years," said Shah.
He called upon schools' management to safeguard the project, adding that it comes with a lot of benefits and would go a long way in conserving the environment.
Want to get latest farming tips and videos?
Join Us