Crackdown starts against farmers flouting potato packaging rule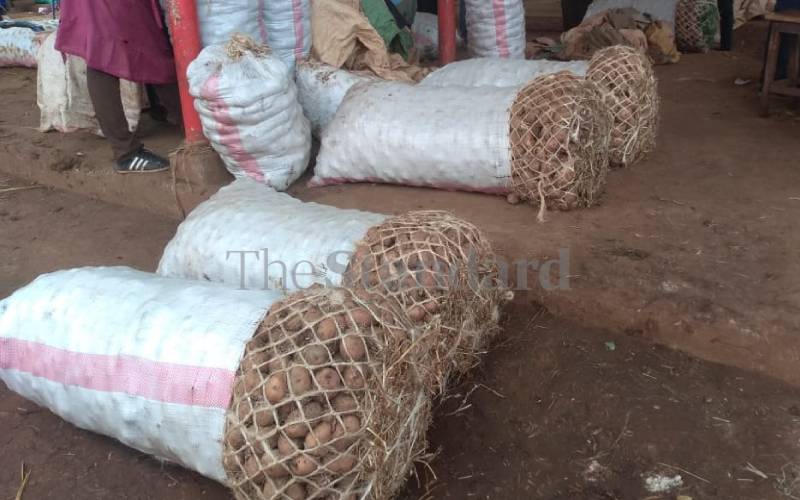 The Ministry of Agriculture and other food crop value chains have launched a nationwide crackdown targeting traders violating the packaging of Irish potatoes 50kg rule.
The move has boosted efforts to protect farmers against exploitation by cartels and middlemen.
The food value actors under the leadership of the Agriculture and Food Authority (AFA) kicked off the exercise in Meru County, promising to ensure corrupt traders and other crooked players are punished.
Those found contravening the Crops (Irish Potatoes) Regulations 2019 will be arrested.
AFA acting director-general Kello Harsama, speaking at Gakoromone market in Meru town, said the crackdown is part of the government's long-term strategy to tame cartels in the agriculture sector.
"The Agriculture sector has been under the control of the cartels and unscrupulous traders, thus denying farmers their hard-earned sweat," said Harsama.
This is meant to ensure commodities are traded based on the current rules and in a manner that guarantees a level playing ground.
"For long we have witnessed farmers harvesting their potatoes and required to package them in 50kg bags, but cartels and brokers force them to package in extended bags."
Traders were required to adhere to the regulations on packaging from April 2 when the law was to take effect, however, most of them are yet to comply.
"Key in the implementation process is to ensure packaging in the required standard of 50kg. The enforcement will be executed in the entire value chain from the farm to the markets," Harsama said.
The DG said his team has talked to stakeholders on the regulations and that they expect value chain players to comply by reversing the current scenario where potatoes are weighed in 110kg bags.
Meru county commissioner Karuku Ngumo said farmers for long have suffered under the hands of the cartels and brokers, making potato farming a painful venture.
"We have constituted a committee involving various government officers who will assist in ensuring the regulations are enforced accordingly," said Ngumo.
However, potato trader George Muthee at Gakoromone open-air market expressed concern over the rules, saying the law may affect farmers more than the trader and the consumer.
Julius Kirimi, the chairman of the Fresh Produce Association in Gakoromone market, called for more public participation in the regulations to avoid business disruption.
"We are not opposed to the regulations, but we request to be given more time to understand the regulations and the Crops Act, 2013 accordingly," he said.
Want to get latest farming tips and videos?
Join Us