Poorly run hatcheries lead to rise in Fowl pox disease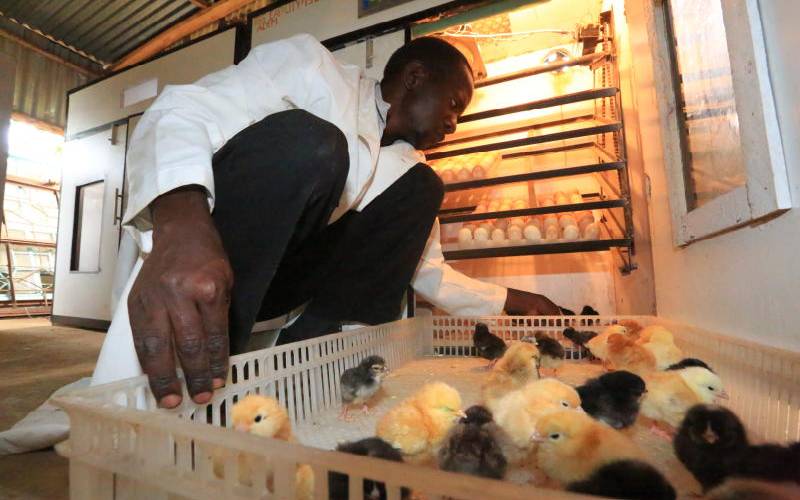 Hello Dr Messo
I am experiencing a challenge with my five-month-old improved kienyeji chicken. Most of them have a swelling on one eye, they lack appetite, and die within three days. Some of the birds have growths on the comb and wattles. I struggled to control the situation but luckily arrested it by using a wide range of antibiotics. What could have been the problem? [Concerned farmer, Bungoma]
Dear concerned farmer
Thanks for sharing your situation on this forum. I will try to address your concerns elaborately for the sake of other farmers who may find themselves in a similar situation. I have spotted similar cases in different flocks which start with swellings in the eyes, loss of weight and finally death. Whereas there are numerous causes that can trigger such situations in domestic chicken, the most common verdict in young growing birds is Fowl pox. The disease is worldwide and in Kenya, it is mostly restricted among the local or Kienyeji population of chickens that are not traditionally vaccinated before point of lay.
Mushrooming backyard hatcheries
We have noted that many of the mushrooming backyard hatcheries are not vaccinating their breeding lines against fowl pox and therefore the chicks hatched have no maternally derived protective immunity against this condition. These chicks are then sold to unsuspecting farmers and this explains why were are seeing the condition on chicks as early as three weeks of age.
Cause
The disease used to be common in most poultry-producing countries, but with the discovery of vaccination, it was almost eradicated and only limited to minor outbreaks in adult birds. It is caused by a Fowlpox virus that belongs to the Avipox genus. It is different from mammalian chickenpox.
How it is spread
Take a quick survey and help us improve our website
Take a survey
In the past 10 years, the poultry industry in Kenya has experienced a boom in small incubators with massive production of 'kienyeji chicks' where we have relaxed on vaccination programme and allowed the disease to spread to chicks as young as three weeks. Fowl pox is mainly spread by biting or sucking insects and directly through contact with infected birds through broken skin, oral or respiratory routes. The disease spreads by entering broken skin, attack epithelial cells and multiplies and cause disease.
Signs to watch out for
Fowl pox is predominantly a poultry disease seen in chickens, turkeys, pheasants and ducks. It is an old disease that affects adult birds and is characterised by warts or blisters on the skin of the head, wattles, comb and can spread to the skin on the legs. This form of Fowlpox is called cutaneous type and will rarely kill. Affected birds recover within two weeks without any treatment. Diphtheritic form will cause similar lesions but on the mucosal (inner) surfaces of the buccal cavity, respiratory linings and in rare cases affect internal organs such as liver and kidneys. This type may cause mortality of up to 50 per cent or more if the birds fail to recover fully in two weeks. Affected birds completely go off-feed, waste away and eventually die.
Treatment/Control
There is no known treatment against Fowlpox disease and affected birds tend to recover on their own if there are no secondary bacterial infections. In your case, there may have been complications with bacterial infection and that is why you resolved it through antibiotics treatment. Any antibiotic application will need a veterinary prescription. Alternatively, you can spray the affected wounds with iodine or vetmycin. To keep disease at bay, vaccinate the birds at six to eight weeks of age using live vaccines applied through wing web stab. Keep your premises thoroughly clean and disinfected at the end of the cycle and burn any left-over poultry dust and feathers. Always buy your replacement flocks from hatcheries that routinely vaccinate their breeders against this condition.
[The writer is Head vet at Kenchic, [email protected]]