How CCTV has helped farmer boost profits in dairy unit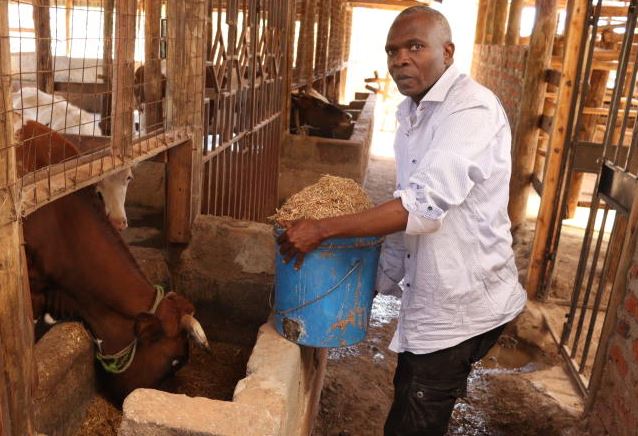 Tachoni Dairy Farm is located in a sleepy village of Kewa, in Lugari Constituency, Kakamega County.
Here, former Kakamega County Chief of Staff Nabii Nabwera established a neat dairy farm that sits on a 6.5-acre piece of land in 2015.
As the Smart Harvest and technology team enters this expansive farm, they notice CCTV cameras and floodlights mounted at strategic points to monitor activity at the farm.
"We politicians are always very busy and hardly spend time at home. That is why I invested in technology so that I can monitor everything that happens on my farm. By tapping into the power of smart technology, I have reduced theft and maximised on yields," says Mr Nabwera as he welcomes us to the farm.
Live images
The cameras work 24/7 and transmit the live images to Nabwera's mobile phone. With that, he is able to see, supervise and direct all activities on the farm while at the same time running his political affairs.
For easy management of the animals, he has named his dairy cows after his wife, Daisy Nyongesa, his late first wife Lilian and mother Julia. The rest are named after his children.
The farmer says he developed interest in dairy farming after realising that his friends were making good money from the venture.
"When I was an advisor to ODM leader Raila Odinga when he was Prime Minister, I could visit my colleagues and discovered that they had invested heavily in dairy farming, which was well-paying," says Nabwera.
He started with one dairy cow in early 2015. That has now multiplied to at least 30 that produce more than 200 litres of milk per day.
He keeps Freshian and Ayrshire dairy cows. The farm also has Fleckvieh dairy cow, a hardy breed that can resist diseases, eats less and produces more high quality milk. It is also good for meat. It originated from Germany.
With its superior genes, he says Fleckvieh dairy cow can give up to 70 litres of milk per day if well taken care of.
Nabwera plans to have at least 100 dairy cows in the next two years. He wants to venture fully into value addition.
Already he is producing yoghurt, mala (fermented milk) and ghee in small quantities from the surplus milk.
"I have ordered for a 5,000-litre milk pasteuriser, which I will install with ATM milk kiosks in Kakamega, Bungoma and Webuye towns," says Nabwera.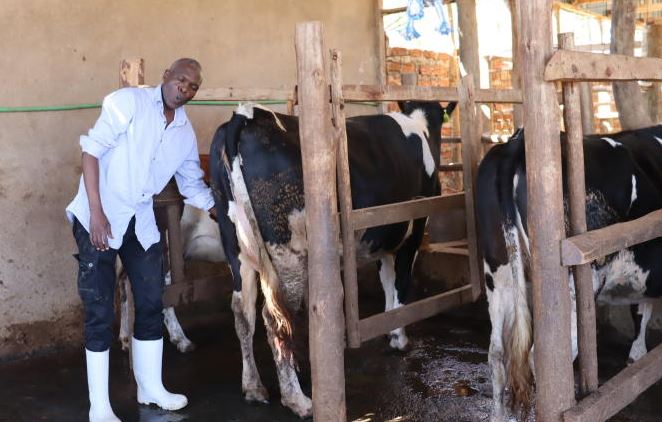 He is also planning to start producing biogas in large-scale from April. This will be for use in his homestead, but he plans to sell the surplus to neighbours. Nabwera says he produces eight per cent of the feeds at his farm. He has planted Napiergrass, hay, yellow maize and sorghum, which, after harvesting, are dried, crushed into fine particles and then given to the animals.
He also produces his own silage and maize jam, which are rich in carbohydrates and fat.
"Every day after milking, we formulate feeds for the cows. We take 35 kilos of dry and crushed Napiergrass and maize stalks, 35 kilos of hay, 12 kilos of wheat bran, eight kilos of maize jam, one kilo of salt and eight kilos of mchicha (malt residue) and then mix it with 60 litres of water and four litres of molasses," says Nabwera.
He, however, laments over the high cost of feeds. "Feeding and treatment are more expensive in Kenya than anywhere else in East and Central Africa. To treat a normal infection like diarrhoea in Kenya, you spend between Sh300 and Sh400. In Uganda, you would spend Sh100, while in Tanzania, it is less," says Nabwera.
Management of diseases is a major challenge that saw him lose several calves last year after they were fed contaminated milk. He has also had two cases of East Coast Fever that almost wiped out his animals.
He engages the services of veterinary officers who visit the farm weekly to check the health of the animals.