Milk shortage hits Migori county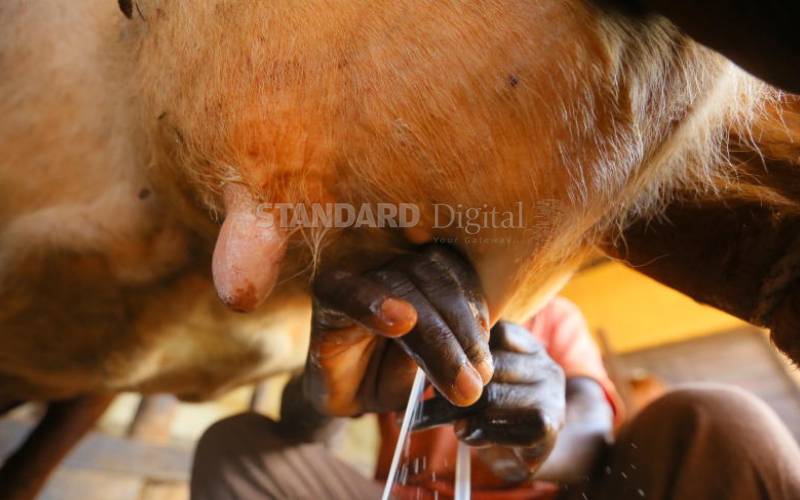 An acute milk shortage has hit Migori County as Governor Okoth Obado asks locals to venture into dairy farming.
Agriculture executive Valentine Ogongo said the county lacks milk as production does not meet the demand.
Hoteliers, traders and locals have complained of scarcity of the commodity.
Data given by the Agriculture, Livestock and Fisheries department shows the county averagely produces 25 million litres of milk annually, which is way lower than its demand of 88 million litres per year.
Because of the shortage, the county is forced to import at least 10 per cent of milk requirement from neighbouring Tanzania.
The county also gets 20 per cent of its milk from Trans Mara, Nandi and Homa Bay counties.
The county Agriculture minister said good relations between Kenya and Tanzania eased milk purchase from Tanzania.
The increase in population, climate change, types of feed given to cows have been termed as some of the factors that have contributed to the milk shortage.
Ogongo noted that unlike before when most of homesteads which needed two litres of milk per day had a cow which could sustain them and help them get income and milk, times have changed.
This is due to the increased population and diversification in farming.
Despite the shortage, the county government has partnered with the national government, the World Bank and other players, and developed measures that would boost milk production.
The county launched a programme dubbed 'one dairy cow per sugarcane/tobacco farmer' in 2014.
Farmers were put in clusters of 10 and given one cattle. After it gives birth, the calves are given to each of the farmers in the cluster.
The county has given 470 cows to farmers since 2014 with 4,700 of them now having a cow.
Last year, the county gave 90 cows to the farmers.
The initiative has helped the county get 10 per cent more of its milk requirement annually.
It has set up four coolers in Oyani, Suna West and Rongo that has helped preserve milk.
Additionally, the county plans to train more farmers to increase milk production.
The Agriculture executive urged more farmers to prioritise dairy farming to help end the milk shortage.
"Let the farmers give priority to dairy farming that will help them earn more money because it has the market. Milk can be a value chain for farmers," Ogongo said.
Want to get latest farming tips and videos?
Join Us