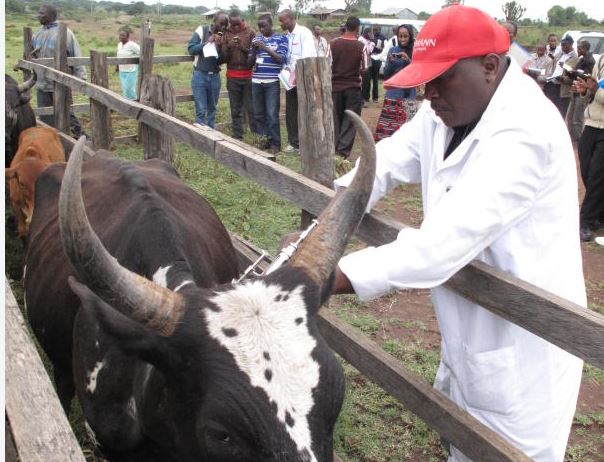 The department of veterinary in Nakuru has embarked on a mass vaccination exercise targeting livestock following an outbreak of lumpy skin and foot and mouth diseases in parts of the county.
The exercise is targeting over 100,000 livestock with Gilgil, Mai Mahiu, Molo, Eburru and Kuresoi being the most affected areas.
According to the County Chief Officer in charge of agriculture and livestock Dr Enos Amuyunzu, the exercise was meant to stop the spread of the diseases.
He admitted that several herds of cattle were affected by the lumpy skin and foot and mouth diseases though no deaths had been reported.
"We have embarked on a mass vaccination exercise in the whole county targeting livestock so that we can stop the spread of the two diseases," he said.
Amuyunzu said that the free exercise had already kicked off in Mai Mahiu Naivasha with plans to roll out to other sub-counties.
"The county government has set funds for this exercise that will continue for the next two months and its part of our plans to increase livestock production," he said.
Speaking on Wednesday, he at the same time added that they would also be conducting vaccination against rabies during the ongoing vaccination exercise.
"We are targeting over 10,000 cats and dogs in this vaccination exercise and we are calling on owners of these animals to co-operate with our officers," he said.
Amuyunzu was however quick to note that no case of rabies had been reported in the county noting that the vaccination was part of mitigation measures to keep away the disease.
"Though we do not have any case of rabies in the county, we are not taking chances and have decided to conduct a vaccination exercise targeting the dogs and cats," he said.
A report 'All Eyes on Dogs' by the World Animal Protection (WAP) says that the world's oldest disease could be wiped out in the next ten years if all stakeholders worked together for a common good.
It further notes that the funds should focus on mass vaccination for dogs with details emerging that about 160 people are killed by the disease daily globally.
According to the Animal Manager at WAP Dr. Emily Mudoga, time was ripe for the focus on dogs as the vector in rabies disease.
"Each year, rabies causes 59,000 deaths and 3.7M disabilities with 50 percent being children and all this can be prevented if we collaboratively take action," she said.