Farmer losses 11 sheep to poisoning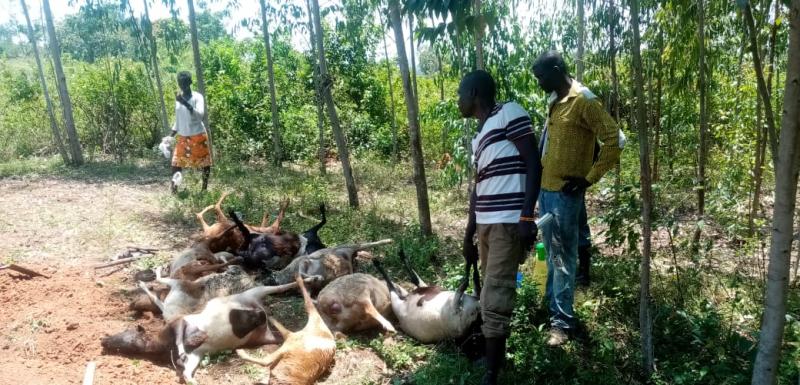 A farmer in Homa Bay county is counting losses after all his eleven sheep died of suspected poisoning.
Jacob Otondi, a resident of Koyuo Village, Korayo Sub Location in Rangwe Sub County was shocked to find the entire flock dead on Thursday.
The sheep carcasses lay in their shade in the morning, raising queries on the cause of their deaths.
The family suspects that someone could have injected the livestock with a poisonous substance when they were asleep.
"I woke up and found the sheep dead yet they were in good health the previous evening. This is very sad," Otondi said.
He claimed he woke up and found the livestock carcasses swelling very rapidly.
It forced Otondi to seek services of a veterinary officer who tested the livestock carcasses and discovered that they had been poisoned.
People who killed the sheep had not been known.
However, the farmer accused a group of youths from his village of poisoning his animals.
He suspected that the might have been retaliating after he disagreed with them on plans of hiring his bulls for ploughing.
"I suspect some youths might have been behind this heinous act after I stopped them from ploughing with my bulls. This could be a retaliatory attack," Otondi said.
The farmer appealed to security agencies to help him get justice.
"These sheep were a source of livelihood hence their deaths are a setback to my family. Let the government agencies intervene to accord me justice," said Otondi.
Area Assistant Chief Alloys Odhiambo said his office has liaised with police who have begun investigations into the matter.
"The farmer reported the incident to my office and security officials are conducting investigations on who might have committed the crime," Odhiambo.