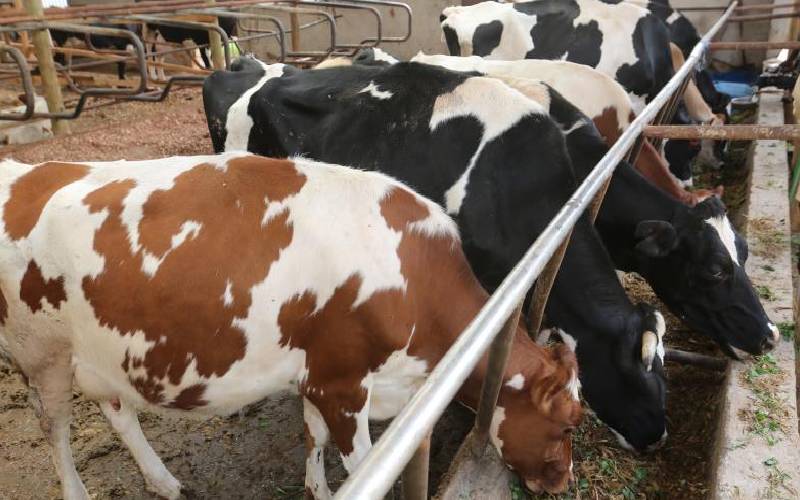 The ongoing modernisation of the Kitale New KCC factory, farmer empowerment and investment in dairy feed are set to boost milk production in Trans Nzoia County after the government injected Sh350 million in the project.
The factory has the capacity to hold 200,000 litres of milk daily.
New KCC in partnership with the Kenya National Farmers Federation (Kenff), has rolled out capacity building to empower dairy farmers to increase production.
Local farmers produce between 60,000 and 70,000 litres daily and the new initiatives is set to enhance milk production.
New KCC Managing Director Nixon Sigey attributed low milk production to poor feeding and breeds among local farmers.
Speaking during a meeting with local Kenff officials, Sigey argued that the county has the potential to produce more milk but farmers have not tapped into the opportunity.
He said the new partnership is to help dairy farmers scale up milk production through the acquisition of high breeds and well feeding procedures.
"We have resolved to work with Kneff to support dairy farmers scale up milk production through securing high breeds and the employment of modern techniques of rearing,'' Sigey said.
KCC and Kenff, he said, have rolled out training to equip farmers with relevant skills on dairy farming.
Kenff Secretary General Tom Nyagechaga said more than 10,000 dairy farmers in the county have been facilitated to undertake exchange programmes to expose them to better dairy farming practices.
The lobby group, he noted, had aided farmers to establish corporative societies to strengthen their bargaining power.
Nyagechaga said more farmers are shifting to dairy farming after the government agreed to offer better milk prices.
"We are happy that the government is modernising factory and raised the price to Sh35 per litre. This has started to attract more farmers to dairy farming,'' he said.
Through training, he said many farmers have focused on dairy feed investment to increases milk production.
"Most farmers are embracing investment in dairy feed and this will boost production. We are encouraging them to make their own feed to reduce the cost of commercial feed,'' he added.
A spot-check by the Standard established that most farmers prepare silage to reduce the cost of the commercial dairy feed.