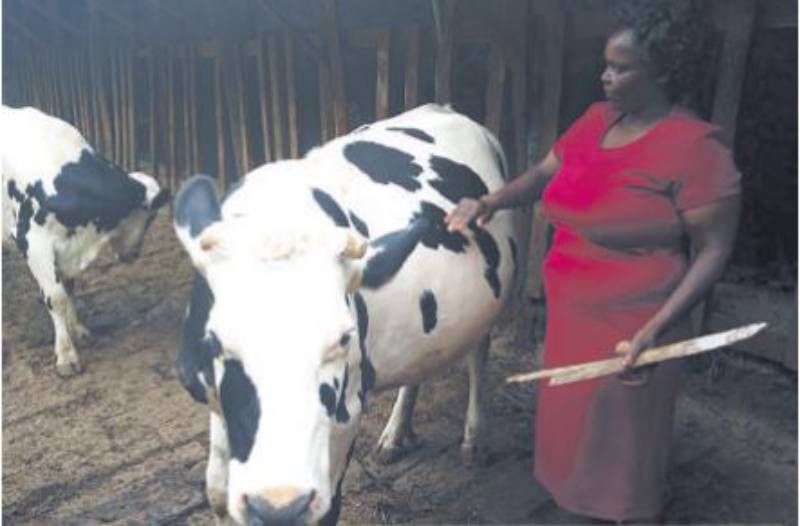 Mercy Nyaguthii started dairy farming in 2017 after a friend shared the idea with her.
Today, with seven dairy cows, she is building her own dairy empire as she invests more in cattle husbandry skills by reading a lot of literature and also attending the farmers' field days across the Mt. Kenya region.
When we reached her home in Kahuho village a few kilometers from Bahati Centre in Nakuru County, she took us around her farm. She practices zero-grazing which she says is simple and requires less space.
"Zero grazing is economical since one requires less land to practice it. For example, my shed is 15 by 30 meters holding seven cows. All you need is to ensure that the sheds are in good condition and partitioning them well to make your cows comfortable," she said.
She feeds her cows with both dry feeds and greens and plenty of water supplementing them with mineral salts from certified dealers. Nyaguthii has bought equipment which she uses to process the feeds for her cows and also for selling locally.
"I ensure that the cows are well fed with water for health and milk production purposes. I have a veterinary officer who advises me on the type of mineral salts to give to my cows at various stages." Currently, she has feeds that can comfortably sustain her seven cows for two years before depletion.
Improved dairy breeds produce more milk compared to traditional kinds, thus very profitable as Nyaguthii narrates.
"Dairy farming with modern dairy cow breeds is very productive and profitable as compared to the dairy farming of traditional cows. For example, currently, I am milking three cows which are producing approximately 90 liters per day," she adds.
She further adds that the profit gained in the process enables her to facilitate various functions, thus improving her living standards. "It has enabled me to employ a worker who takes care of the cows and also has helped in sustaining my livelihood and making some investments," she says.
Nyaguthii revealed to us that the major challenge she has encountered in her dairy farming is the low prices of milk from brokers in some seasons. Nyaguthii has constructed a biogas system that processes the cow waste in the digester, converting it to biogas and manure. She benefits from the biogas using it for cooking. She uses manure as organic fertilizer and does not apply other fertilisers.
Nyaguthii hopes that in a few years to come, she will expand her farm by increasing dairy cows to enjoy more profit. "I have a plan for increasing my farm, adding more dairy cows too so that I can earn more money. The two years of the daily farming venture has opened my eyes, and I have confirmed how profitable it is."