Why I was nicknamed 'Guka wa Managu'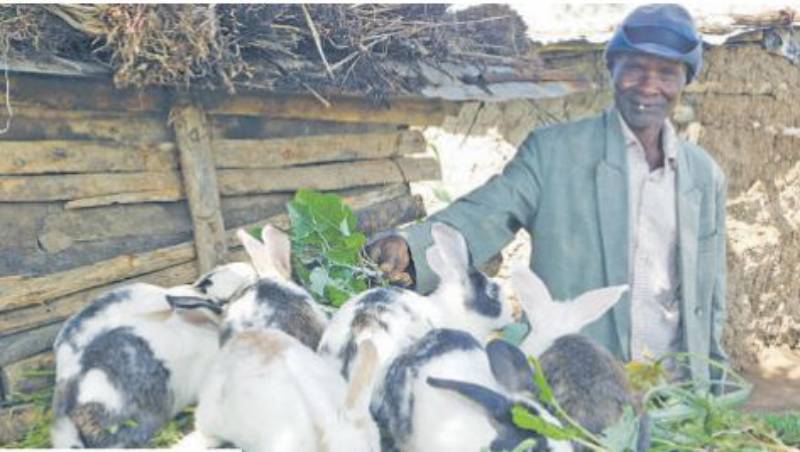 At 75, John Ndung'u walks with agility most people his age and even younger would envy. Only his broads smile which reveal the single incisors left and bald head betray his age.
Occasionally he squats to inspect his healthy crop, explaining how easy it is to make money from African Nightshade (Managu), which he says he has grown since 2010 when he came to Mbegi village in Gilgil, Nakuru County.
Guka WA Managu (African nightshade grandfather), as he is popularly known, also rears rabbits as his side hustle and says he never lacks meat or quick cash. He would never exchange growing managu and keeping rabbits for any job in the world.
"In a good season, I harvest as much as 1,000 which I sell at Sh50 per Kg. If I harvest at least twice a year, I make Sh100,000. That is good money," he says.
Ndung'u cultivates half an acre of managu near Murindati river which snakes its way through the village. He also gets some few cash from kales and other crops like French peas but managu is his main venture.
He says those who grow various vegetables in the area have ready market since Gilgil is a dry populated area that requires regular supplies. Proximity to the cosmopolitan Gilgil town and Langa Langa is a blessing and they also get customers from as far as Nairobi and Nakuru.
For him, managu is the best since it does not require much labour and takes only three months to mature. The crop, he says, takes just a month and eight days in the seedbed. Once transplanted, if one takes the requisite care, the farmer starts harvesting in two months.
He fetches water with a bucket from Morindat river, 200 metres from his small farm and uses a cup to water his crop. He can spend a whole day and go back and forth for as many as 35 times, "since I don't have any other work but this."
The farmer born in Mang'u in Kiambu town worked for many years as a driver and also at the construction sites in Nairobi, but had nothing to show for it.
"But with managu, I have built a decent house back home which is connected to water and electricity," he says.
At Gilgil, he says, he worked for his aging mother for only Sh40 a day which he would spend on cigarettes. But at some point, he noticed very young people who were making good money and even bought motorbikes from proceeds of farming, hence he decided to try his luck.
Why rabbits
"I also noticed this young lady who kept rabbits and she would make good money. Her family never lacked meat," he says. He decided to build a makeshift rabbit hatch where he rears his rabbits to date. Currently, he has reduced his rabbits to eight but says it is just a matter of time before they multiply again. Apart from eating the rabbit meat which he says he loves so much, he also sells them both locally and also to a rabbit slaughterhouse at Limuru, Kiambu County.
The slaughterhouse offers Sh330 per kg of the rabbit meat, while locally, one rabbit goes for between Sh300and Sh400.
Every year, he sells between 70 and 80 rabbits to the slaughterhouse but says he never count how many he sells locally. Ndung'u says he finds rabbit keeping better than keeping sheep or goats as they require small space and are easy to manage. The only challenge is his rabbits are often stolen by "lazy youth, not willing to work."
Want to get latest farming tips and videos?
Join Us